Ford F250 and a SMALL Camper
10-03-2020, 05:34 PM
Ford F250 and a SMALL Camper
---
So I rolled the dice and bought a 2020 F250 sight-unseen out of Texas with 5,500 miles on it. I bought the truck to tow a 11,000 lb boat I just picked up but the big gamble was: could I get that truck under a small camper that used to be on a Toyota Tundra?
Got the truck delivered yesterday and got the camper on it today. Fits like a glove! I had to do some tweaks: I had to place plastic pallets in the bed under the camper to lift it up at least 5" for clearance over the truck cab.
At 1,800 lbs dry weight for the camper, that truck won't even know there's a camper on it.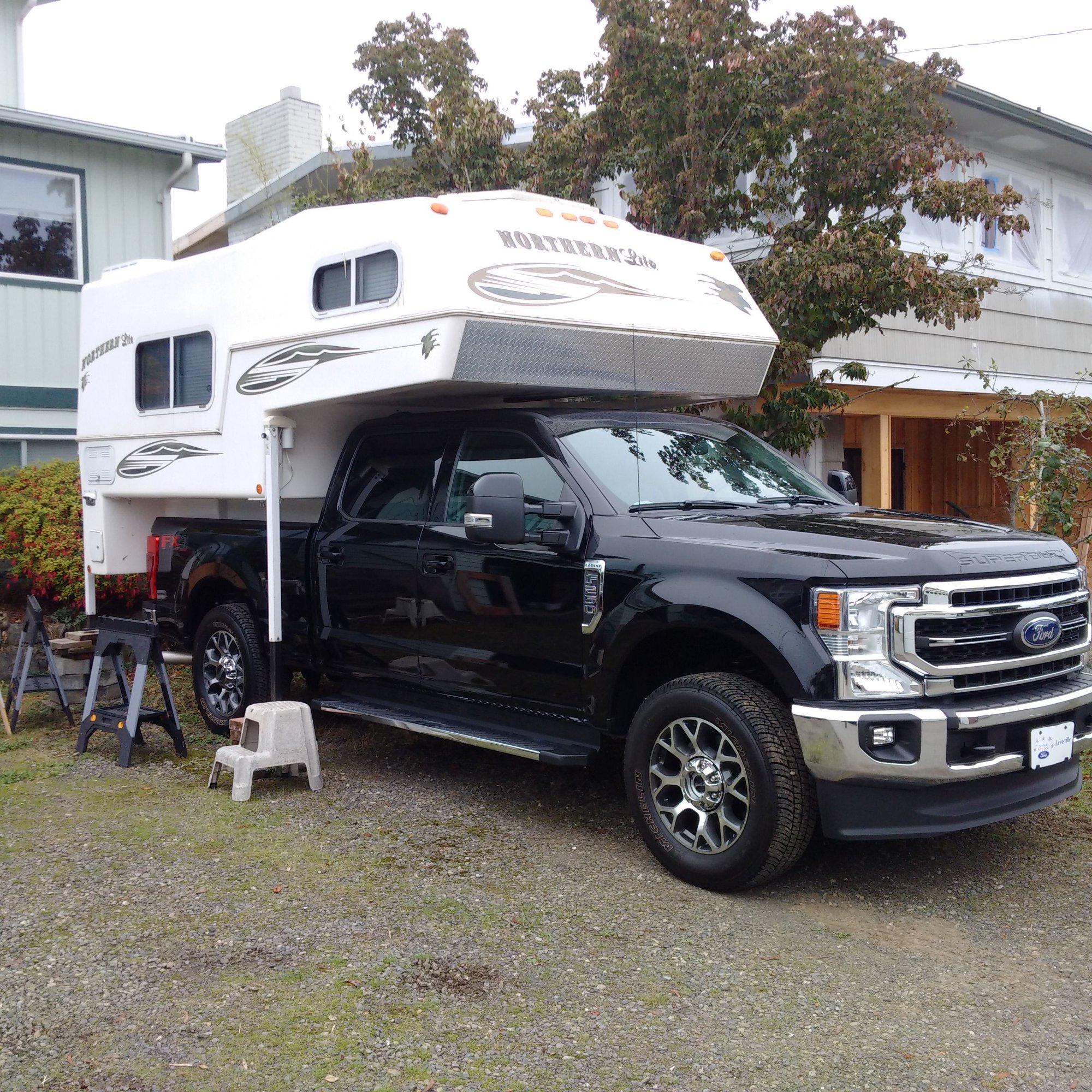 ---
Last edited by marketic; 10-05-2020 at

07:07 AM

.
10-04-2020, 05:02 AM
---
Looks great! Only thing I would add would be to make sure to get a rubber bed mat for between the pallets and bed or bed liner, and rubber mats like stall mats between the pallets and camper. You can het them at TSC.
10-04-2020, 08:25 AM
Senior Member
Join Date: Feb 2003
Posts: 24,745
Likes: 0
---
What's the weight of your camper?

Opinion wise, is that upper tier or middle of the line?

I take it there is no head in there, but you've got a stove and small frig, right?

What sort of head room do you have - can you stand up?
10-04-2020, 08:42 AM
Senior Member
---
4 season fiberglass shell camper dry of about 3000#. Build wise upper tier but there are much bigger and more luxurious brands. There is a head and shower with something like 6'2" or so headroom. They have refrigerators.
They appeal to the crowd that likes to travel with a package easily accommodated in most any situation who spends their time enjoying the surrounding nature. More comfortable than a tent and you can still take all your necessities with you. I spent many a long weekend out in the cape beaches in one growing up. Started with something similar (my parents) and eventually moved up to a small class C. I myself started with a class C, an old 24' Honey I recall on a 4x4 Chevy platform then moved to a 26' 2wd Damon. Still was able to make it out on the beach without 4wd. New they run in the 40k range.
10-04-2020, 09:58 AM
Senior Member
Join Date: Jan 2005
Location: Suburb of Sugar Tit SC
Posts: 14,346
---
Very nice. Could one of those deck/drawer systems fit under it to provide the needed height and provide additional storage?
10-04-2020, 07:41 PM
---
Thanks for the comments, Gents
Room at the hitch to tow a boat? Yes. The camper hangs off the rear of the bed approx. 2 feet. Any trailer with a normal tongue would clear no problem
Rubber mats? Yes, I already tried plastic pallets without rubber mat...big mistake—-too slippery! I have a thick rubber mat on top of the pallets but yes, I'm going to need another one underneath the pallets because the truck came with a plastic bed liner.
At the moment, I have two tie-down straps through the pallets and attached to the bed wall to keep them in place ....thanks for the tip on where to get rubber mats!
Weight of this camper: 1,800 lbs dry weight—it's only an 8' 5" model, originally designed for import trucks and 1/2 tons. But it does have a full head, shower, cooktop , refrigerator, dinette seating etc.
Plenty of room to stand up, and the cab-over bed is plenty large
Those Northern Lites are made in Canada—-they're known as a high-end camper in the Northwest. The new ones are expensive—-easy to spend 50K for a 9 footer. The design is two fiberglass shells, one sitting on top of the other, so just one seam——very rare to have these campers leak. And yes, definitely a 4-season camper as the fiberglass is insulated.
This one already has what's called a "basement"—-you can store fishing rods, skis etc in there—-
I camp in parking lots all winter for skiing in that camper. I also carry an outboard motor and a raft inside it for steelhead fishing up in Canada. The day I took that picture up in Canada it was 10 degree below zero ambient temperature—-no problem sleeping the night before , though all my oranges and tomatoes froze in the truck cab
Had that same camper on a Tundra, a Nissan Titan XD, and now the F250
10-04-2020, 10:39 PM
---
Nice! Couple suspension mods and you can haul them both. I just made about a 10" extension for the 2 1/2" receiver that my 2" adjustable hitch goes into. Maybe a little more entailed with an 11k# boat though. And if you do an electric over hydraulic brake actuator was the best thing I put only. No more herby jerky bs.
10-05-2020, 07:17 AM
---
Thanks for that, redink, and nice looking set-up you have there. I have what they call a "stinger" (extension bar for the hitch as you mentioned) but I wouldn't trust it pulling the boat I have with the triple axle trailer... I think it'd be too much tongue weight leveraged by the stinger —- I'm guessing that Defiance is under 8,000 lbs, correct? I got a 26 foot Kodiak with twins—-probably pushing 11 K with trailer —- towing that with a camper and a "stinger" off the rear end I'm thinking would be pushing it, especially through the mountain passes I have to travel through to get to my happy hunting grounds up in British Columbia.
This is what I used the stinger for:
10-05-2020, 11:49 AM
---
Yes I am 6000#'s with the trailer. Yours would be a whole different story and probably would need a dually to be safer.

Ford made their beds deeper at some point. I had to weld up a spacer frame out or 2x1 tubing and screwed it on to the camper.

Have fun!
10-06-2020, 08:34 AM
Senior Member
Join Date: Feb 2001
Location: North of Boston
Posts: 13,431
---
Northern Lite is a high end camper. The lightest model they make these days is 2400 pounds, however.




Posting Rules
You may not post new threads
You may not post replies
You may not post attachments
You may not edit your posts
---
HTML code is Off
---