7Likes
Avet Reel Review
03-15-2019, 11:28 PM
Admirals Club
Join Date: Jul 2014
Location: Stapleton, AL
Posts: 2,705
Avet Reel Review
---
I purchased 2 Avet JX 6.0 MC's last year. I typically do a "pre-cleaning" on new reels but I did not do one on these. I remember towards the end of the season last year one of the reels didn't feel quite as smooth as the other one. Well I decided to pull these reels apart a clean them today..... and it didn't look good.
For starters, two of the three screws on the sideplate were seized up with salt. Unlike the raptors, these standard JX's use Philip screws instead of alan screws. It took everything I had to remove the screws without stripping them out. Notice the salt in the screw hole...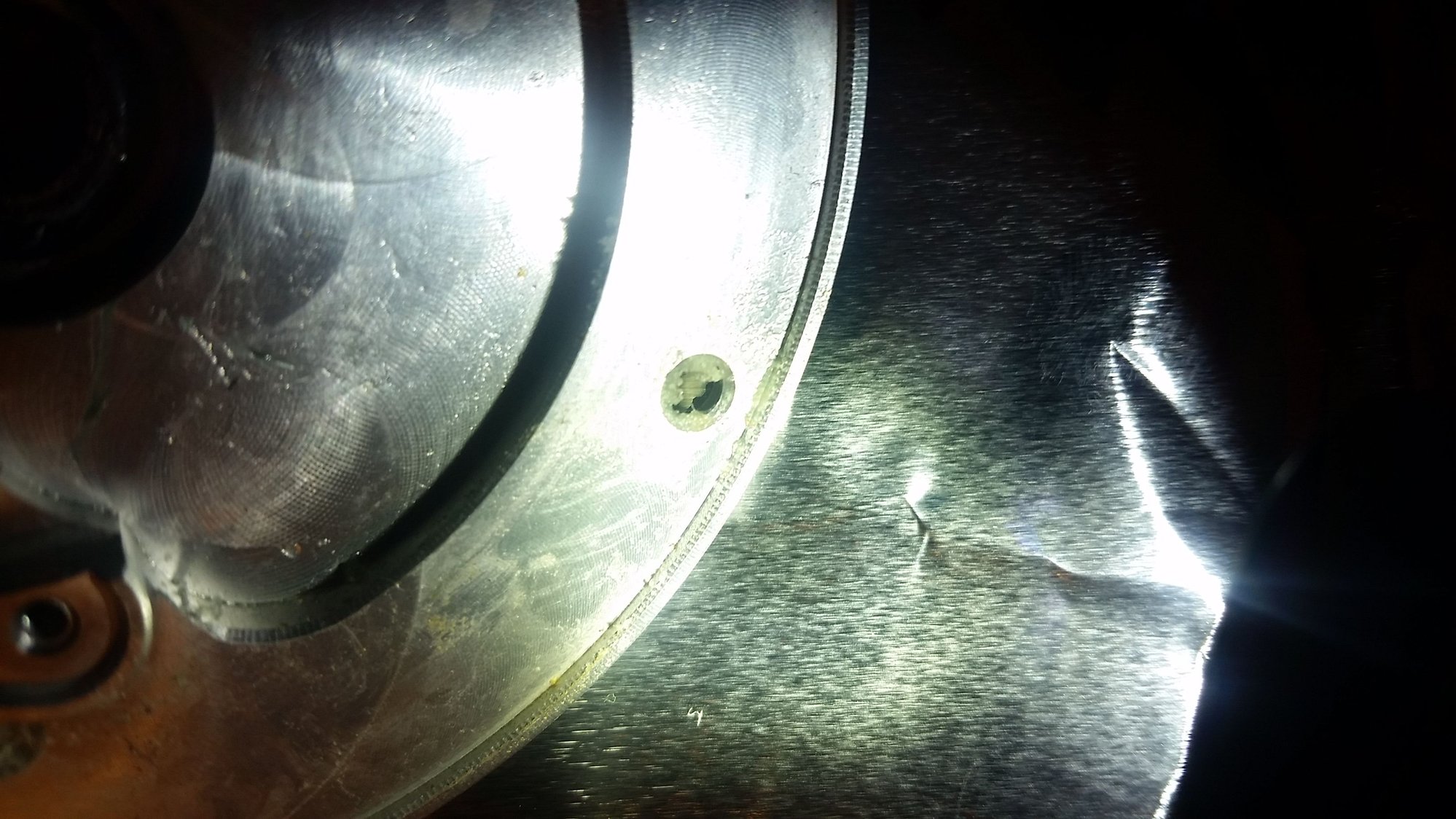 The screws holding the lock ring for the acorn nut were salted up and difficult to remove.
The bearing under the handle arm was stuck in place and I had to beat it out with a socket. When it popped out there was rust in the bearing housing. Also the bearing on the main gear had a lot of salt build up on it.
The screws holding the foot on the reel were salted up.
The main gear had rust on it. They put some very sticky grease on the gear teeth but there was no grease on the gear body, hence the rust.
The pinion bearing had a ton of rust around it. This is what every pinion bearing I've replaced has looked like. Remember I bought these reels for kingfishing and that's all I've ever done with them. I did the blue marlin drag update and I fish these reels at 2lbs at strike and 5lbs at full. So no, I never even came remotely close to sideloading the bearing. I guess this is from saltwater intrusion.
I think I made about 12 trips last summer with these reels. I fish offshore in a bay boat so these reels do see a decent bit of salt spray. Between these reels and my Raptors, saltwater intrusion seems to be the biggest issue I have with them. But a properly serviced reel will handle the salt much better.
Just wanted to show ya'll this and let you know that the factory does a sh!t job of prepping these reels for use. Every Avet that I did not do a pre cleaning on had these same issues, even the Raptors. I'm almost convinced that this is part of Avet's business model to keep these reels coming in for annual services. I could be wrong but all this could be fixed when the reels are being assembled. A little grease on the screws and a very light coat on all surfaces will prevent a lot of trouble. Hopefully when you send it to Avet for an annual service they do a much better job than this.
So as soon as you take your new Avet out of the box you need to do a full service yourself or send it to Ricks Reel Repair or Alan Tani and let them get it ready to fish for you.
I did a thorough review of some Avet Raptors I purchased a few years back. Here's the link if anyone's interested.....
Avet Raptor Reel Review
---
Last edited by mdees88; 03-16-2019 at

06:27 PM

.
03-16-2019, 03:54 AM
---
Good job on the pics and the analysis!

I like Avet reels. They are made well and are a dream to work on. Also on many models they are highly tuneable...replacing spacers in the spool shaft with more spring washers gives us the ability to change the drag curve of the reels.

If you take apart a reel I have serviced, you will see all of those areas addressed. I literally paint the insides of the reel with a mixture of HD Corrosion/x and Amsoil synthetic marine grease...which has been my grease of choice for over ten years now.

I doubt if Avet uses anything more than an ABEC 0 or 1 for their bearings. Whenever I replace that pinion bearing I use at least a 3, but more often a 5 or 7...especially on a Raptor. Also, those pinion bearings will easily freeze onto the sideplate and can be a bear to pull once salted up. It usually takes heat to work them out.

Avet also chooses not to coat the drag washers with drag grease. If there is drag grease on a drag washer and you get salt water intrusion, that water will sluff off the washer to the sides of it. Without drag grease the salt water can puddle on it, evaporate and the next time you use the reel you will now have ground salt particles down into the washer.
03-16-2019, 10:40 AM
---
Good hearing from you Doc...hope you are doing well..
Just for your info, I no longer service the Alutecnos reels. Unfortunately, parts are difficult to source, and I have had to cut back on what I bring in here...so difficult to service reels have gotten the axe..!
03-16-2019, 11:53 AM
Senior Member
Join Date: Jun 2010
Posts: 129
---
I also put some stiff grease around the harness lugs on the HX Raptor to try and seal them. There is 1/32" opening between the housing and the lugs. There was a whole discussion on it on BD (I think). People were upset the fit of the lugs was not better, and Avet rep was replying that if there was a direct steel/aluminum contact you'd get electrochemical corrosion at that interface.
03-16-2019, 12:30 PM
Admirals Club
Join Date: Jul 2014
Location: Stapleton, AL
Posts: 2,705
---
I cleaned the other JX today and it turns out I did service it before I ever fished it. All the screws came out effortlessly with no salt on them. There was no salt inside the reel, no rust on the main gear, no rust on the pinion bearing. Honestly this reel didn't need any cleaning but I did anyway since it was apart. It was a night and day difference between the two.

I'm about to tear the Raptors apart and see how the Boca pinion bearings look.
03-16-2019, 06:10 PM
Admirals Club
Join Date: Jul 2014
Location: Stapleton, AL
Posts: 2,705
---
They get sprayed off after every trip with low pressure water, no soap.
I should have taken a picture of the one I cleaned today. It was bought the same day as this one, was used the exact same amount, but I cleaned it before I ever used it. When I opened it up it looked like I just got done cleaning it. No salt, no rust, no problems...
---
Last edited by mdees88; 03-16-2019 at

06:29 PM

.
03-16-2019, 07:28 PM
Senior Member
Join Date: Dec 2013
Location: Blind Faith
Posts: 791
---
Avets are not the only reels that are subject to corrosion problems, but are probably the most vulnerable due to lack of coverage from the factory. Regular greasing is a must for all threaded metals exposed to the salt. Evan Talicas are subject to corrosion.
Posting Rules
You may not post new threads
You may not post replies
You may not post attachments
You may not edit your posts
---
HTML code is Off
---