Dry Tortuga Kayak Fishing Advice
02-04-2011, 08:30 PM
Junior Member
Join Date: Feb 2011
Posts: 21
Dry Tortuga Kayak Fishing Advice
---
Hello any and all helpful anglers,
I am going down to camp on the Dry Tortugas for a few days in March with my kayak and was wondering about areas that are legal to fish, what tackle I should bring, if their are areas to cast net bait, if the rangers have maps of the fishing zones, do I need to chum to catch fish, if so what chum should I bring, among other things. I have so many questions, yet am excited to be camping for 3 days on the island. I just want to make sure that I am prepared for anything that will come up and that I have a chance to maximize my fishing experience. I have seen a few posts about people fishing from a kayak, but would love as much information as possible.
Thanks in advance for anyone who responds with some quality information,
Bill Cap
02-04-2011, 08:59 PM
Senior Member
Join Date: Jan 2007
Location: Miami, Florida
Posts: 3,669
---
If it wasn't late - I would provide alot more info. The Fort is a majestic place. I will check back tomorrow. All I can say now, is your gonna need a big Kayak. Fishing is allowed within a mile radius of the Fort. Stay up on the latest regulations---the FWC regulations and because the Fort sits on the Gulfside, it is governed by the Gulf Fisheries Management Council, so know the Federal Law for fishing there. Gulf regulations are on the FWC website. Here is a website with some info.
http://www.nps.gov/drto/faqs.htm
Check the Fla. (___)man website forum "Keys section" and post your ques there---there are alot of people that know more then I.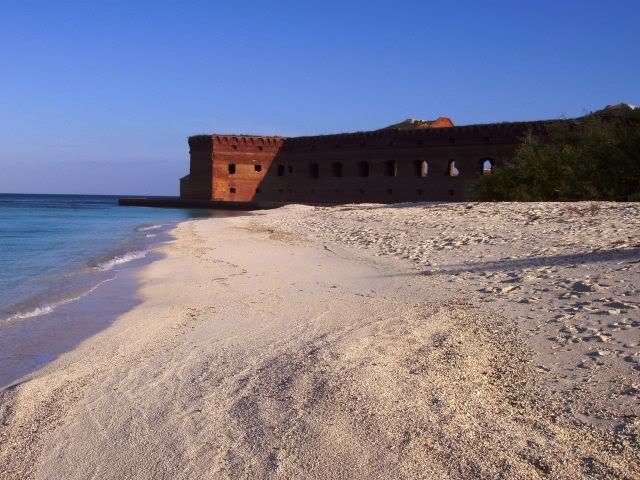 02-05-2011, 07:28 PM
Senior Member
Join Date: Nov 2006
Location: New Smyrna Beach
Posts: 8,342
---
Been there a number of times although not in the past few years. Are you sure you can camp on the island? Before you were not allowed too. Maybe alot has changed but before you could not fish inside the park area. Beautiful place.
02-05-2011, 08:11 PM
Senior Member
Join Date: Nov 2006
Location: Florida Keys
Posts: 5,979
---
Yes, you can camp on the island. Don't know about when you couldn't; might have been a period after one of the mid-2000's hurricanes when it was closed, but anyway, now you definitely can. Info here:
http://www.nps.gov/drto/index.htm
Under the "Plan your Visit" tab, you will find "Brochures" There is one on kayaking in the park and several more on camping there.
About the fishing, be sure to check with the rangers as the islands are at the convergence of about three different protection zones, and regs are changing constantly. Last I heard, the one mile circle around Garden Key (the one with the Fort) was still OK to fish in, but make sure.
Have a blast.
02-05-2011, 10:26 PM
Member
Join Date: Feb 2010
Posts: 99
---
Never been to Dry Tortugas but if it's anything like the waters around Key West... For shallow water, 3" Gulp Shrimp (new penny) will catch many kinds of fish, even groupers up to 10 lb. Could take a cuda surgical tube lure if you want to try for cudas. Jacks and mackerel will hit metal spoons or jerk shads. You could also try bucktail jigs tipped with fish or Gulp for bottom fish, or metal jigs could work also in deeper areas.

Live baits will work great for many things. Not sure if you were thinking about throwing a cast net from shore or from a kayak but if you can do the latter you are The Man. Sabiki rigs are another option for catching live bait (#6 gold hook will work for most bait fish). Tipping the hooks with small bits of your used Gulp Shrimp will catch more pinfish, grunts, and other stuff. If you haven't fished sabikis be careful, they will stick you easily...they make rods where the hooks go inside the rod to avoid that but those rods are long and heavy.

Chum would definitely help, but not sure how you would keep block chum cold... They do sell dried chum, or perhaps you could make your own chum by catching baitfish or larger fish and cutting them up on a cutting board. I'm not sure I would feel safe chumming from a kayak though... there are many sharks around the Marquesas and I'd put money on Dry Tortugas having at least as many.
02-06-2011, 09:14 PM
Junior Member
Join Date: Feb 2011
Posts: 21
---
Thanks for the good information. and no I won't test my skill throwing from my kayak. After reading some reports, it appears that you can fish/cast net from the dock. I'm not looking to keep a bunch of fish just a few snapper perhaps for dinner. I'm just looking forward to catching whatever comes my way.
02-06-2011, 10:00 PM
Member
Join Date: Feb 2010
Posts: 99
---
Around KW adult yellowtails are caught on the deep edge of the reef 60+ feet of water, and chumming is important as is careful presentation and light fluoro leader. They are considered one of the more difficult snappers to catch, although sometimes you'll catch them without chum on a lure etc. Not sure where they would be around D.T. but possibly in similar depths. But there are several other types of snappers you could run into. Legal size mangrove snappers will be around shallow water structure, and larger ones are also deeper. They are probably the ones you are most likely to catch. They like shrimp and cut bait. They'll eat Gulp Shrimp very well if you get it down to the bottom. They like to hang around overhangs and rocks of any type. You might luck into a mutton...they will be deep usually 120 ft or so and a pinfish would work for them, although they can be shallower too. Any groupers or jacks will eat any live baitfish like popcorn. There are other species considered good for dinner - yellow jacks, pompano, small cudas under 5 lb (large ones can carry ciguatera toxin). Might run into a cobia...they'll also eat live bait and a variety of larger lures. Just looking at the depth charts you've got shallow water flats, reef, and deeper stuff. Like I said I've never been out there, but there are probably several dozen species you could encounter out there.
Posting Rules
You may not post new threads
You may not post replies
You may not post attachments
You may not edit your posts
---
HTML code is Off
---