The holiday fishing season is here in Fort Lauderdale once again. The weather has been kind to us this year in South Florida. We had back-to-back-to-back cold fronts this month which has gotten the sailfish in a feeding frenzy. Sailfishing has been better this year for the Ft. Lauderdale fishing boats than in the last 10. Constant North East and South East winds have made it prime days for kite fishing the 100'-200' deep zone known as Sailfish Alley. Kite fishing with live mullet and goggle eyes is producing an average of 1 sailfish per trip. Some trips we catch a couple, some trips none. It averages out to about 1 sailfish per charter. The good fishing has kept us busy in a very slow time of year for charters.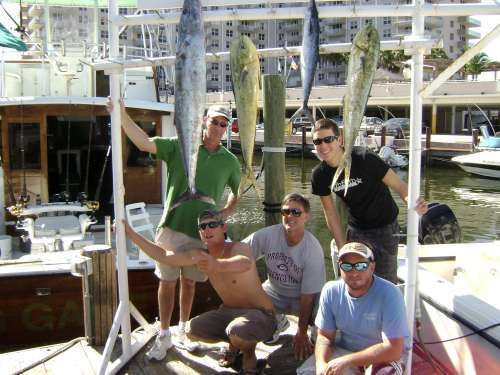 Sailfish are always the hot news ticket this time of year, but there are a few other notable gamefish in our area right now. Wahoo are migrating through our waters and can be caught for those willing to put in some fishing time looking for them. An hour of high speed trolling lures on the outer edge of the Gulf Stream gives you a good shot at catching one of the most exciting fish in the ocean. These fish are built for speed. When they strike, you will experience the sickest run of any fish you will ever see. I've had wahoo break reels before back in the old days. Wahoo can test your equipment. The Big Game, our sportfishing boat, has been targeting wahoo this week and catching some nice ones. Most wahoo are in the 15-20 pound range, but we've thrown a couple 30-40 pounders on the dock recently. Any trip where you catch nice wahoo is a great trip.
The drift boats in Ft. Lauderdale are catching some fish these days too. Kingfish have been biting good for us this year. We haven't caught many smoker kings this year, but the average size kingfish on the head boat has been about 8 pounds. There aren't many little snake kings biting. Most all of them have been nice, plump, full-grown kingfish. The Catch My Drift has been flying a few sailfish release flags from their half day fishing trips. It's always cool when the drift boat out-fishes the sportfishing boats on sailfish. Capt. Dale who runs our night trips has been telling me the snapper fishing has been good at night. The best bite for yellowtail has been later in the trip, around 10PM. A few muttons here and there, but we've mostly been catching yellowtail.
Fishing may slow down for a week or so, but there's always something out there to catch. This time of year, we have good days, bad days, great days and not so great days. January should have some great days for sailfishing, a few good days of mahi-mahi fishing, and maybe a few good days of wahoo and king fishing. We'll see. Merry Christmas everyone, sea ya on the water.
Capt. Andy Roydhouse
Fishing Headquarters
www.fishheadquarters.com