A Customer Testimonial Plus a Bunch of installation photos - nice!
07-13-2015, 06:56 PM
Senior Member
Marine Advertiser
Join Date: May 2013
Posts: 190
A Customer Testimonial Plus a Bunch of installation photos - nice!
---
We've been getting a ton of thank you calls and emails lately... which makes our hearts warm b/c without happy customers we'd all be doing something much less fun than building switch panels for boats
Anyway... wanted to share some comments from one customer, who sent us a bunch of great photos post-install, which we REALLY appreciate and love to see!
So, Matt came to use a few months ago wanting a switch panel and a new glove box door. Well switch panels are no sweat, but have not done many glove boxes, but thought we'd give it a whirl, and I'm glad we did.
Matt was so happy with the design process and proofs, he actually added to the scope before receiving a single product, to start design of a gauge panel too. Pics below, but here's what he had to say over the course of a number of emails:
Hi Pam

I've been meaning to email you that Luke received the panels and he said they look great. I was thinking that you were probably getting worried that we didn't get them or didn't like them. No worries I'm a happy camper without even laying my hands on them yet.

Luke has installed them and is looking to finish up by next week. I am still waiting to see them however Luke said they look great. We agreed that I wouldn't see the boat until his work is complete on the girl. My plan is when she's done to take some HD pics with my GoPro which I will send to you and tag New Wire Marine on facebook. I am chomping on the bit to see her all done with the new awesomeness installed. I will let you know the moment I see them.

Thanks

Matt
Hi Pam,

Luke sent this to me by text message Thursday for a Thursday motivational for me. Attached is just a teaser of the panels installed with my new Lowrance Gen 2 HDS's. The only things not updated on that console is the throttles and helm wheel. Maybe one day when my bank account recovers I can drop some $$$$ for the new Suzuki digital chrome throttles!

I can't wait to see it all lit up and operating. More to follow!

Thanks
Matt
Changing the Attitudes by Changing my Latitudes
Hi Pam
I bet you thought that I forgot about you. Nope!
It took a while longer that I had thought for Luke to get her all done but it's awesome! And she has her own new hammock to lay in when I'm not using her.

Everything y'all made and designed is awesome! It looks great on the boat! Everyone is commenting and impressed.

Attached are some pics and a few extra shots included. I did not get any on my GoPro yet but when I do I will send them your way.

Thanks again and until next time
Matt
Let me step back a little bit to the design process... Matt described the panels and maybe (can't recall 100%) sent in a template for the unique rounded shaped rocker switch panel. I was able to dig up this little rendering he did as an idea for us on the gauge panel:
This is the gauge panel as it existed that he wanted replaced:
And here's what we came up with for him: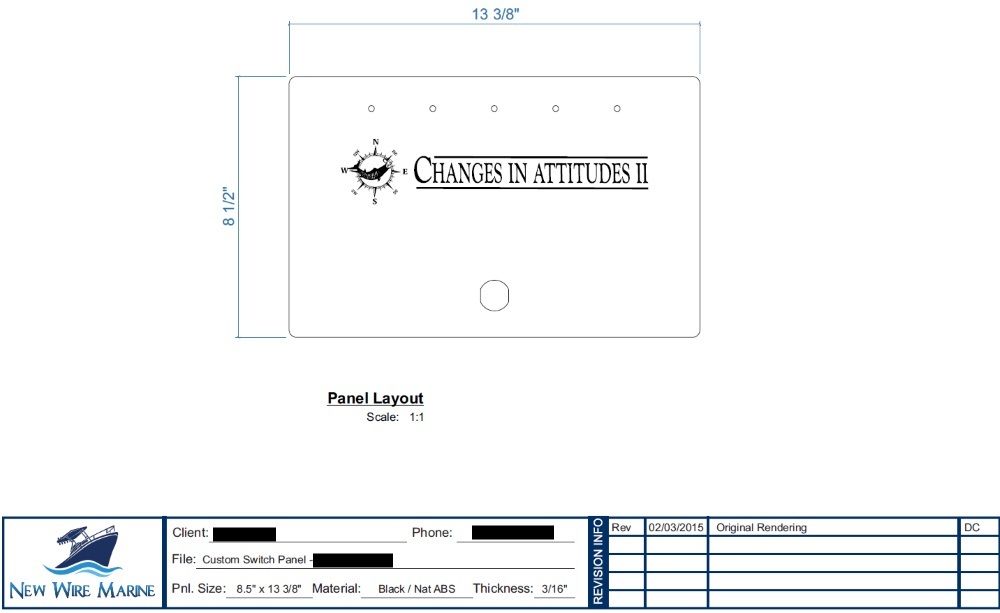 He sent in his entire glove box, so we could duplicate his beat up glove box door design with matching black material and a big - backlit - boat name etching. It ended up looking great! (see pics below):
And his panel design:
Finally the nice install shots... the fisheye effect is caused by the gopro camera BTW: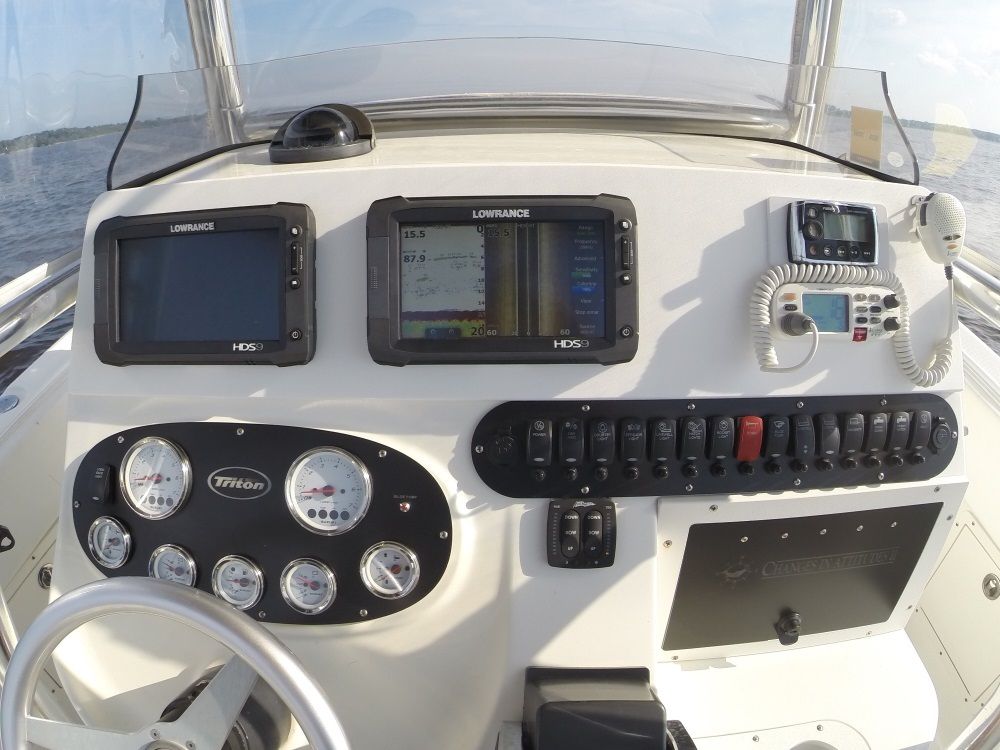 Thanks a ton Matt for sending those!
I'll leave off with a cheesy plug - if you're interested in a custom switch panel for your boat u
se this form to get some pricing
, and it will automatically send us an email!
thanks!
Posting Rules
You may not post new threads
You may not post replies
You may not post attachments
You may not edit your posts
---
HTML code is Off
---