April 2021 Panel Projects
04-02-2021, 01:53 PM
Senior Member
Marine Advertiser
April 2021 Panel Projects
---
Hey Boaters, here's a thread of projects we've been working on this month!
Click Here
to view projects from last month:
March 2021
04-02-2021, 02:26 PM
Senior Member
Marine Advertiser
April 2
---
Our etched acrylic livewell covers don't get shown off as often as our panels- but they are just as impressive!
This Contender lid was custom-made to fit the transom livewell
In contrast to the Contender cover, this Ocean Runner livewell lid was etched on the top- this is great for creating grip in areas that might be walked over.
---
Last edited by NewWireMarine; 04-06-2021 at

11:19 AM

.
04-06-2021, 11:26 AM
Senior Member
Marine Advertiser
Regulator Installation
---
Because we ship our panels nationwide and even internationally, we don't often get to see them after installation. So it was a huge pleasure when installers Hold Fast Marine brought by a fully installed project to see us before taking her home. Here's a few of the pictures we took during her brief stop:
Backlit labels and pushbuttons make this a very functional dash for night fishing or cruising... And looks amazing!
Here's a close up of the buttery smooth LuxMatte dash panel material.
The view from the top!
This breaker panel is White Carbon Fiber over a natural core to allow for backlighting of the logos and labels.
---
Last edited by NewWireMarine; 04-07-2021 at

02:08 PM

.
04-07-2021, 02:08 PM
Senior Member
Marine Advertiser
Maverick
---
This was a smaller panel, but packed in the features! BlueWater 22mm etched and backlit pushbuttons with a dimmer, all over our premium LuxMatte material.
---
Last edited by NewWireMarine; 04-09-2021 at

02:55 PM

.
04-09-2021, 02:50 PM
Senior Member
Marine Advertiser
4/8/21
---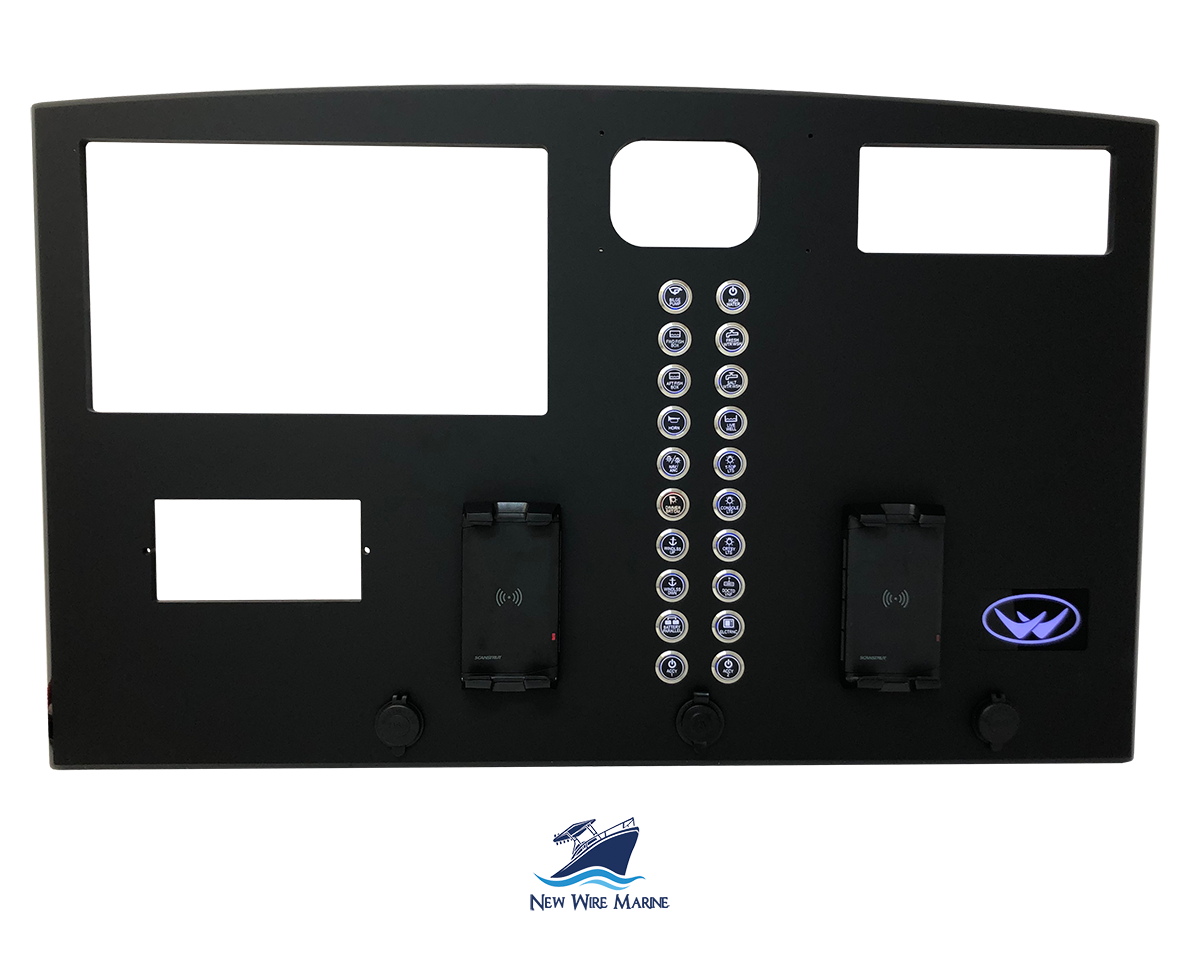 Sleek LuxMatte material, etched and backlit BlueWater pushbuttons, and two wireless phone chargers- one for you and your first mate!
Take a closer look at these BlueWater pushbuttons!
---
Last edited by NewWireMarine; 04-14-2021 at

02:40 PM

.
04-14-2021, 02:40 PM
Senior Member
Marine Advertiser
---
Hey
mkivbren
I'll take some pics and share them for you tomorrow.
Here's a couple panels that went out the door today- the contender set is special because of the white acrylic border- generally the White Carbon Fiber material can't have these chamfered and polished edges, but our team made it happen!
This Grady White panel is a unique one also. It looks like a Gloss Black panel at first glance, but is actually a Clear Acrylic with a painted back. This gives the panel a really appealing depth and makes the logo and text look extra cool.
Yesterday, 02:56 PM
Senior Member
Marine Advertiser
BlueWater vs Bocatech
---
Hey
mkivbren
Here's a great example of Bocatech switches in this great Regulator panel. They produce a couple different types of pushbuttons for different functions, but the fronts all basically look identical. In contrast Bluewater has two sizes, 19mm and 22mm, and both of those sizes come with both stainless steel actuators or etched actuators. You can see examples of the etched actuators on the Maverick panel above. The Contender install pics above show off the BlueWater stainless steel actuators. You can tell it's really hard to see any difference between BlueWater and Bocatech switches from the front!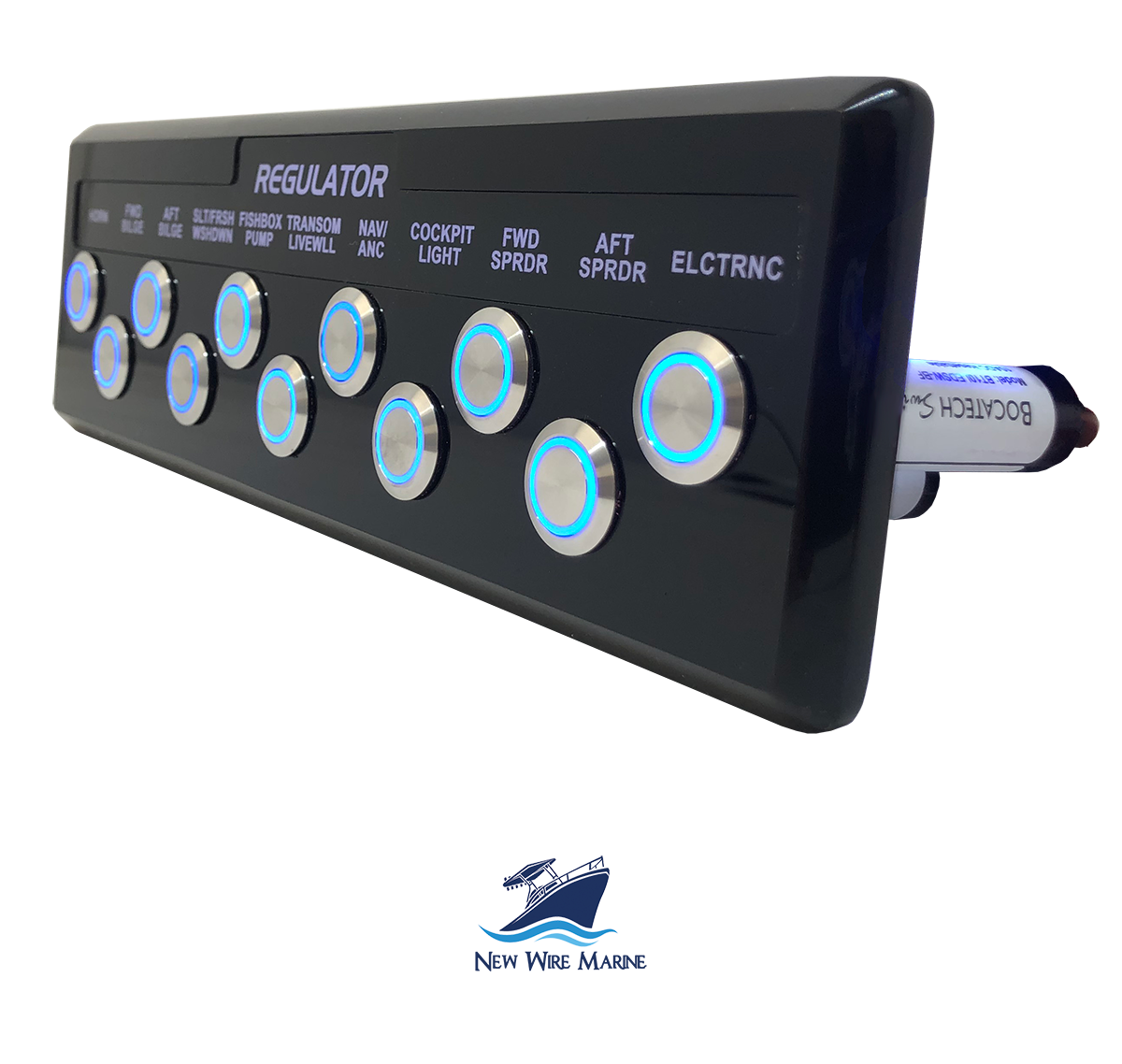 Posting Rules
You may not post new threads
You may not post replies
You may not post attachments
You may not edit your posts
---
HTML code is Off
---