31 Contender Dash Panel Project
04-17-2020, 04:23 AM
Senior Member
Marine Advertiser
31 Contender Dash Panel Project
---
Behind the scenes look at a dash panel project on a very nice rebuild of a 31 Contender. Partnering on this one with one of our dealers in Jacksonville - Boattronics... who does insane remodel work.
Here's the console prep work:
Center Console Re-glassing
There was already a WHOLE lot of work done at this point.
Here's the complete build thread
. Tanks and deck replaced, lots of grinding, filling fairing, planning.
Setting console in place.
31 Contender
Boattronics went with a grey and black theme on this one. Post paint photos:
metallic steel grey Alexseal Contender
Grey Contender - Paint, Engines hung
We're going to do a blacked out themed dash panel for this one. The goal is to do the top and center face... and to make them together to appear seamless.
Panel 1 we're going to do first... it will have all the switches. Panel 2 - we're going to re-measure after #1 is installed (really going for perfection here). Also the they are using one of the newest Simrad units... suppose to be one of the first one's delivered.
Contender Dash Idea
04-17-2020, 06:11 AM
Senior Member
Marine Advertiser
---
This boat is going to have an awesome dark theme with tan upholstery. Black powdercoated metal all around. So of coarse we go with gloss acrylic.
We're looking for something kind of like this for the top part - except one huge (24" I think it will be?) screen:
example dash from Yellowfin
And the switches will be on the smaller center plane of this Contender's console. More like this example:
narrower panel example with push buttons
We're going all out on this, with all the instruments mounting with a reverse flush style. This is the True flush 'glass dash' appearance... like this:
Reverse Flush Fusion RA 770
In fact - this Contender dash panel for Boattronics is going to get a Fusion RA-770. Also - and this is a first - the customer has asked us to attempt to reverse flush a Yamaha 6YC gauge. We don't think this unit is meant to be mounted that way... we'll see what kind of trouble it brings.
04-17-2020, 06:32 AM
Senior Member
Marine Advertiser
---
Here's the basic concept.
Single large screen at the top.
Panel with Yami gauge, Fusion and switches in middle
SeaDek across the helm
Could have done three acrylic glass dash pieces - but in this case the customer is installing a really neat second station at the top, and needs to step on the lower part of the dash, so wanted to get some SeaDek there for grip.
Contender Concept for Dash Remodel
04-18-2020, 11:14 AM
Senior Member
Marine Advertiser
---
Units arrived from Boattronics to measure and fit for the center dash panel.
We've Reverse Flushed the Fusion RA-770 many times, but the 6YC as you can see is going to have a really weird cutout, and at first look - a custom bracket fabricated. Nice to have both units on site anyway to test fit before the panel is assembled.
instruments for the center panel - Panel 1, contender dash panel
Here's a view of the different acrylic dash mount styles we usually see for instruments. On this Contender project we're doing the one on the right... where the units will be mounted behind the switch panel. This can be directly into the fiberglass (with appropriate spacer) or for smaller instruments mounted onto the back of the acrylic dash panel itself with a custom bracket. It actually looks like we'll need both methods on this project.
Instrument Mount Styles for acrylic dash panels
04-18-2020, 11:21 AM
Senior Member
Marine Advertiser
---
By now we've gotten measurements and gone back and forth with the customer a few times on the design for panel 1.
Here's what we came up with:
Dash panel drawing for contender 31 - Panel #1, Part I
04-19-2020, 12:17 PM
Senior Member
Marine Advertiser
---
Making some progress today. Cutting panel and ancillary parts. We have a number of extra parts needed on this one due to the reverse flush instrument mounts.
Most instruments are not exactly the same depth as the acrylic. Even if you're working from the best possible position like this Contender console is (100% intact dash - no cutouts)... you still wouldn't be able to mount either of these units easily without custom brackets or shims.
We've build panels for dozens of units at this point, so know how deliver a project that's capable of being mounted.
This project needs 3 extra parts. A bracket for the Yamaha gauge. Shims for the Fustion. And a plywood template to drill the stud holes:
The various parts needed to make this switch panel work.
Okay, we've got everything we should need, here we go:
Everything is cutout
Dry-fitting the instruments before polishing... Fustion RA770 is looking good so far.
testing reverse flush parts
Okay, everything is in, and looking great. Yamaha 6YC gauge, and Fustion stereo. Note plywood template on the back... this is going to be a very tight cutout (especially around the 6YC gauge (to the left below)... so this template I have a feeling is going to save the day.
Perfect!
Test fits look perfect!
05-09-2020, 06:40 PM
Senior Member
Marine Advertiser
---
Now that we know the instruments fit, we'll get the edges mirror polished for this 32 Contender dash panel re-build:
Contact Us for Info About a Panel for your Boat
Polishing Panel Edges - 31 Contender
Now let's test fit the backlight inserts. 1/2" acrylic is opaque. Which makes the edges look great. And also allows stud mounting (unlike clear acrylic with the back painted). But it does mean that etched labels won't backlight unless we use an insert.
inserts allow backlighting
We precision etch labels into the inserts. It's also nice to be able to replace just the inserts if you ever need to change the labels.
precision laser etched labels
Weld mount studs on the back to show no screws. These things are on there ridiculously well... they will break the #8 stainless studs OFF before the come unglued to the acrylic.
Checkout the detail in the Reverse Flush instrument pockets... the fusion barely fits on this panel - but does. And the Yamaha 6YC has a very complex shape. This Contender is going to look awesome thought with this new dash panel.
stud mounts for zero fastner look on this Contender
06-05-2020, 06:41 AM
Senior Member
Marine Advertiser
---
We really try to think about this installation when we're making our custom dash panels.
In this case, we have two reverse flush units, so make a custom bracket for the Yamaya 6YC gauge:
6YC Yamaha custom bracket
And we anticipated the shims needed for the Fusion stereo, and fabricated them to just the right depth. Otherwise the guys over at boattronics would have been in a pinch during install... or have to stop and fabricate something just when they thought they were going to install the dash panel:
Fusion Stereo Mounting Shims
So here's the result... excited to see the install shots!
06-05-2020, 07:06 AM
Senior Member
Marine Advertiser
---
So panel #1 is done... got it down to Tony and gang at boattronics to install on this dream contender rebuild project.
Here we go, on the dash. Black looks great on the gunmetal grey on this contender rebuild... and we love the SeaDek on the lower portion - especially since the lower half is used as a step to get up into the tower.
center panel on centender
Here we go, a little larger shot - this Simrad is a temporary unit while we wait on the 24" to come in... it's brand new, one of the first of its kind to be shipped. An NSO24.
installed, lights on
love this shot of the boat in the slip at night. Big fan of the white under gunnel lights on this Contender.
overall contender 31 with panel installed
Here's a few closeups of this lower dash panel... We're still going to fit the upper panel right on top of it, we're going for a complete black look. Just waiting on the 24" Simrad to arrive so we can finish it up!
closeups of installation of center panel
06-05-2020, 07:21 AM
Senior Member
Marine Advertiser
---
Finally, the 24" Simrad arrived... next step in this story progresses!
Came in to boattronics, and checkout how big it's going to be on this 31 Contender's console... "it's going to be HUGE!"
Simrad placement on upper helm
06-05-2020, 08:03 AM
Senior Member
Marine Advertiser
---
Alright... NSO24 Simrad arrived at our shop. That's a pretty big screen.
We want the units here if we're doing a reverse flush install because we want such a high level of precision. I kid you not when we went to the Miami boat show in January, I'd guess that 75% of the acrylic dashes would never have gotten through our QA. They don't look horrible when you're looking at the entire boat... but we go by what we call it the "kitchen table test" b/c we know our customers are going to be sitting under the bright lights, unboxing our product on the kitchen table, and in that situation even a minor flaw is a no-go.
Here she is:
NSO24 Evo 3
And here's the plywood template of the console shape... I guess in hindsight we probably should have already had those guys send this down, might have shaved a few days off... we're in a pinch now for filming for
Project Dreamboat
coming up in a week or so.
contender dash shape
Checkout this closeup... see how there are things we need to physically check on the unit that are not necessarily on the manufacturer's mounting template... or it may be a second line, but not clear that this is area needs to be recessed here for a proper fit:
tight tolerance
Okay - got this baby cutout - looking great! Look how big that screen is!
looking good
I'd call this a perfect fit. Depth is spot on, this is going to look awesome!
We fabricated a precision milled shim to mount the unit with into the fiberglass that will keep the surface flush - I missed getting a picture of it, but was basically a ring similar to the we did for the Fusion RA 770 on the lower panel
perfect fit
Then of coarse we're doing a zero visible fastener mount, so we are added studs to the back. You've already seen on our
blackout dash thread
how strong these things are.
Hey - while you're reading this - remember, we build these panels all day long - custom made - for people just like you. Get in tough with us to get a quote:
https://newwiremarine.com/contact/
See more example here:
https://newwiremarine.com/projects/
And follow us on Facebook to see more projects like this one:
https://www.facebook.com/NewWireMarine/
stud mounts for contender dash - zero fastern
06-25-2020, 11:45 AM
Senior Member
Marine Advertiser
---
Alright, this Contender project is wrapping up! Here's some install shots, thanks again courtesy of
Boattronics
in Jacksonville. What an incredible, amazing job on this 31 Contender rebuild!!
First, here's the template we made for the lower panel so the stud mounts.
Lower panel installed:
Closeup of the Yamaha gauge... Reverse flush mounted:
And here it is... the complete dash with the upper panel installed!
Oh yeah... could not help but throw in a picture of the console all lit up. Incredible huh?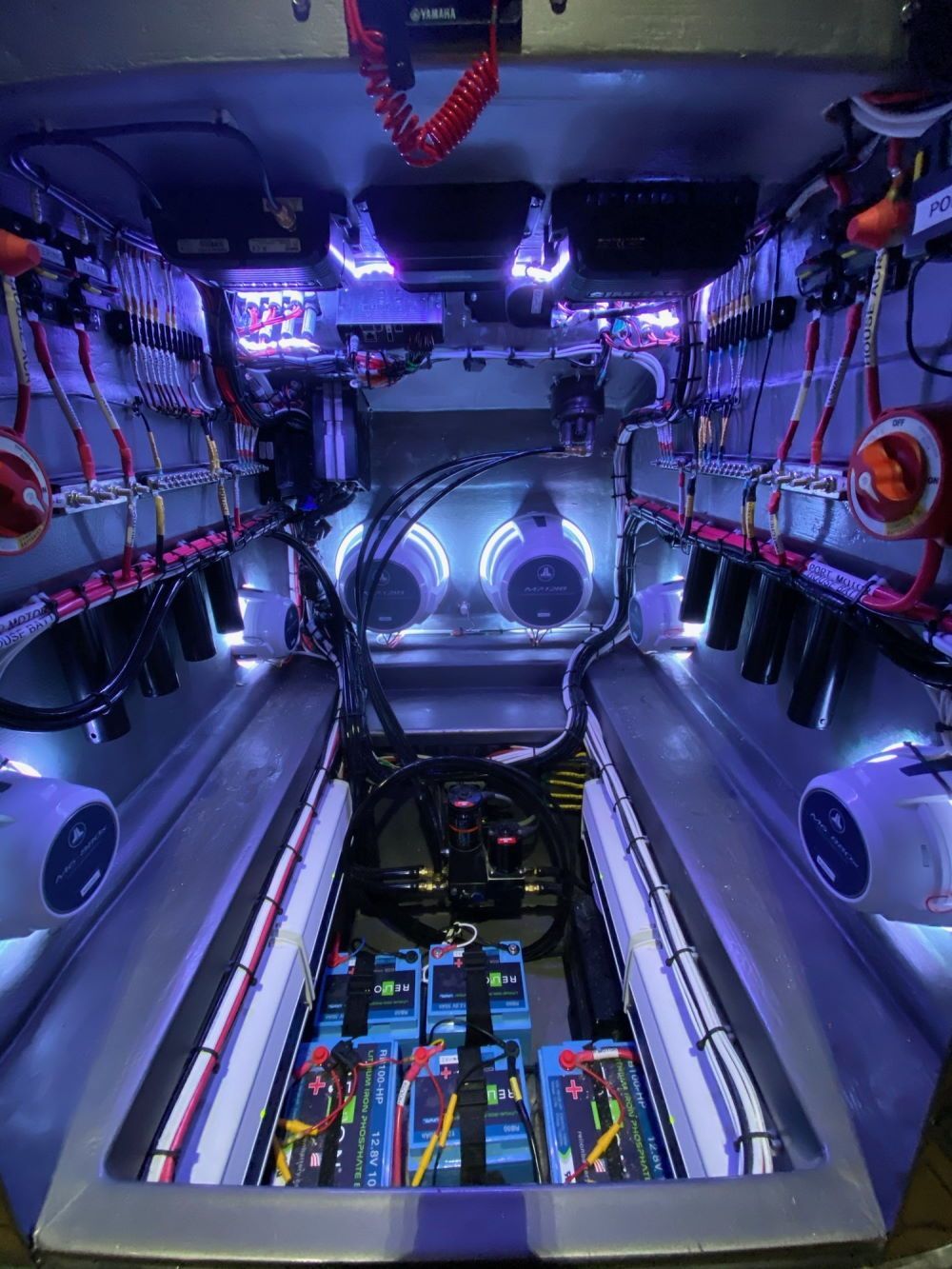 One more... with the man himself Tony from Boattronics.
06-25-2020, 12:48 PM
Senior Member
Marine Advertiser
---
Here's the final side-by side before and after... obviously a WHOLE lot of other work done here besides the dash, but we like to think we had a little part in the success of this build:
This is what the customer said about his experience working with us:
My name is Tony Eden, head tech and owner of Boattronics. I've been rigging boats professionally for 23 years. I've tried every switch panel manufacturer out there, and none of them have matched the level of service and quality that we get from New Wire Marine. Its come to the point now, we no longer waste time with any others, and new wire makes all of our panels.

In the first pic, you'll see the wooden template they send us for advanced panels. No other manufacturer has done this for us, ever. Pic two, you can see the beautiful panel in along with a Yamaha 6yc and a Fusion Appollo. Lastly, the mighty Simrad NSO Evo3 "S" is in place with another specail trim ring they made for us to pull the entire helm together.

Even the most advanced panels ever custom made for a Center Console vessel, NWM nailed it perfectly as they have every time we have used them, over and over again. Thank you so much New Wire Marine!
Thank you Tony for the very kind words, and the opportunity to work on this Contender project with you!!
Posting Rules
You may not post new threads
You may not post replies
You may not post attachments
You may not edit your posts
---
HTML code is Off
---