Placement of Large VHF Radio In A Small Boat
02-21-2019, 08:01 AM
Admirals Club
Join Date: Aug 2011
Posts: 1,388
Placement of Large VHF Radio In A Small Boat
---
I currently have a Standard Horizon hanging from a bracket attached to the wheelhouse roof of a small boat. It's tucked into the starboard corner which allowed me to run the wires through a wall panel. Problem is in rough seas or when I get into the helmsman chair too fast I hit my head on the control knobs of the radio. I learned to live with it so I would have the radio within easy reach.

So now I'm thinking of stepping up to the Furuno FM4800. I compared specifications of the two radios and the Furuno is quite a bit larger then the Standard Horizon—-both in width, depth and height by several inches. I want the AIS and DSC functions and ease of feeding that info into my MFD but the footprint of the Furuno radio is a concern

The question: how critical is the placement of a VFH radio so it's within hands reach? I could mount behind a bulkhead wall and feed the mike and wire into the wheelhouse for easy access but I'm thinking not having ready access to the distress button would not be a good idea

Anybody have any creative solutions on where to mount a radio? There is a bit of real estate just to the starboard of the helmsman chair but it's tight and getting at the controls would be more awkward then if I mounted on the bulkhead behind the tiller

Thanks for comments


---
Last edited by marketic; 02-21-2019 at

12:52 PM

.
02-21-2019, 08:26 AM
Senior Member
Join Date: Jul 2004
Location:
Posts: 7,899
---
Your radio doesn't need to be at your helm to use the DSC Emergency functionality all the good remote mics have that capability.
I have two ICOM's buried under my helm area that use ICOM remote mics .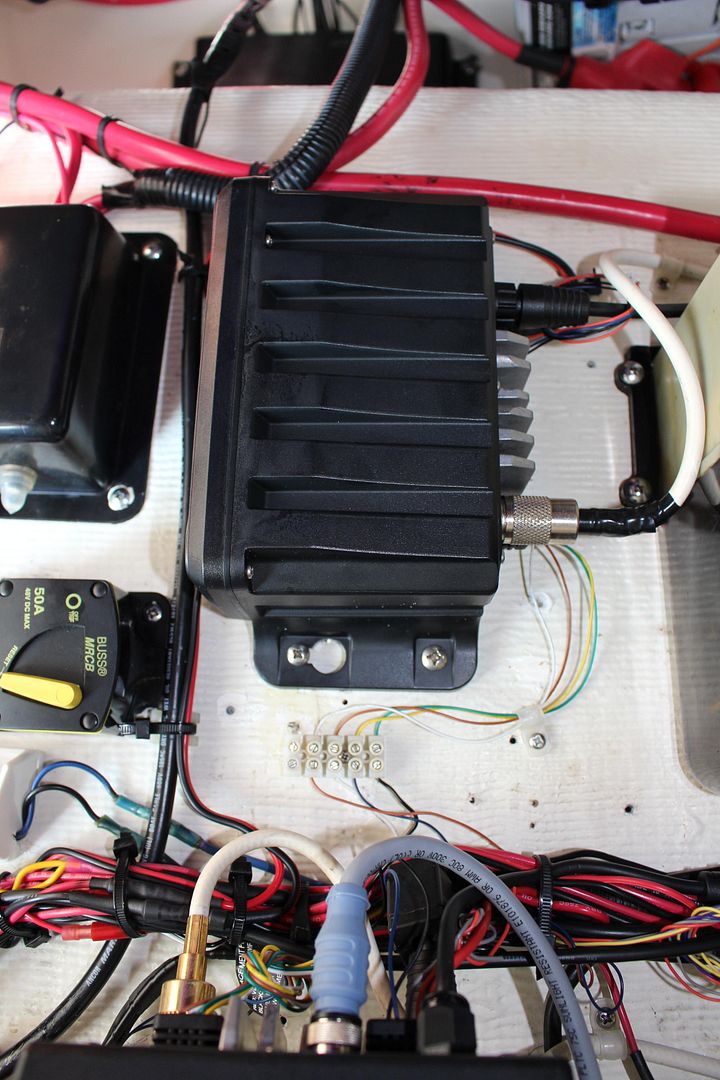 The CommandMics my ICOM's use are the HM195B the DSC button is located on the back side of the radio. I have the same functionality using the CM's as I do using the radio's
Tom
02-21-2019, 10:46 AM
Admirals Club
Join Date: Sep 2011
Posts: 2,795
---
Eric, the FM4800 has the option of front or rear mics (or both). You could mount the radio somewhere "hidden" and then mount the remote microphone in an accessible place. The FM4800 was slightly larger than my Lowrance Link 8, but twice the weight. The auxiliary microphone is an HS-4800 and it is possible run it up to 30meters away.
02-21-2019, 01:02 PM
Admirals Club
Join Date: Aug 2011
Posts: 1,388
---
Wow, I never thought of the remote mic option....I'm thinking that's sad testimony that me and my VHF radio, arguably the most important piece of marine electronics in the wheelhouse, need to get way better acquainted then we have been.....thanks, Gents!
02-21-2019, 06:51 PM
Senior Member
Join Date: Nov 2002
Location: Pensacola, Fl
Posts: 11,186
---
Not sure what Standard horizon you have, but if it is before DSC--needs replacing--be sure you get an MMSI number and put it into the radio. If you don't the DSC will not work! Some of the SH radios have remote mikes. I have the radio near the helm, and a remote mike by my bunk--I can monitor traffic, weather, or call others at night if necessary.
02-21-2019, 07:28 PM
Admirals Club
Join Date: Aug 2011
Posts: 1,388
---
Thanks for that, Bob—I just spent some time researching DSC protocol and take note of the MMSI number requirement. I'm embarrassed it's taken me this long to finally make the move to get proactive about registering...
02-22-2019, 05:58 PM
Senior Member
Join Date: Jan 2005
Location:
Posts: 3,319
---
OK, so remote mic a great option, adding a DSC capable VHF also a great idea, also consider a VHF with internal GPS receiver, AIS and also NMEA2K. Some of the VHF radios also have remote passive GPS antenna options in case GPS capable VHF is located out of clear sky view for good satellite reception and good location accuracy.


Jim
02-22-2019, 07:59 PM
Senior Member
Join Date: Feb 2003
Location: M.Vineyard, MA
Posts: 13,917
---
At least Icom, Furuno , Raymarine, Garmin and Simrad offer black box VHF (but not Standard Horizon that I can see) .
And most all marine VHF mfgrs offer sets with remote mics with varying functionality .

Simrad's black box handset has the best key layout IMO and great functionality , though reportedly not necessarily the best reliability . ( Mine has been great.) I really like my older Simrad RS8300/8400 w/ 2 station handsets and remote speakers. This helps intelligibility of comms over ambient engine and wind noise a whole lot. The newest version of that is their RS90S with integral AIS and GPS amongst its other features.
Posting Rules
You may not post new threads
You may not post replies
You may not post attachments
You may not edit your posts
---
HTML code is Off
---