old boat redo
12-03-2002, 03:41 AM
Senior Member
Join Date: Oct 2002
Location: Stockbridge, ga
Posts: 373
Likes: 0
Received 0 Likes on 0 Posts
old boat redo
---
I take it icom is the radio I need for my offshore boat. what model? Do all icoms put out a true 25 watts? The radio will be used mainly for offshore security purposes [don't talk a lot on one].

old fishermen never die, they just smell that way
12-03-2002, 04:32 AM
Senior Member
Join Date: Feb 2001
Location: Edgewater, MD - Pursuit 2
Posts: 608
Likes: 0
old boat redo
---
Lots of people like Icom here, I even own one myself. I have it right next to a Standard. I have not noticed one bit of performance difference between the two.

My next radio will be a standard, not an Icom. Of the radios that I am looking at(M402/502 VS Intrepid LE/Quest), the DSC position for the icom is lacking in digits. It will display degrees and minutes(no decimal) only. The standard Intrepid will display the minutes to three decimal places.

I am an information junkie, so the more the better for me. That is the deciding factor for me, the number of position digits. Performance wise, I don't see a difference on my boat.

I am quite certain that you will be happy with an Icom, they are great radios. Just thought you should have some information on the difference between the two.

Casey
12-03-2002, 04:51 AM
Senior Member
Join Date: Feb 2001
Location: West Virginia
Posts: 3,877
Likes: 0
old boat redo
---
If you look at the picture below you'll notice that the display on the face of My ICOM M-127 is showing my location (39 degrees, 34.934 minutes N.) with three decimal places showing. You'll also notice that it is showing Latitude only (notice the "N" at the end of the string of numbers). In order to show the Longitude I would have to flip the channel selector one click.
Personally I've always felt that the purpose of a radio was to communicate, not to show extranious information that is available more correctly elsewhere, so the display of location at the radio is of no more importance to me than the color of the case on the thing. That's just me of course and I understand why Casey would care, what I don't understand is why his ICOM radio won't show the same information that mine will.
Anyway here's the picture: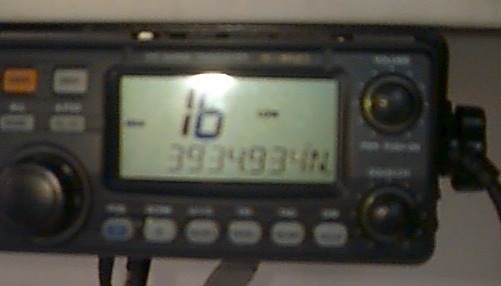 Thom
"Just because you're on their side doesn't mean they're on your side."
(--Teresa Nielsen Hayden)
12-03-2002, 05:14 AM
Senior Member
Join Date: Feb 2001
Location: Edgewater, MD - Pursuit 2
Posts: 608
Likes: 0
old boat redo
---
I guess I implied that my Icom is DSC. I currently have an Icom M56. No DSC capability.

The new M402 and M502 that I have spent time at the boat shows playing with did not allow any decimal places. The display shows 3874N. As to why, that is a question for Icom, I don't know. I played with it for about 10 minutes. Maybe there is a setting that will allow more places, but I could not get it to display more for me.

Is there anyone out there that has one that will show more than what I was able to get it to show? If so, speak up. I am by no means an electronics wiz.

I know that the M127 will do it.

I agree with Thom that is primarily a communication device, but with DSC(and maybe it will work well some day) it can be used as a safety device too. If the Icom can display more decimal places, then I'm back on the fence about the two manufacturers. Performace wise on my boat they have been equal.

Casey
12-03-2002, 12:28 PM
Senior Member
Join Date: May 2002
Location: Skaneateles, New York
Posts: 5,483
Likes: 0
old boat redo
---
ovenman...In another thread, recently, there was a discussion on real 'wattage' output after the the initial transmission. Icom held steady at 25 plus watts. Other brands faded considerably in output. I was reminded of this as I read it. Maybe some one else can recall the thread. I think this is important. The boat I have now has a Raytheon unit with a neat feature...it has a speaker in the mike so I can hear when I running. You put the mike up to your ear. I had the Icom 125 in the old boat for 10 years. [img]/infopop/emoticons/icon_wink.gif[/img]
Posting Rules
You may not post new threads
You may not post replies
You may not post attachments
You may not edit your posts
---
HTML code is Off
---