Poor side scan images
12-07-2016, 07:18 AM
Admirals Club
Poor side scan images
---
My Structure scan with a LSS2 is suddenly very dim on the right side and appears the gain is lower or something.
Is this a sign my LSS2 is going bad? I don't have any screen shots right now but will get some soon.
I just recently mounted a newer version of the Airmar TH150M transducer to the right side and slightly above of the bottom of the LSS2. If it is running on 105Mhz at the same time as the LSS2 will it wipe out the side scan signal on that side?
Last trip out with the older version of the TH150M the Side scan was excellent.
I assume there are different elements in the LSS2 for each side. Down scan seems ok.
Here is the transducer install pictures......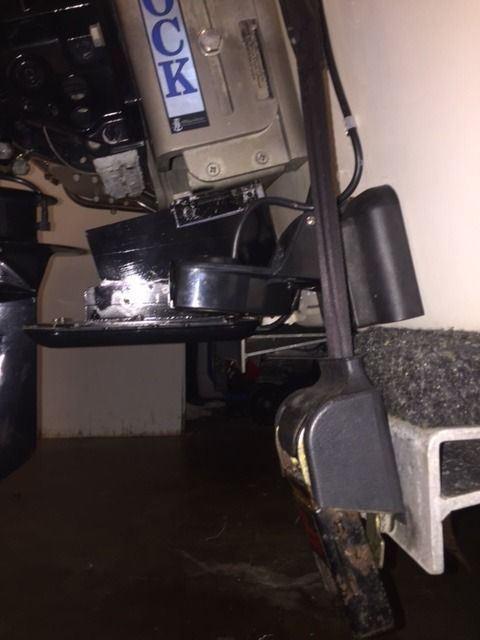 Here is an on trailer shot, note difference in the right and left echoes....455 Mhz
---
Last edited by marlinpruett; 12-09-2016 at

03:56 AM

.
12-09-2016, 06:39 AM
THT Sponsor
THT sponsor
Join Date: Jun 2014
Location: St. Petersburg, FL
Posts: 1,904
Likes: 0
---
TM150 placement should be fine and because it's a MED CHIRP transducer you won't have any interference whether you're CHRIPing or if you have it on even it's highest "custom" frequency...that's all assuming your system is able to CHIRP and SS at the same time (depends on your equipment). As for the image it looks like the transducer is going bad, from my experience it will look like that or when you switch to 800 kHz the pic almost goes black, and another way you can tell is if you don't have much control/affect from playing with the Gain settings. Unfortunately the easiest way to tell is get another one and hook it up and place it over the side. Too bad you bought a new TM150 because if your LSS 2 is bad I'd recommend the Totalscan, it's a much better transducer than the LSS-2/TM150 set up, I too have the TM150/LSS2 set up and the TM150 transducer is very disappointing. I'll look and see if I can post a screenshot of a Thru-hull LSS 2 that went bad. Now that being said this isn't a common occurrence I've only seen 3 in the past 3 years go bad.
12-09-2016, 06:47 AM
Admirals Club
---
Not what I wanted to hear but suspected the same thing. I should have mentioned I have a HDS Gen3 12 T.
Do you happened have a used LSS2 in good condition for sale?
12-09-2016, 08:18 AM
Admirals Club
---
I would be surprised if it is echoing off my jack plate as the jack plate has a plate over the bottom closing it off and the LSS2 is mounted on a jack plate mount 6 inches on the plate or so below JACK plate. Look closely at the pictures.
The 5 foot setting was for demo purposes to show the difference between the two sides.
Here's a better angle.
---
Last edited by marlinpruett; 12-09-2016 at

09:47 AM

.
12-09-2016, 06:19 PM
THT Sponsor
THT sponsor
Join Date: Jun 2014
Location: St. Petersburg, FL
Posts: 1,904
Likes: 0
---
It's not your Jackplate, 1st if that was the case then it
never
would've read correctly, and secondly it's not the problem because it above the elements...unless you have it mounted upside down
. Btw, I'm wondering why your depth isn't showing on the SS screen, did you have the TM150 off? What does your SS screen look like on the 800 kHz?
The fact that you're losing one side or the side scan but not the down scan (at least that you can tell) still sounds like the symptoms of a transducer malfunctioning. In the pictures below on this transducer the down scan looked better than the side scan, but it still wasn't 100%.
In the 1st picture even though you can see some structure it wasn't showing/scanning the structure out very far and there's plenty at this reef (Army tanks and tons of bridge rubble). The gain was very limited, meaning, that if I turned it down just a touch the image would disappear, if I turned it up a little it would all "white" out (notice how bright white the bottom, you should be able to turn that down). My color is turned up a little too, that's just to keep the image visible. Btw, this was a Thru-Hull LSS 2, older style bronze where some water had gotten on top of the stem (where the cable enters) and because that style had a rubber seal that was inverted the water just stayed on top, the new versions have a bubble or domed rubber seal to prevent water from resting in there.
In these pictures, notice they're roughly in the same depth but notice the detail and consistent color in the 2nd & 3rd ones out to 30'+ (unfortunately in the 2nd one I had it zoomed in a little) and in the 1st one, notice the white return w/o good detail out to the 30' mark?
12-09-2016, 06:24 PM
Senior Member
Join Date: Jul 2002
Location: ESVA
Posts: 974
Likes: 0
---
I am having the same problem (after MANY years) with my LSS-1. My port side image is basically not working while the std side works fine. My port side is acting like urs...like the gain is way down on that side. It will still mark, although very faintly, bait or fish in the area from the centerline to where the beam contacts the floor.

Is it my ducer...any ideas anyone. Just buy a new ducer? Will the LSS-2 ducer work with my LSS-1 box?
12-10-2016, 02:53 AM
Admirals Club
---
Quote,
"I'm wondering why your depth isn't showing on the SS screen, did you have the TM150 off?"
Yes the TH150M was off in that screen shot and the boat was on the trailer. I was told never run the chirp out of the water.
Unfortunately I bought the LSS2used from a THT member and there's no warranty.
I have a friend who has a new one, never installed, and I'm waiting on him to decide if he wants to sell it.
Anyone out there have a good working used LSS2 for sale?
12-10-2016, 03:16 AM
Admirals Club
THT sponsor
---
We normally see those echoes from users who have no hole shot plate on the jack plate. The signal can echo off of the inside of the jack plate. Since yours has a hole shot plate maybe it's a bad transducer
12-10-2016, 03:19 AM
Admirals Club
Posting Rules
You may not post new threads
You may not post replies
You may not post attachments
You may not edit your posts
---
HTML code is Off
---