What fishfinder gps to buy
07-30-2013, 07:55 AM
Member
Join Date: Jul 2013
Posts: 75
What fishfinder gps to buy
---
I have recently purchased a 2000 Sea Pro 2100CC. I will be doing freshwater striper, catfish, and crappie fishing and inshore and nearshore saltwater. I was wondering what you all would recommend for an initial fishfinder/gps combo? There are alot of features out there but I just need a good basic setup.
07-30-2013, 08:02 AM
Admirals Club
THT sponsor
Marine Advertiser
Join Date: Oct 2009
Posts: 21,648
---
Congratulations on your first post..and your new boat.
Put the Garmin 574xs on your list...
The 547xs comes preloaded with both US coastal and inland lakes and rivers charts..a state of the art CHIRP sonar , this unit and will give excellent performance in both salt and fresh water.
https://buy.garmin.com/en-US/US/on-t...rod119850.html
---
Last edited by semperfifishing; 07-30-2013 at

01:08 PM

.
07-30-2013, 08:18 AM
Admirals Club
Join Date: Feb 2013
Posts: 880
---
I just bought a Lowrance Elite 7 DSI with the Gold Chip and down scan transducer. It was under $700 from BOE marine and includes inshore and offshore charts as well as the ability to create your own charts from sonar recordings (Insight Genesis). I think the rebate just expired that gave you 12 months of the Insight Genesis service for free but overall the sounder is still a good deal. It may be a little less powerful than the previously mentioned garmin but the screen is much bigger. I mainly fish the lakes in NC and some inshore stuff so I didn't feel the difference in power was that big of a deal. I also considered the Lowrance Gen2 Touch but they started at nearly $1000 more. If you want side imaging, do a search for some of the humming bird products. It sounds like they start around $1000 with a decent size screen but you can get them for less with a smaller screen.

Edit: Oh and FYI...the downscan imaging is really cool. I ran a split screen all weekend with the traditional sonar on one page and down scan on the other. While I could ID structure on the traditional sonar, I could make out the individual rocks and more importantly count the fish with the down scan. It was really cool and effective. My last tip would be to go into your local West Marine or Bass Pro and play with the different units. Getting a feel for the ease of navigation and the size of the screen may be a big help in picking your preferred unit.
---
Last edited by captwill_80; 07-30-2013 at

08:21 AM

. Reason: update
07-30-2013, 09:01 AM
Senior Member
Join Date: Feb 2005
Location: Norway
Posts: 13,925
---
I did some testing yesterday. NSS7 with B60 (or P66) is better than 527xs (547xs) with TM150M from about 150-200' and deeper. And 155kHz pulse is better than CHIRP at those depths for 527xs. I was running the gain for 527xs at High Auto, and I also tried 100%. At 100% the screen started to clutter at about 4 knots.
I will post the NSS pictures later, they are still on the boat.
Note depths are in
Meters
07-30-2013, 11:43 AM
Senior Member
Join Date: Jul 2004
Location:
Posts: 7,884
---
No .... you have to purchase the TM150m. It's $270.00 extra but well worth the money.
Actual sonar recording video using the TM150 and 547 package. I was running about 32 mph .
http://bluewaterpirate.phanfare.com/6104541_7005948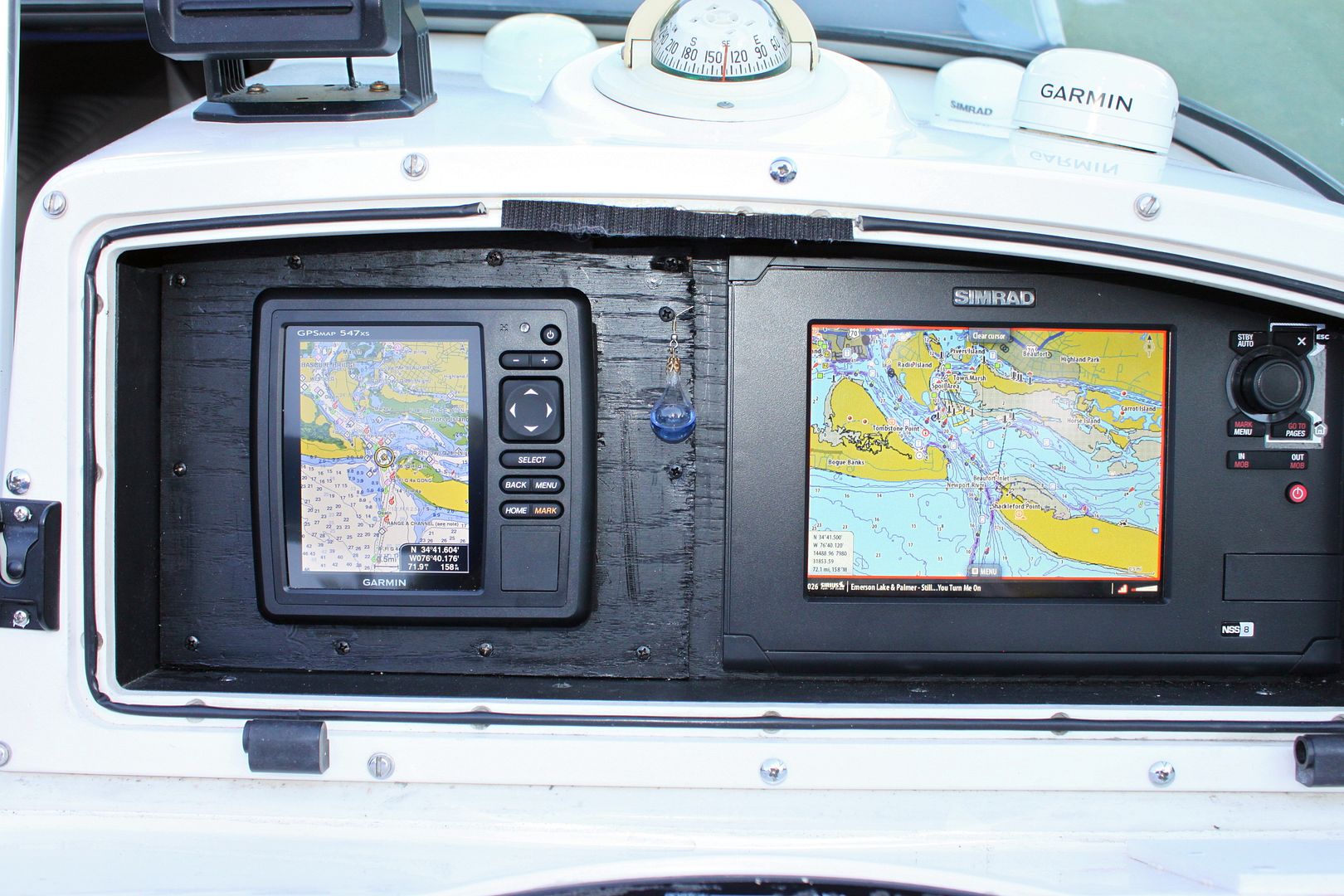 Here's my install ......
I have a Garmin 547/TM150 and Simrad NSS8/TM260 combo at my helm.
Posting Rules
You may not post new threads
You may not post replies
You may not post attachments
You may not edit your posts
---
HTML code is Off
---