Need help connecting my Sirius/XM radio
04-11-2012, 07:51 PM
Junior Member
Join Date: Apr 2011
Posts: 16
Likes: 0
Received 0 Likes on 0 Posts
Need help connecting my Sirius/XM radio
---
I just installed a Sony CDX-M20 CD player and have two garmin antenna's currently on my t-top that were installed with my GPS two years ago. I have a wire coming from the antenna that says Garmin and ((XM)) on it that says audio. Midway on that wire is a screw in plug that has a red and white audio in plugs connected to it. The problem is that on the back of the deck the XM input requires a small round 6 or 7 tiny gold prong connection and the red white connections on the back are supposedly for the subwoofer or audio out. My question is does sony make a sirius/xm plug that would connect to the wire that is running off my antenna since that plug won't connect directly to the back of my deck in the sirius/xm plug? I'm guessing this is my only hurdle to jump in order to have my sirius/xm connected except for the over the phone stuff. If anybody has any advice on whether I'm going about this the right way it would greatly be appreciated. I've never personally hooked up the sirius/xm on a deck before and need any help I can get. Thanks for the help.
04-11-2012, 09:59 PM
Senior Member
Join Date: Jul 2004
Location:
Posts: 8,037
Likes: 0
---
On the Garmin side this is what your looking at. The wire with the round black connector comes from your GXM51 Smart Antenna. Your pig tail wire with the red/white RCA connectors will connect to that wire.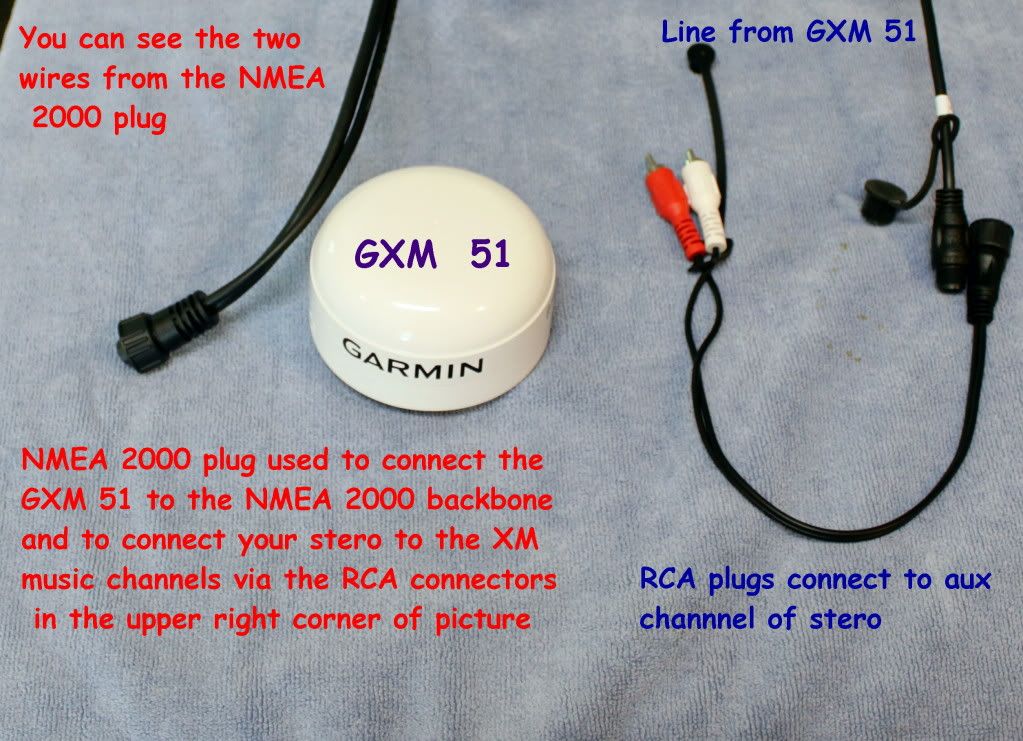 This is the back of your radio ......
Front of your radio Aux audio in .....
Go to Radio Shack and buy a 3.5mm Mini Plug to 2 RCA Female Audio Stereo Adapter Wire. You'll plug the male RCA red/black male plug into the female connectors on the mini plug pig tale wire. Once you do that then you'll plug the 3.5mm mini plug into the aux audio input plug on the front of your Sony. That is how you'll input the XM music from your XM51 Smart Antenna.
Here is a picture of the mini plug pigtale.
---
Last edited by bluewaterpirate; 04-11-2012 at

10:28 PM

.
Posting Rules
You may not post new threads
You may not post replies
You may not post attachments
You may not edit your posts
---
HTML code is Off
---