Connecting a Garmin 740s to a Raymarine SPX30
02-29-2012, 10:32 AM
Junior Member
Join Date: Feb 2012
Posts: 2
Likes: 0
Received 0 Likes on 0 Posts
Connecting a Garmin 740s to a Raymarine SPX30
---
I have a Garmin 740s chartplotter connected to a Raymarine SPX30 autopilot through a NMEA0183 line. I am getting intermittent data from the chartplotter to the autopilot. On the autopilot control head, the waypoint and COG/SOG data keeps dropping out and on the ST70 Multi display I am not showing any Lat/Long data at all. Does anyone have any idea what could be causing this fault? Thanks in advance.
02-29-2012, 11:12 AM
---
Config Menu>Communications Menu>NMEA 0183 Setup ..... also make sure Serial Ports 1/2 are set correctly (NMEA std ... in the case of the display below I have a SH GX2100 AIS connected to Serial Port 2 that requires NMEA HS)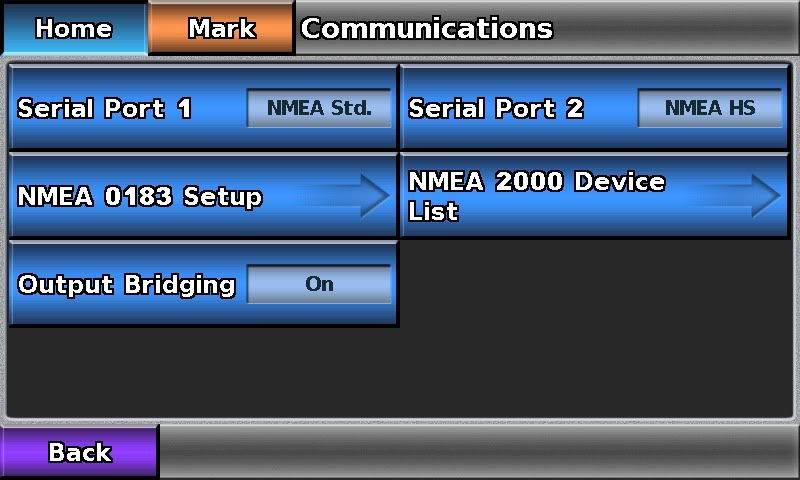 02-29-2012, 08:33 PM
Junior Member
Join Date: Feb 2012
Posts: 2
Likes: 0
Received 0 Likes on 0 Posts
Thanks for the replies.
---
I have the NMEA settings set to NMEAstd and have only the sentences that the SPX installation guide says it accepts. Was still having the problem. Been on the phone with both Garmin and Raymarine for 2 days with no solution.
02-29-2012, 11:32 PM
---
If I could just sit in the front of the unit, I bet I could figure it out. It's got to be a setting on the Garmin.

How many digits are the lat/long setup to send?
page 86. Try all three options of "digits".


Make sure that you don't choose auto guidance, choose just a single waypoint and have it "goto".
Posting Rules
You may not post new threads
You may not post replies
You may not post attachments
You may not edit your posts
---
HTML code is Off
---