mounting multiple xducers
02-26-2012, 05:36 AM
Admirals Club
Join Date: Nov 2009
Location: Mebane, NC
Posts: 1,635
Likes: 0
mounting multiple xducers
---
Currently I have a Lowrance 83/200 xducer, which if I recall is mounted a little to the right of the location indicated by the cirlce in the pic below (not my boat, but I have the same model).on the "flat" area. I have the Lowrance StructureScan xducer mounted on the bottom of the boat up in a "pocket".
I am considering moving the StructureScan transducer as the pocket ends up blocking some of the SS's view left and right due to the "depth" of the pocket (maybe 3" or 4" - you can see it in the pic). I am also going to be adding an additional xducer on the transom (a Airmar P66).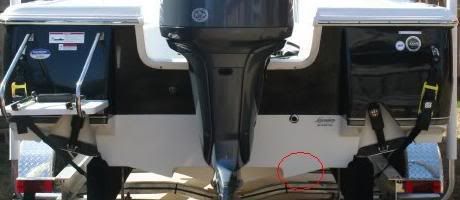 Thoughts on were to mount these three transducers? I was considering using a SternMate mount when I change - wondered if I could get all three mounted side by side using the SternMate Duo add-on, and if so, would the performance be OK with them so close to each other.....I expect there is not enough width to get all three in a row with appropriate water contact and I'd either need them mounted on an angle or use a Starboard/composite type mounting block or the like.
If not that close, how would you recommend? If one needs to go on the port side of the boat, which do you recommend (I have a clockwise prop).
02-29-2012, 05:55 PM
Senior Member
Join Date: Feb 2006
Location: North NJ & Barnegat Bay
Posts: 6,314
Likes: 0
---
I would mount the SS ducer up under the engine bracket on the transom that way it would be out of the water when on plane. Maybe both 2D ducers side by side in the pocket.
Here is how i have my SI ducer mounted and it works out perfect!!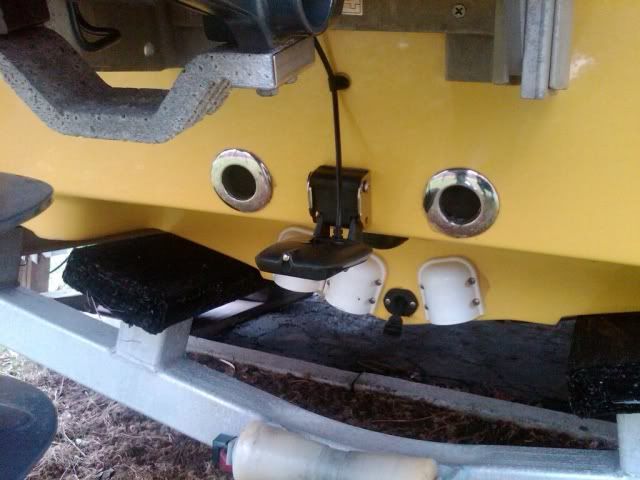 Posting Rules
You may not post new threads
You may not post replies
You may not post attachments
You may not edit your posts
---
HTML code is Off
---