Radar display question
02-24-2012, 02:57 AM
Senior Member
Radar display question
---
What causes this large ring? I've adjusted manual/auto, clutter, gain, etc. no dice. With range set less than 1.5 mi. it's gone. ;? This is a dome mounted on short pedestal on t-top. VHF, GPS w/extension ant., nav light also up top.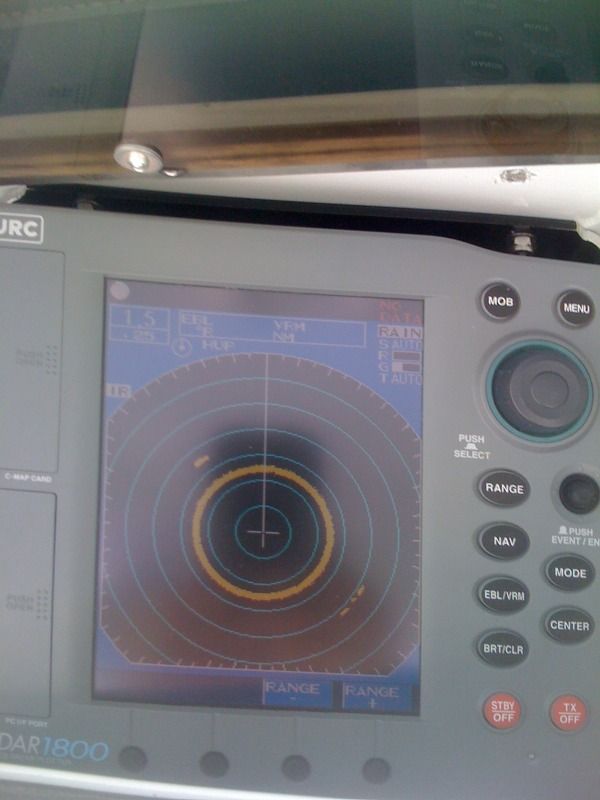 02-24-2012, 06:04 AM
Member
Join Date: Dec 2007
Location: Savannah, Ga
Posts: 74
Likes: 0
Received 0 Likes on 0 Posts
---
Looks like it is interference from something on the t-top. If you have no "clutter" right at the center, then it is not going to be rectified by the "rain" or "sea" clutter controls. Check the height on the dome, and what is in the way of the signal.
02-24-2012, 08:00 AM
Senior Member
Join Date: Mar 2002
Location: Elizabeth, Pa USA
Posts: 491
Likes: 0
Received 0 Likes on 0 Posts
---
Inside the yellow circle do you get returns or is it always black? If you don't get returns on the inside of the circle, your sweep timing and main bang suppression are way off.

Keith
02-24-2012, 09:18 AM
Senior Member
Join Date: Dec 2003
Location: Long Island , New York 2
Posts: 3,822
Likes: 0
---
Here is a shot in the dark: Could it be indicating an alarm zone like when you set an alarm for targets getting any closer than "X"
Or
As Mweathers wrote: I would think maybe intererence from other object near the radome.
Does the line shrink and expand with scale. Ex. You set range to 24nm that yellow circle should be tiny. If not it may be more indicitive of something interfering with radar sweep.
Here I tried to find a manual for JRC: I don't think it is yours but the concept is here.
http://www.c-trak.net/ctrak/Download...1000MKIIum.pdf
Look at page 29 (pg 36 on nav bar) for what I am talking about. Its under contents: RINGS
Good luck. Let us know when you figure it out.
Dave
02-24-2012, 03:17 PM
Senior Member
---
Thanks guys! When the rain quits here I'll get back on it. I'll check the guard zone setting but don't think it's activated. I didn't get close to get a return inside that ring so don't know that one but I'll follow up the sweep timing/suppression thing. The dome is on a pedestal and only fiberglass antennas in the beam (vhf and 2' gps extension). The display is grounded to neg. bus also. I do have an Airmar thru-hull transducer to Furuno 585 that was on. The reason I mention that is the ring almost looks like a "wave" pattern and not a solid ring. Could that be interference? Thanks again!
02-24-2012, 03:55 PM
Senior Member
Join Date: Feb 2012
Location: W. St. Paul, Minnesota
Posts: 1,453
Likes: 0
---
I think threeriversmarine is right. Your calibration is way off. You should be able to calibrate it using the display controls, check your manual.
02-24-2012, 05:03 PM
Admirals Club
---
I am no expert, but looking at your picture there is EBL and VRM.

There is no info under or next to those on your picture so I would assume they are off. Is the ring a Variable Range Marker that is turned on? You could look and see if that ring is either one of those.

Also as suggested above, look at your settings and see if there is a setting for Range Offset, zero range, or trigger delay. All the same name. Follow the directions to set this variable and see if it works.
02-24-2012, 06:31 PM
Senior Member
Join Date: Dec 2002
Location: Fort Myers Beach, FL, USA
Posts: 3,737
---
Main bang.

You should be able to adjust the radar controls enough to reduce it significantly.

The lack of a "main bang dead zone" is the biggest difference between the older pulse radars and the newer broadband (i.e. 3G & 4G) radars.

Brian
02-25-2012, 08:54 AM
Senior Member
Join Date: Apr 2009
Posts: 1,222
Likes: 0
---


None of the explanations make a lot of sense to me, so I am guessing that the radar is messed up. I don't think it is interference with any boat structure (because I don't think it would show in an even circle, let alone at a relatively long distance 1.5 nm and clean everywhere else.
Posting Rules
You may not post new threads
You may not post replies
You may not post attachments
You may not edit your posts
---
HTML code is Off
---