Speaker location for Grady 247 Advance - Glen E?
02-19-2012, 06:08 AM
Senior Member
Join Date: Apr 2004
Posts: 5,786
Speaker location for Grady 247 Advance - Glen E?
---
I want to add 2 speakers (probably 6.5") to my Grady 247 Advance CC.
I already have 2 speakers in the gunnel on either side of the console.
Where can I put the other speakers? There isnt a good spot in the stern to mount a set. I could mount them on the leaning post facing outward to the gunnels? Should I mount a set on the electronics box?
Would it make sense to mount them in the console facing outward but then you have speakers facing each other?
Thanks!
02-19-2012, 02:51 PM
Member
Join Date: Apr 2007
Location:
Posts: 88
---
I went through same decision a few years back with my Advance 257. Really depends on where you want to really hear your music. My first two are in gunnels lined up directly at me when at the console- a little further back than yours. Great sound when underway from there. I put the second two up front also on gunnels but next to casting platform. My wife and I and guests like to hang out up front at anchor and listen to music so this has worked out great for us. Couple people here had recommended in the stern area when I asked but I really couldn't find a decent place to locate them back there, and it turns out the two at the helm really fill the entire back. Make sure you have a good amp!
03-11-2012, 12:41 PM
Senior Member
Join Date: Apr 2004
Posts: 5,786
---
I am about to cut the whole where Glen recommended. I guess it wont matter that it is blasting directly into the coaming pad?
Will that hurt the sound?
To be more specific should the speakers be closer to the top or bottom on the leaning post or does it matter?
One other thing. I could mount 2 of the speakers underneath the key switch at the helm facing my feet as shown in the picture. Just trying to get the most bang for my buck.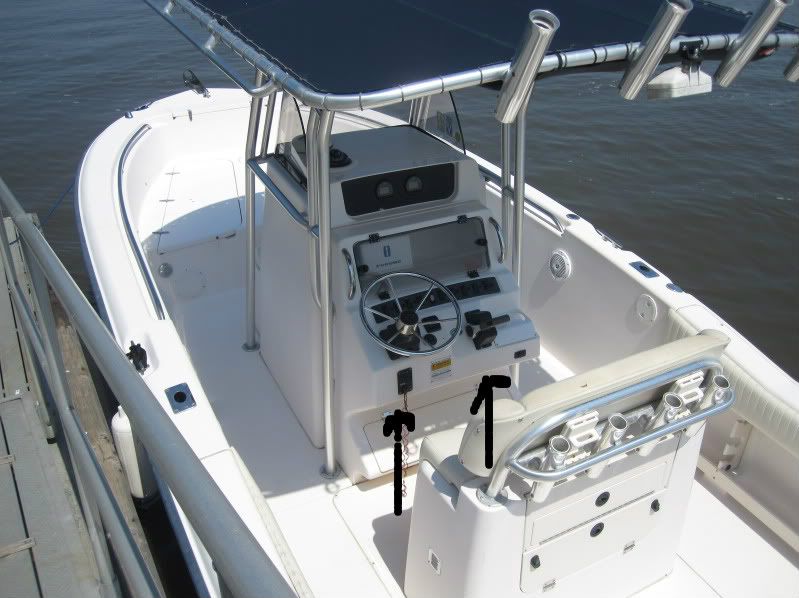 ---
Last edited by littletunny; 03-11-2012 at

01:22 PM

.
Posting Rules
You may not post new threads
You may not post replies
You may not post attachments
You may not edit your posts
---
HTML code is Off
---