Garmin GPS "Compass" screen
02-14-2012, 06:15 AM
Senior Member
Join Date: May 2009
Location: the 727, FLA
Posts: 2,618
Garmin GPS "Compass" screen
---
Do any of the Garmin unit still have this screen?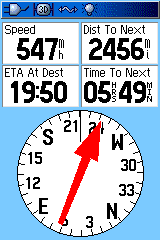 Had something like that on an old handheld. To me it makes navigating to a waypoint 10x easier than using the Raymarine "road" or heading readouts.
02-14-2012, 03:15 PM
Senior Member
THT sponsor
Join Date: May 2002
Location: Brookhaven, LI, NY
Posts: 15,755
---
My HH Oregon 400c has it. The 4/5/6/7000 series units have other Compas rose displays that do similar things but in different formats...

How about just use the chart in head up mode, it doesn't get any easier than that!! Why would you want to look at a compass rose display, when you have a chart?
02-14-2012, 05:37 PM
Senior Member
Join Date: May 2009
Location: the 727, FLA
Posts: 2,618
---
Do you have an example of the heads up mode?

This just seems the easiest for the type of fishing I do offshore ..... I'm debating picking up a handheld , just to "point" me in the right direction
Posting Rules
You may not post new threads
You may not post replies
You may not post attachments
You may not edit your posts
---
HTML code is Off
---