Garmin 740s question still unanswered
02-12-2012, 08:18 AM
Senior Member
Join Date: Dec 2009
Posts: 200
Garmin 740s question still unanswered
---
I want to hide the Data Overlay on the right side of the screen when the sonar/chat combination is on selected. That data overlay shows up as a bunch of black squares with speed and other data in them and forces the sonar/chart to be small. I want to maximize the sonar/chart by turning off the data overlay.

Someone advised me that I could simply pick "menu, data, bar and then Turn it Off". That didn't work out. Another chap advised me that page 49 of my owner's manual would explain it, but I don't see it.

Page 49 says to select the data overlay I should use the << and >> buttons. Can I scroll through those to select an option to turn off the data overlay?
02-12-2012, 11:25 AM
Senior Member
Join Date: Jul 2004
Location:
Posts: 7,887
---
I'll give you a picture map ..... easier than reading. I would suggest you put your 740 in the Simualtor Mode and explore all its functionalities and capabilities. Here is another access way of changing the Sonar Data Windows in addition to page 49. You can also change the the data windows from within the Sonar Menu functionalities.
From the home screen follow the picture map.
Select the Combinations Menu Bar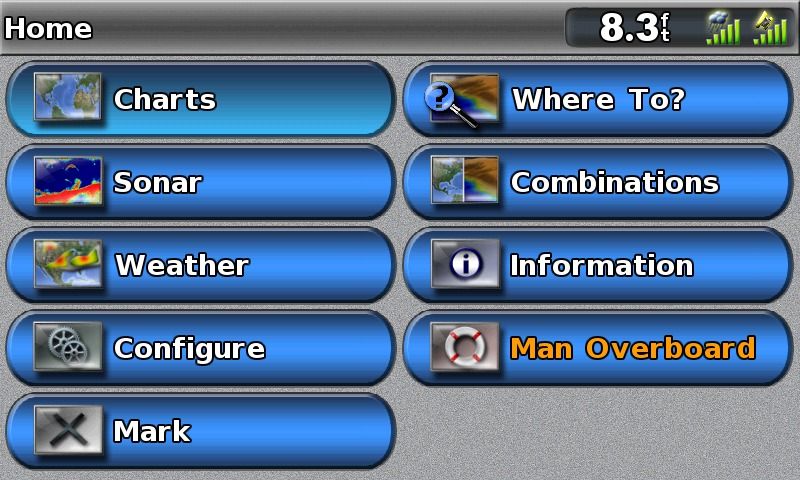 Then select one of the Sonar Combo Displays (Note: they work independently from one another). I.E. Sonar.Sonar, Weather.Sonar, Chart.Sonar .... then when the selection you've chosen opens you will see a menu selection in the upper right hand corner of your display that says Menu ...... select it.
Here's one of the selections .. this one is the Chart.Sonar Depth Graph > press the Menu selection in the upper right hand corner of the dislay.
You will open into this display Choose Overlay numbers and you will then open into a area that will give you many different data windows to choose from you can even turn the data windos off (imgaine that) or you can customize the existing window to suit your needs.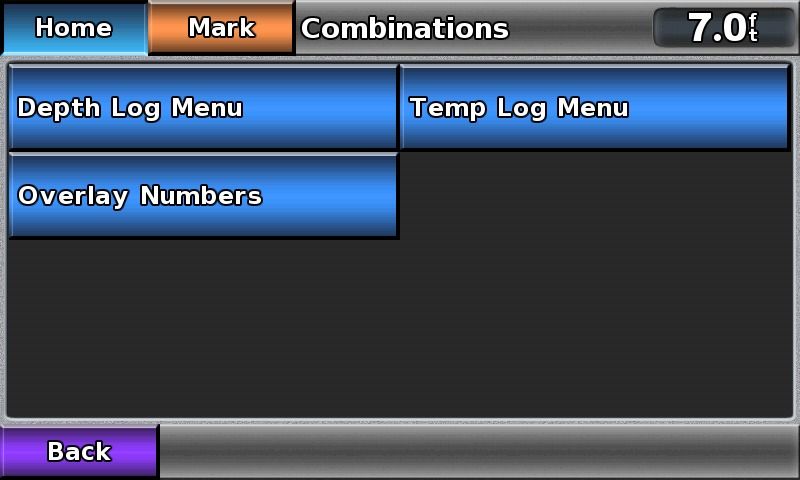 Here are some of the data window displays to choose from ....
You can also change the data windows in pre-existing data windows just follow the instructions displayed in the dislpay below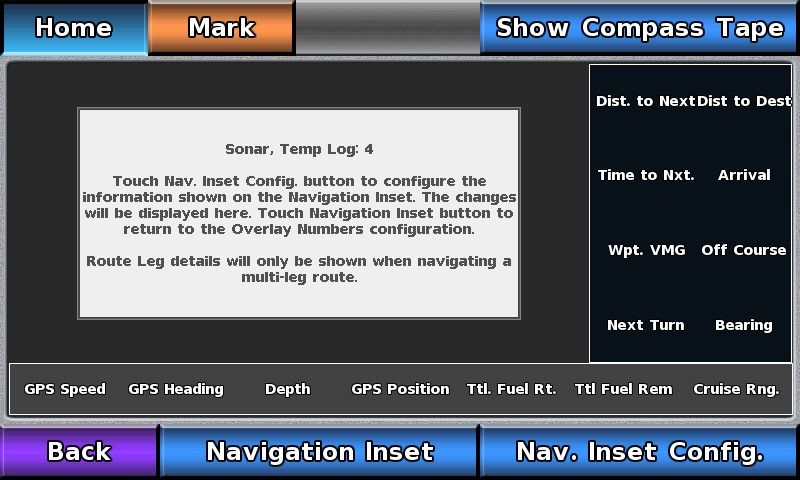 ---
Last edited by bluewaterpirate; 02-12-2012 at

01:25 PM

.
02-12-2012, 11:53 AM
Admirals Club
Join Date: Oct 2009
Location: FL Gulf Coast & NYC
Posts: 2,571
02-12-2012, 04:48 PM
Admirals Club
Join Date: Oct 2009
Location: FL Gulf Coast & NYC
Posts: 2,571
Posting Rules
You may not post new threads
You may not post replies
You may not post attachments
You may not edit your posts
---
HTML code is Off
---