How do I mount this Hella all around light to my radar arch?
02-10-2012, 08:14 AM
Junior Member
Join Date: Sep 2010
Location: Santa Cruz, CA
Posts: 6
How do I mount this Hella all around light to my radar arch?
---
I just had a custom radar arch made and would like advice on how to best mount a Hella brand all around LED light that I bought.
Seabob posted a photo (see below) of a similar install and I'm wondering how the light was fastened to the aluminum tube. Do I just screw it down with 2 or 4 stainless screws? The light base doesn't fit the radius of the tubing very well at all and the base mounting holes aren't drilled out.
Here's Seabob's pic:
Thanks!
Matt
---
Last edited by turkeyburger; 02-10-2012 at

12:02 PM

. Reason: Image link broken
02-10-2012, 09:23 AM
Senior Member
Join Date: Aug 2007
Location: Weeki Wachee (home of the mermaids), FL
Posts: 11,691
---
Turkeyburger,
That actually is an optical illusion, there is an aluminum pad just forward of the top frame that the anchor light is mounted to.

Most lights have an "arch" in the base, and come with an adapter for mounting on flat surfaces. For your application, I would drill through the tube, as straight down, or perpendicular to the tube as you can, then use small 8-32 machine screws and lock nuts to tighten it down. With the screws going entirely through the tube, it's not going to rotate on you...
02-10-2012, 12:39 PM
Junior Member
Join Date: Sep 2010
Location: Santa Cruz, CA
Posts: 6
---
Thanks a million! Both great solutions that I hadn't thought of.
That is an optical illusion Seabob. I don't have a tab welded already for the all-round light. I do have another flat spot between the supports on the port side where I could mount the light (and the flat adapter too). That might look ok. Kind of balance things out with the vhf antenna.
Can you fellas advise me on the best place to mount the light? Maybe I'm looking at the wrong spot.
I have a vhf antenna mounted on the starboard side. I'm planning on adding 3G radar in the center. Spreaders on tabs in the back. I was thinking of mounting the all-round light on the tube just as close to the radome and center of the boat as possible. I like the idea of being able to fold down the light inline with the arch supports.
I looked at the 12" light, but it looked too short I went with the 24". It comes apart enough that you can trim it down to size with a pipe cutter.
My pic post failed the first time. Here's another attempt.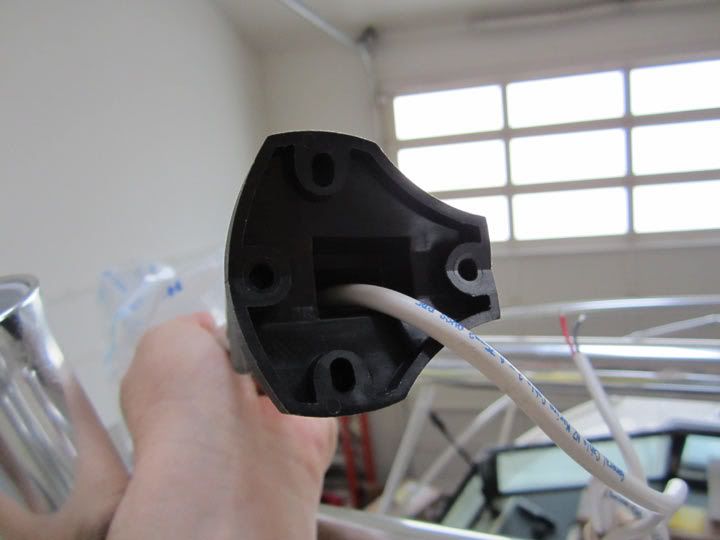 Here's a pic of my boat.
Here's a couple shots of the arch.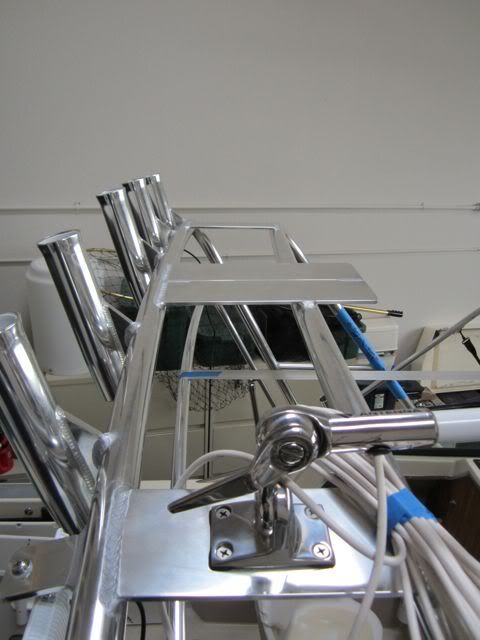 02-12-2012, 08:15 AM
Senior Member
Join Date: Jun 2009
Posts: 831
---
I think you got it all figured out.. But thought I would toss out what I did on my t-top.. I used the metal/rubber loom clamps in the proper size for a tight fit for your tubing. Then just use them as your mounting point for things to keep from drilling in to your tubing.
Posting Rules
You may not post new threads
You may not post replies
You may not post attachments
You may not edit your posts
---
HTML code is Off
---