Garmin 498 flush mount
03-17-2007, 10:09 AM
Junior Member
Join Date: Dec 2006
Location: Marathon Florida
Posts: 12
Likes: 0
Received 0 Likes on 0 Posts
Garmin 498 flush mount
---
Just got finished rigging the electronics on a 21 Cape Horn. Normally, I wouldn't post anything, but this was just too sweet! The 498 GPS/sounder is flush mounted with a shoot through the hull transducer. Less is sometimes a lot more!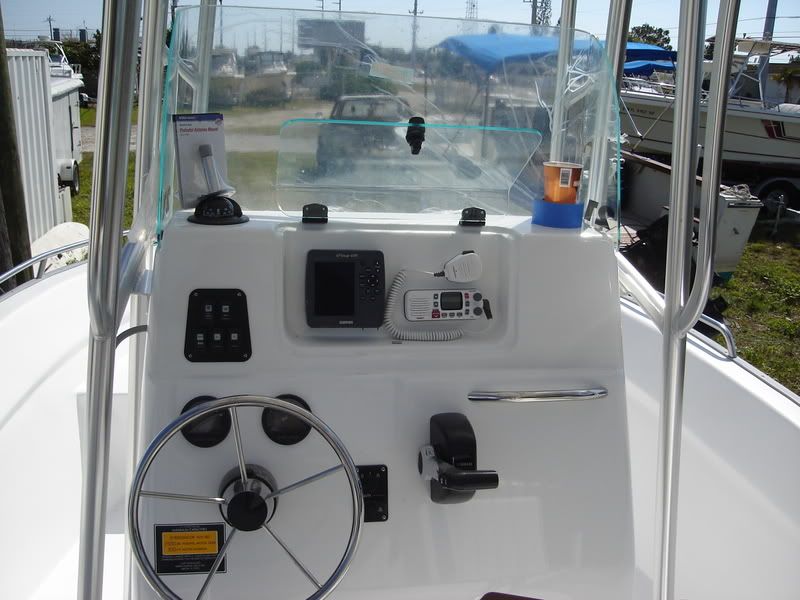 03-17-2007, 10:21 AM
Junior Member
Join Date: Dec 2006
Location: Marathon Florida
Posts: 12
Likes: 0
Received 0 Likes on 0 Posts
Re: Garmin 498 flush mount
---
No I finished, just forgot the pictures. The cool thing is that the shoot through hull temp was accurate. I rigged this for a rental boat company that I guide for. They just got in five new Cape Horns and hired me to rig the last three. It is now a pleasure running guide trips on comfortable boats, with good electronics and four stroke engines.
03-17-2007, 11:50 AM
Re: Garmin 498 flush mount
---
captdallas2

I was thinking of doing the same thing on my boat but never have for 2 reasons.
1. Security, on the bracket I can just take it of and go home.
2. I can up-date by pluggin it into my computer at home.
I love this unit, I have never seen one flush mounted. It looks great. Would it difficult to take out if a theif wanted to steal it? How about if I wanted to take it out to up-date in via my computer or wanted to take it out for the winter? Any idea if it is a pain to up-date via the cards? Thank you.
03-17-2007, 04:06 PM
Junior Member
Join Date: Dec 2006
Location: Marathon Florida
Posts: 12
Likes: 0
Received 0 Likes on 0 Posts
Re: Garmin 498 flush mount
---
It is damn near impossible to take out. Plus the plexi glass cover locks. I had one we rigged the nema data connector dash mount for laptop down/up load. (that was a fruno but the same deal. Don't know about the cards for sure, but I think you can.)
Posting Rules
You may not post new threads
You may not post replies
You may not post attachments
You may not edit your posts
---
HTML code is Off
---