Garmin 8612 XSV - Adding GXM Weather
11-22-2020, 06:54 PM
Junior Member
Join Date: Feb 2020
Posts: 8
Likes: 0
Received 0 Likes on 0 Posts
Garmin 8612 XSV - Adding GXM Weather
---
I currently have a Garmin 8612 XSV. I have a Sirius XM tuner (sxv300) connected to a Rockford Fosgate PMX 8.

The Rockford feeds SiriusXM audio data to the Garmin via the NMEA network and it works great.

I have a Shakespeare SiriusXM Antenna on the roof of my T Top.

Does anyone know if the SiriusXM GXM 54 antenna work with the cable currently connecting the Shakespeare Antenna to the SiriusXM tuner?

11-22-2020, 08:07 PM
Admirals Club
THT sponsor
Marine Advertiser
Join Date: Oct 2009
Posts: 23,496
Likes: 0
---
---
Last edited by semperfifishing; 11-22-2020 at

08:37 PM

.
11-22-2020, 08:39 PM
Admirals Club
Join Date: Mar 2011
Location: Canada
Posts: 3,736
Likes: 0
---
The stereo does not send anything to the Garmin. You just have remote control capability's.

I would leave whats there for music. abd add the Garmin wx Antenna. And pay both accounts. As Getting music through the wx antenna is a silly system.
11-23-2020, 01:08 AM
Admirals Club
---
Go to main screen and go to av,gauges.controls option. The GXM has to be setup in the Media menu. You should already see the different weather icons under the Charts option. On the power module you will see an rca jack coming out. Plug that into the aux on your radio. You will not need the other subscription. You will also need to set up the overlays on your preferred chart screen to give you quick access to the music channels. Otherwise you will have to go back to the Media option every time.
The ability to surf XM channels on your Garmin unit is awesome. You will be paying two subscriptions for the GXM. The weather package and the music package.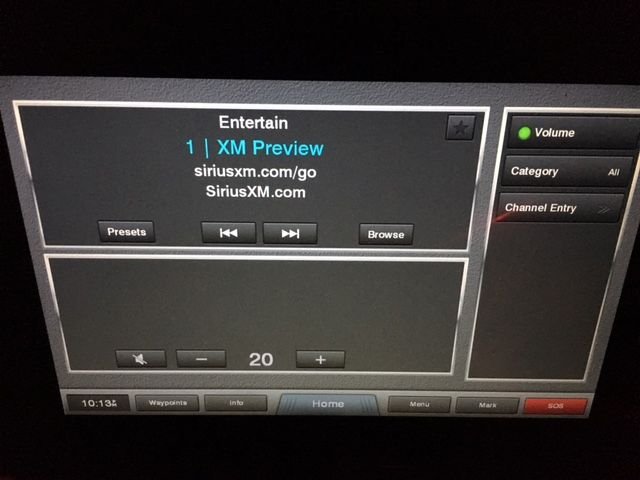 11-26-2020, 04:28 AM
Junior Member
Join Date: Feb 2020
Posts: 8
Likes: 0
Received 0 Likes on 0 Posts
---
The question is about the antenna cable and connection. Can I connect the GXM antenna to the cable that is already run to my Shakespeare SiriusXM audio antenna?

or, will I need to run a new antenna cable?
11-26-2020, 04:46 AM
Senior Member
Join Date: Jul 2004
Location:
Posts: 8,491
Likes: 0
---
---
Last edited by bluewaterpirate; 11-26-2020 at

04:53 AM

.
Posting Rules
You may not post new threads
You may not post replies
You may not post attachments
You may not edit your posts
---
HTML code is Off
---