Connecting a thrid battery!
10-29-2006, 08:57 AM
Senior Member
Connecting a thrid battery!
---
if i wanted to put a third battery in the boat, can you just connect the positive/negative cables to the existing setup?
10-29-2006, 09:10 AM
Senior Member
Join Date: Dec 2004
Location: Not in Texas
Posts: 10,213
Likes: 0
Re: Connecting a thrid battery!
---
Yes. And, no. Well, it depends on what you are after by adding the 3rd batt. If you are after more amp hrs, yes, pos to pos and neg to neg of an existing battery. If you want a whole separate bank, one that stands on its own, there is a little more involved.

Things to consider are charging resources and matching existing batteries, i.e. multi batts in a single bank should be the same size, manf, brand, model, and age.

So, a little more info on what you guys want to do with a 3rd batt and you'll get a more detailed reply.

10-29-2006, 10:43 AM
Senior Member
Re: Connecting a thrid battery!
---
eyeball thanks for the reply. basically i would like the extra power to anchor out overnight and not have to worry about losing start power. would be great to be able dedicate my #2 and/or #3 (if i add it) for dc power. i.e. cabin lights, running refrigerator (no gen set), radios etc. right now i run two batteries and always leave my battery switch to #1, never run the switch in both mode. that puts a big load on the one battery, yet keeps the #2 in reserve if #1 goes dead. that happened to me recently and i was so glad that i ran it this way. just had to open the hatch and switch to #2 and it started with no problem at all. thanks again for the help.
10-29-2006, 11:00 AM
Re: Connecting a thrid battery!
---
I use a standard two battery setup with Optimas. But, being a belt + suspenders kind of person I always take along a fully charged jump start device. I've had to use it once when I discovered while getting ready to launch that I'd left the GPS on overnight. Just launched, tied up to the adjacent pier, and jump started the engine. A shot delay, a bucket full of embarrasment, and we were on our way.

A pretty inexpensive way to be sure I have the juice to start the engine if things go wrong.
10-30-2006, 01:44 AM
Senior Member
Join Date: Jun 2002
Location: Seattle, WA
Posts: 3,084
Likes: 0
Re: Connecting a thrid battery!
---
Tawcat, if you never run your switch on 2 then when does that battery ever get charged?
IMO you probably don't need an additional battery, you just need to wire things up a bit differently so that you are getting better use of the two you have.
If done correctly one of your batteries would only be used for starting and the other battery would handle all the other load items you mentioned. They would be electrically isolated from each other but both would be charged when the engine was running.
My suggestion is get rid of the off-1-2-both switch and replace it with 2 simple on-off switches and a battery combiner like the Blue Sea 7600 ACR. The ACR will connect the two batteries together so they both get charged while the engine is running. When the motor is off the combiner disconnects so your accessory loads have no way to run down the engine battery.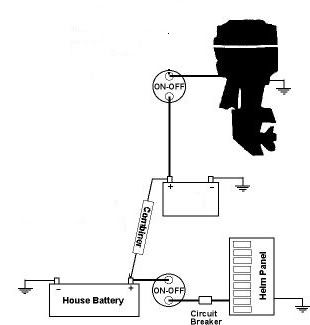 10-30-2006, 06:36 AM
Senior Member
Re: Connecting a thrid battery!
---
thanks chaps. i guess you are right i need to figure how to ensure all my electrics run off of #2. as for charging, both batteries charge while on shore power.
Posting Rules
You may not post new threads
You may not post replies
You may not post attachments
You may not edit your posts
---
HTML code is Off
---