Epoxy sealed deep drop lights
11-17-2012, 04:46 PM
Marine Advertiser
THT sponsor
Join Date: Aug 2011
Location: Jupiter FL
Posts: 219
Likes: 0
Received 0 Likes on 0 Posts
Epoxy sealed deep drop lights
---
Great New Technology
What makes StingRay different from other shops is that we tend to wander away from the mainstream products and seek unusual and new stuff. Some of these just gravitate to us and some we find by sheer luck. This is one of those products we got purely by sheer luck.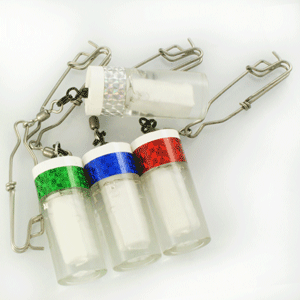 Our new Deep Drop Light
I was visiting my good friend and master swordfish angler, Salvador Ruiz, when I mentioned tohim that I was out of our regular deep drop lights and refused to pay $ 50 for a twist and seal light. He quickly pulled out a sample of this light and proceeded to tell me how an engineer friend decided to make his own light because he was tired of losing lights to a bad or failing seal. The engineer encased state-of-the-art circuitry in clear epoxy, making a solid, bonded, clear light that is impervious to water. A bright and simple idea!
I borrowed a couple of lights and the next chance we got, we headed out to 'field test' them. We caught a nice swordfish that night but more important, we were impressed by the lights. They were brighter than the average replaceable battery type and, of course, there is no way water can leak and damage the circuitry. Maintenance consists of simply rinsing and tossing them in the tackle box.
I was sold. We came back and called the creative engineer. Now, a few weeks, later we have a good supply ready for this winter's swordfish season. They are the best drop light you can buy and we can sell them at a reasonable price.
So if you are headed over to the Bahamas for some yellow-eye snappers or waiting for the productive Winter swordfishing off our coast, get ready with the best lights around
Disco in the Shower

These drop lights come in the popular disco light show as well as green, red or white. They are 24 bucks each, including a long -line hook for easy deployment. That makes them the best value and the best technology available anywhere. And I almost forgot. They are tested to 3,000 feet but I suspect they can go deeper without failure. They last for over 100 hours, which equals to about 20 long sword fishing or deep dropping trips. That makes it cost $ 1.20 per trip. Not bad.
I guarantee you that you will be impressed or your money back.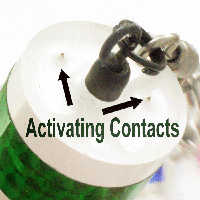 Order Now
Go ahead and try a couple of these lights. Get them in your hand, put them in your bathtub and watch the show. If you do not like them, send them back and I will refund 100% of your money. They are that good.
CLICK HERE TO ORDER YOUR DEEP DROP LIGHTS NOW FOR $ 24 EACH!
By The Way, remember, your total order of $ 50 or more ships free.
Till next time

Ray Lorenzo
President
StingRay Brands
11-18-2012, 02:52 AM
Marine Advertiser
THT sponsor
Join Date: Aug 2011
Location: Jupiter FL
Posts: 219
Likes: 0
Received 0 Likes on 0 Posts
---
Well I guess that is a possibility. Next time we go out we will do so. With the Holiday season upon us, I doubt we will have the time this year.
Don't take my word for it. They are as bright or brighter than LPs or any other. Get one and try it out. If you do not agree, send it back and I will give you your money back.
Ray
11-19-2012, 12:57 AM
Marine Advertiser
THT sponsor
Join Date: Aug 2011
Location: Jupiter FL
Posts: 219
Likes: 0
Received 0 Likes on 0 Posts
---
Or buy a couple, get two glasses of water, place each glass on opposite nightstands, Now turn off the lights...to the sound 'Staying Alive'.....Who knows what may happen.
Posting Rules
You may not post new threads
You may not post replies
You may not post attachments
You may not edit your posts
---
HTML code is Off
---