Looking for a small fish smoker
07-10-2015, 10:32 AM
Looking for a small fish smoker
---
Can anybody recommend a small fish smoker. I`m looking for an electric smoker that I want to use primarily to smoke fish. Starting to get into smoked fish dips.
I`ve done a little searching and I keep coming across the Little Chief smoker. Anybody have any experience with this particular unit? It looks to be the perfect little smoker I`m looking for, but don`t want to get mit and it be a piece of junk. is there any others that the THT crowd has used that ya`ll are happy with?
07-10-2015, 10:47 AM
Senior Member
Join Date: Apr 2009
Posts: 1,222
---
I am not sure anyone makes a smoker especially for small fish.
How small are the fish you want to smoke? The grates that came with my bradley can handle sardine-size with no problem, but if you are smoking guppy-sized things, you probably just need to lay them on some screen mesh and put that on the regular-sized fish grate.

In all seriousness, my bradley does a great job smoking. The only complaint I have is that I am suspicous that the wood pucks are not 100% wood of the type you want. I solved that problem by buying the wood and putting it into my own pucks.
07-10-2015, 10:49 AM
Senior Member
Join Date: Dec 2002
Location: Wareham, MA USA
Posts: 693
---
Smokin it makes a real good electric smoker, American made about $350 delivered. Woks great, good quality construction. Just a satisfied customer, not related to the company.
http://www.smokin-it.com/default.asp
07-10-2015, 11:53 AM
---
I`m wanting to smoke king mackerel fillets, nothing small as in minnow size. The Little Chief looks good, but now the Bradley looks interesting as well. Those 2 are about the size I`m looking for.
07-10-2015, 12:27 PM
---
07-10-2015, 02:31 PM
Admirals Club
THT sponsor
Join Date: Jun 2007
Location: Houston/Sargent, Texas
Posts: 5,330
---
You can do it on your gas grill. Get a deep stainless pan from a restaurant supply, put a rack in it that you also buy at a restaurant supply. Put some wet wood chunks of your choice on the bottom of the pan, put the rack in, put the fish on the rack, foil it and poke one hole in the center.
Turn on the burners to the desired temp underneath and those chunks will start to smolder and smoke your fish.
It works amazingly well with fish because the oily flesh absorbs the smoke so well.
This is the idea below but with all hard stainless steel stuff...commercial quality.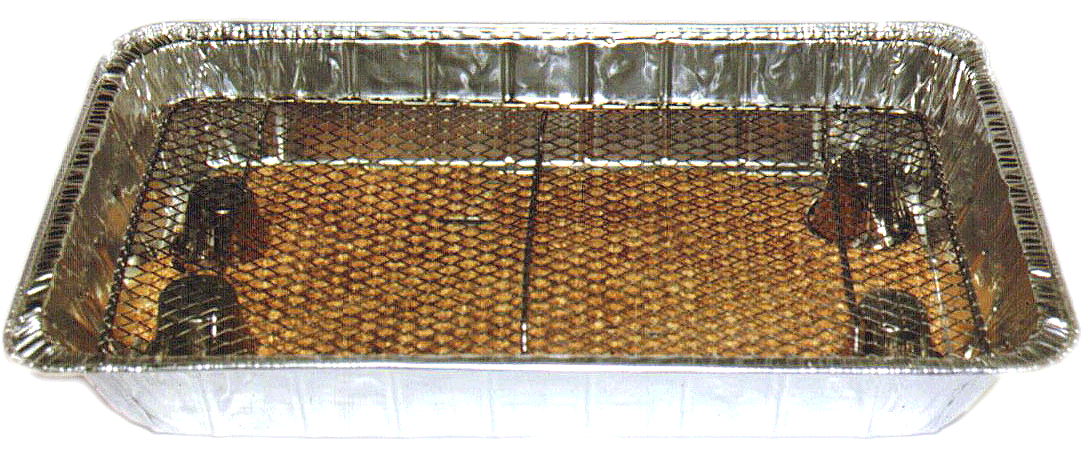 07-10-2015, 03:44 PM
---
That looks like a great idea. I think I`ll give that a try before I pick up yet another cooker. I`ve got 4 already, but I guess 5 at this point won`t make much difference.
---
Last edited by catfever24; 07-10-2015 at

04:03 PM

.
07-10-2015, 06:24 PM
Admirals Club
Join Date: Feb 2014
Location: Lewes, DE
Posts: 10,302
---
Originally Posted by
ryan darrow
This.
Posting Rules
You may not post new threads
You may not post replies
You may not post attachments
You may not edit your posts
---
HTML code is Off
---