ID this amphibian
07-12-2012, 09:01 AM
Senior Member
Join Date: Apr 2011
Posts: 3,069
---
I am also curious, I have a picture of the same frog on my phone. I took the picture here in Hattiesburg, Ms. I found the frog sitting an I-beam about 30 feet in the air. The frog was app 2" wide and 4+" long.... it was huge.
07-12-2012, 09:03 AM
Senior Member
Join Date: Apr 2011
Posts: 3,069
---
Gotta love google:
http://nas.er.usgs.gov/queries/facts...x?SpeciesID=55
07-12-2012, 09:17 AM
Senior Member
Join Date: Jun 2001
Location: CT
Posts: 18,360
---
A Barking tree frog - who wudda thought
Call the dog warden if he gets too loud
I was gonna guess a F__k you lizard which were common in the jungles of nam as they used to answer F__k you when the ReeUp birds sang RE_UP! (the sound sactually did closely mimic those words) - and as you FL guys and Geico customers probably know this is a Gecko.....
07-12-2012, 03:37 PM
Senior Member
Join Date: Jun 2007
Location: Spring Hill, FL
Posts: 7,672
---
Yes, barking tree frog: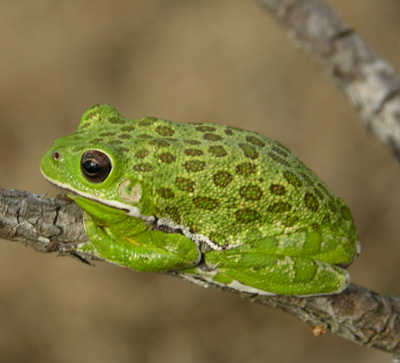 http://ufwildlife.ifas.ufl.edu/frogs...treefrog.shtml
Posting Rules
You may not post new threads
You may not post replies
You may not post attachments
You may not edit your posts
---
HTML code is Off
---