Weed Trimmer Line
04-29-2011, 11:47 AM
Senior Member
Join Date: Jul 2005
Location: Troutman, NC
Posts: 873
Likes: 0
Weed Trimmer Line
---
What line lasts the longest for edging between pine needles and grass? I'm using heavy duty titanium line and it is crap. I have to respool several times each time I trim. Is it the trimmer (Husquarvana) or the line? I never had this problem with my old Ryobi but I don't have the same line as I did then.

I'm ready to throw this thing in the lake!
04-29-2011, 12:13 PM
Senior Member
Join Date: Oct 2006
Location: Downeast, North Carolina
Posts: 6,132
Likes: 0
---
I would think line diameter has a lot to do with it. I have one trimmer that uses .105 "commercial grade" that looks like twisted liquorish. It's not self feeding (precut 16" lengths), but it lasts a long time. I cut vines, thick weeds, grass and light woody brush without a problem.

I have another trimmer that is self feeding and uses .095 line and that seems to last OK. My ex had a light weight trimmer that used .05 line and that was worthless.
04-29-2011, 12:26 PM
Senior Member
Join Date: Nov 2002
Location: Pompano Beach, FL, USA
Posts: 5,045
Likes: 0
---
I've been using Grass Gator shaped line. It works pretty well.
http://fp.vendaria.com/vpop/VpopView...tle=&pf=t&fr=t
04-30-2011, 05:23 PM
Senior Member
Join Date: May 2006
Location: DeLand, FL
Posts: 684
Likes: 0
---
What's the deal with those things that you can swap out the line with one of those things where you can just snap the individual lines in? Anyone have one of those?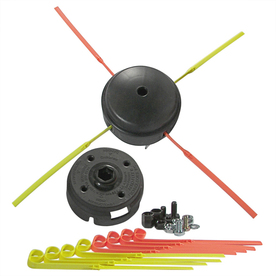 04-30-2011, 06:56 PM
Senior Member
Join Date: Oct 2006
Location: Downeast, North Carolina
Posts: 6,132
Likes: 0
Posting Rules
You may not post new threads
You may not post replies
You may not post attachments
You may not edit your posts
---
HTML code is Off
---