Terrible week!!!
10-15-2010, 08:59 PM
Terrible week!!!
---
My family lost our loyal companion this week. Our 8 year old Aussie Moby had to be put to sleep do to an agressive case of Lymphoma last night. If that wasn't heart breaking enough, telling my five year old daughter today took the icing on the cake. It is amazing to me that he was diagnosed with a growth on his spleen and water in the lungs on Monday afternoon. By Thursday afternoon his lymph nodes on his neck, chest, and abdoman were all swollen very large and he had significantly more fluid in the lungs. We could not bear to put him through agressive chemo for maybe at the most another six months with him. I know we gave him a fantastic life and did not let him suffer, but the pain of not having him here is agonizing.
10-15-2010, 09:05 PM
Senior Member
Join Date: Feb 2003
Location: Jacksonville, Florida, US
Posts: 14,527
Likes: 0
---
Just this side of heaven is a place called Rainbow Bridge.
When an animal dies that has been especially close to someone here, that pet goes to Rainbow Bridge.
There are meadows and hills for all of our special friends so they can run and play together.
There is plenty of food, water and sunshine, and our friends are warm and comfortable.
All the animals who had been ill and old are restored to health and vigor; those who were hurt or maimed are made whole and strong again, just as we remember them in our dreams of days and times gone by.
The animals are happy and content, except for one small thing; they each miss someone very special to them, who had to be left behind.
They all run and play together, but the day comes when one suddenly stops and looks into the distance. His bright eyes are intent; His eager body quivers. Suddenly he begins to run from the group, flying over the green grass, his legs carrying him faster and faster.
You have been spotted, and when you and your special friend finally meet, you cling together in joyous reunion, never to be parted again. The happy kisses rain upon your face; your hands again caress the beloved head, and you look once more into the trusting eyes of your pet, so long gone from your life but never absent from your heart.
Then you cross Rainbow Bridge together....
10-16-2010, 03:03 AM
Senior Member
Join Date: Nov 2007
Location: Upper Chesapeake Bay
Posts: 21,731
---
You did the right thing. My sympathy to you and your family.
Our dog is 13. Any day now we are afraid she may take a turn towards rainbow Bridge.

Be strong. Time heals.
10-16-2010, 05:20 AM
Senior Member
---
Sorry to hear about your lose. It has been almost two months, since I had to put my Boxer down, he was only 6 yrs old. I miss him everyday. Putting him down was one of the hardest things I have ever had to do but it was the right thing to do.
Yeah, that conversation with the kids will tear any man apart.
10-16-2010, 07:50 PM
Senior Member
Join Date: May 2010
Location: Florida
Posts: 298
Likes: 0
---
Sorry to hear that, you did the right thing. When my 9 yr old boxer started having heart problems I did everything I could to help him. It was so hard watching him everyday in pain and finally had to put him down. thoughts and prayers are with you and the family.
10-16-2010, 07:57 PM
Senior Member
Join Date: Jan 2008
Location: lake champlain vermont
Posts: 30,179
Likes: 0
---
I had the exact same thing to my golden in may. This was the first time I shed a tear for any dying warm blooded being! You will be ok and don't try to stop what you feel!
10-17-2010, 11:11 AM
Admirals Club
Join Date: Sep 2005
Location: Tennessee
Posts: 2,009
Likes: 0
---
We lost our three old cats within a few months of each other, so sad around here until we adopted three kittens, from the local pound .
Three kittens will ease the pain of loss real quick, every hour of every day. They are a riot.
Below my helper as I type this.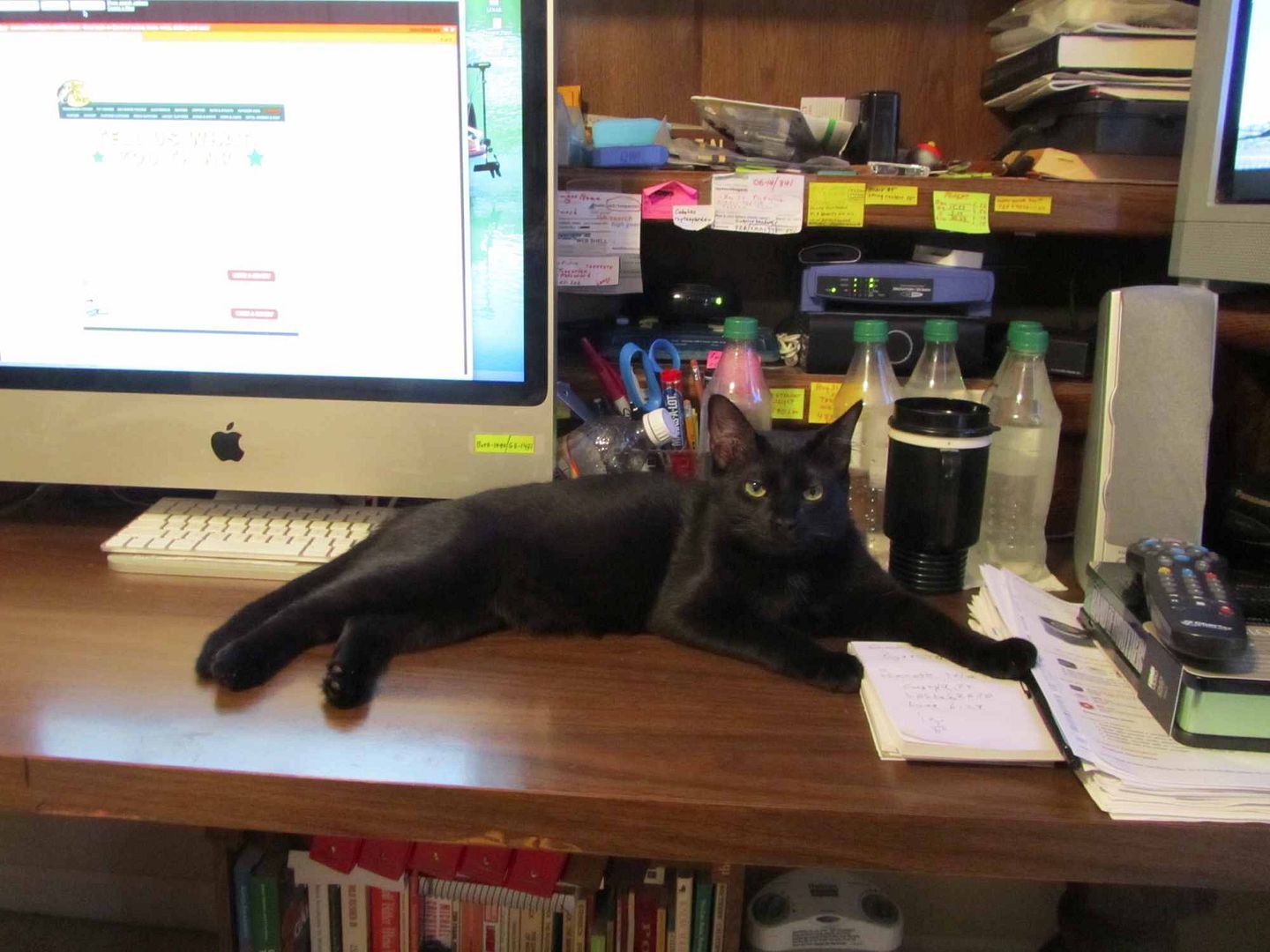 10-17-2010, 07:23 PM
Admirals Club
Join Date: Aug 2010
Posts: 42
Likes: 0
Received 0 Likes on 0 Posts
Same here
---
I feel for you,

We just lost our big guy, 11 years old, who crossed the street just one too many times last week. So I,know how you must feel. This pic has our guy under my daughter's clothes.
10-17-2010, 08:22 PM
---
Thanks for all the kind replies. Being that all this happened so fast I think today the reality is setting in. I'm very proud of my daughter as she handling the situation better then anticipated. My wife and I are both very sad and we are now down to watery eyes for about 15min/hour. I know the saying "time heals all wounds" is true, however the time part just sucks!!!
On a positive note I talked to the breeder we bought Moby from to tell them the tragic news and was informed his sister is pregnant! The puppies will be born in late November and she will call us to take a look at them when they are old enough. The pain is still unbearable, but the thought of having one of his nephews with us in the near future gives us something speacial to look forward to.
Posting Rules
You may not post new threads
You may not post replies
You may not post attachments
You may not edit your posts
---
HTML code is Off
---