New Civic EX
08-16-2009, 04:04 PM
Senior Member
Join Date: Jul 2004
Location: S Fla
Posts: 23,400
New Civic EX
---
Just could not do the Jetta thing. Picked up a civic on friday to commute back and forth to work. Tinted and put some bigger wheels just to make it look a bit different. Drives like a econ/commuter but std stereo is surprisingly good. Love Civics, you do the service checks only 'cause you feel guilty. Naturally 2 coats of RejeX went on this weekend. The red Accord behind it is going on 8 months with it's RejeX and still beads like crazy.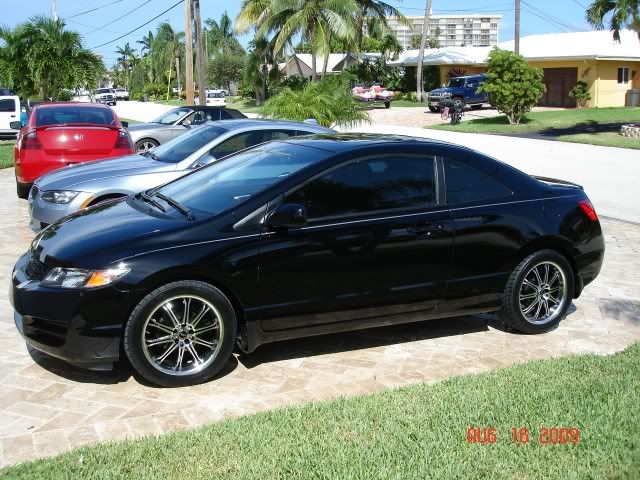 ---
Last edited by Glen E; 08-16-2009 at

04:15 PM

.
08-16-2009, 06:41 PM
Senior Member
Join Date: Feb 2005
Location: Kent Narrows, MD
Posts: 7,092
---
I put 2 coats on the new Traverse 3 mos ago and the surface felt like glass. It still beads water like crazy but the glass smooth feeling is gone
What gives ?
btw - nice ride - are those spinners ?
08-16-2009, 07:47 PM
Senior Member
Join Date: Feb 2001
Location: North of Boston
Posts: 12,980
---
Originally Posted by
Glen E
So the relative was
you
?
08-16-2009, 09:36 PM
Senior Member
Join Date: Aug 2008
Location: Chesapeake,Va
Posts: 1,575
---
My back and forth to work is a 07 civic si, 30 mpg,fun to drive,cold ac, and I know it starts every time, justifies the payment that i hate to make(car payments suck), my wife has an 08 accord, honda quality is second to none my last acura integra still going strong with 330k on it, my buddy takes it 80 miles daily from currituck to manteo 30 mpg and cold ac what more do you want??Function before form............
Tight Lines
Monty
08-17-2009, 06:44 PM
Senior Member
Join Date: Apr 2004
Location: SE Florida
Posts: 3,898
---
Nice looking car. The civic is a vehicle that you can't go wrong with. Where do you pick up Rejex? I ussually use McGuier's Gold Class but always up for trying something else. With a black car, I don't want the paint to fade. After 5 years it still looks good.
08-17-2009, 07:08 PM
Senior Member
Join Date: Jul 2004
Location: S Fla
Posts: 23,400
---


here's what the inventor of Rejex wrote me on the diff:

1) Doesn't last as long

2) Doesn't provide as slick a surface for bug removal

3) Yellows (a little) when put on white paint

4) Requires more effort to remove because of dusting

5) Has abrasives and can't be used on plexiglass

6)does not hold up well to nearly heat as well as RejeX.
Posting Rules
You may not post new threads
You may not post replies
You may not post attachments
You may not edit your posts
---
HTML code is Off
---