Truck Tires
10-12-2007, 06:16 AM
Senior Member
Join Date: Jul 2004
Location: South East Pa
Posts: 9,319
Truck Tires
---
I need new truck tires for my 05 Tundra 4X4. Anyone have experience with Michelin Cross Terrain's? The BFGoodrich Radial Long Trails that came with the truck are pure crap. 30,000 miles and they are at the end of their life. They were never much good in the rain at any point in their life.
10-12-2007, 06:49 AM
Senior Member
Join Date: Jul 2007
Location: Wake Forest / Cedar Point, NC
Posts: 216
RE: Truck Tires
---
I have looked at those for my Suburban, but decided to with something else - all the Michelins are pricey. If you haven't already I would check Tire Rack. Even if you buy locally, Tire Rack is a great resource for getting feedback on most brands and models. Here is the link to the survey results page:
http://www.tirerack.com/tires/survey...y.jsp?type=HAS
Looks like the survey ranks the Cross Terrains 8th: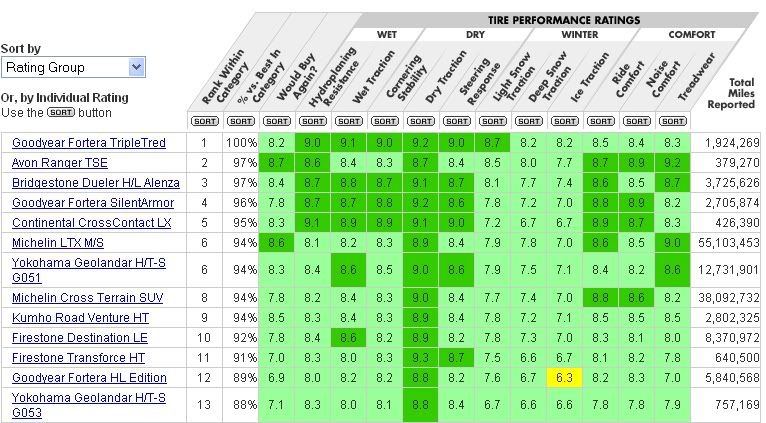 Here is what Consumers Reports has to say:
Personally I think I am going to go with a mixed set the next time I need tires. Put some Falkens on the front and Asshos on the back and really let other drivers know what I think of them
10-12-2007, 07:28 AM
Senior Member
Join Date: Jun 2006
Location: The South
Posts: 2,213
RE: Truck Tires
---
I've had the long trails.......they suck.

On my old truck I bought some Firestone Destination AT's and really like them.

My new truck came with the Michelin LTX tires and there also nice.

However, I sold them to get a bigger more aggresive tire and went to the BFG AT's.

So far so good. Not much road noise and seem to wear nicely.

So if I were you I'd look at the BFG's, Michelin's, Firestone or Toyos.

All good tires.


10-12-2007, 08:35 AM
Senior Member
Join Date: Mar 2003
Location: ocean county,nj
Posts: 2,135
Re: Truck Tires
---
FASTFJR - 10/12/2007 10:56 AM

Thanks for the info. I have heard that the Goodyear TripleTred can be pretty loud
I have them and they are not noisy at all. Original tires were awfull from the factory when wet out. For what it's worth, I would buy these again for my next vehicle.
ron
Posting Rules
You may not post new threads
You may not post replies
You may not post attachments
You may not edit your posts
---
HTML code is Off
---