Needing some positive support..
04-05-2007, 12:36 PM
Member
Join Date: Sep 2006
Location: Dothan, AL.
Posts: 74
Needing some positive support..
---
Does anyone else have trouble finding people to go out on the boat with ya or people that will keep their plans and not back out on you? This happened to me so much last year that i only took the boat out 6times.. between my schedule other peoples scedules and then the ones backing out. Thats no where near enough to make it worth paying for this thing... so far this year its already happened TWICE.. and now today the guy that was suppose to go is backing out on me.. so thats 3 times out of 4 weekends that ive tried to go. Im totally and completely ready to get rid of this thing i think.. i just cant take it anymore....
anyone have any uplifting words or ideas for me? or should i just sell it? sorry to rant, but i needed somewhere to vent and thought maybe id get some good ideas here..
04-05-2007, 12:56 PM
Senior Member
Join Date: Mar 2007
Location: Mobile, Al.
Posts: 1,448
Re: Needing some positive support..
---
I probably would update your profile so that your location shows where you are at and then post in the forums for your area. You might get somebody to go or at least get somebody to buddy boat with ya.
04-05-2007, 01:25 PM
Re: Needing some positive support..
---
I totally hear yah on this one......sometimes it is just more fun to be doing something with someone else! I've ran across this in other areas. I know when I bought my present boat (24' V-berth) I did so with as much input as I could stomach from the Misses......I wanted a constant boating partner. As luck would have it I have to beat people off with a stick that want to go out on my boat.

Is your boat big enough for the conditions you go out in?
Are you going out further then you really should be for the size of boat you have?
Are you going out further then your mates are comfortable going out in your size of boat?
Is your boat truly sea worthy?
Are you expecting far to much money for expense from your mates when you go out?
How far off of plumb does your personality change once you've stepped foot onto the boat?

Being able to afford or not afford a boat is one thing, but why did you buy a boat in the first place? Where you banking on everyone joining you 100% of the time, or did you really give that any thought?

It is a toughy, I know your pain!
04-05-2007, 01:33 PM
Senior Member
Join Date: Jan 2003
Location: east hampton ny usa
Posts: 2,244
Re: Needing some positive support..
---
opposite problem........but that said i'd figure out how to do it myself.........i love going out alone......also love going with friends......if folks go on your boat and have a good time you have to beat em off with a stick...the more you use your boat the more people you will be around that like goin on boats....one thing leads to another........went on impromptu fishing trips a number of times last summer just cause i was there when someone else was goin out
04-05-2007, 01:35 PM
Member
Join Date: Sep 2006
Location: Dothan, AL.
Posts: 74
Re: Needing some positive support..
---
wow lots of ?s theres.. and they all make sense so ill do my best here...for starters i can afford the boat, however i dont believe in paying for something that just sits around... its a waste of money to me and its a waste of a good boat. someone else could be enjoying it. ya know? Nah actually i think i become more mellow onthe boat.. i dont own a fishing boat its a run about... and i dont go far out at all.. just to this place called Shell Island.. and u could take a PWC out there if ya wanted. If anything i would say im getting the small end of the stick when it comes to splittin the bill, i usualy fill up my truck and boat and then will let them get food and drinks... which as we all know with gas prices thats WAY less than what im paying... though it depends on the # of people going as to how things get split.. i think the biggest thing is that i have all these people telling me, shoot yeah ill go.. just say when.. and then when i do.. no one can or they back out after saying yes.. if i could afford to have the boat stored down in a dry dock or even a lifted slip, i would, but i cant afford that, so i will have to stick to trailering for now... i will say this, i am lookin at changing and getting some kind of fishing boat, walk around or so.. not sure yet.. but still. it will be a bigger boat and will i still have the same problems ya know?
04-05-2007, 01:47 PM
Senior Member
Join Date: Nov 2002
Posts: 1,165
Re: Needing some positive support..
---
Uhm, if you are talking about this weekend, and in the Gulf, it is no wonder. It's a pretty formidable forecast.

FRIDAY NIGHT
NORTH WINDS 20 TO 25 KNOTS BECOMING NORTHEAST AROUND
25 KNOTS AFTER MIDNIGHT. SEAS 3 TO 5 FEET. BAYS AND COASTAL
WATERWAYS ROUGH.

SATURDAY AND SATURDAY NIGHT
NORTH WINDS 20 TO 25 KNOTS DECREASING
TO 10 TO 15 KNOTS. SEAS 2 TO 4 FEET SUBSIDING TO 1 FOOT OR LESS IN
THE EVENING...THEN BUILDING TO 1 TO 3 FEET AFTER MIDNIGHT. BAYS AND
COASTAL WATERWAYS ROUGH.

Anyone who has been offshore around here for any amount of time will tell ya, 20 to 25 knot winds is no fun in the Gulf. I'd much rather be standing on shore wishing I was out there rather than being out there wishing I was standing on shore.

And for what it is worth, take their wave height predictions with a shovel full of salt. Go by the wind. Long periods of wind over 15 knots tend to snot up the gulf.

Sure, on a north wind you can get close up to shore and fish for some reds and such, maybe even luck into a ling, but, high winds suck, and fishing and boating are supposed to be fun.

Now, if you are talking about protected waters, that'd maybe be different.

Check into some of the local fishing clubs, like the Saltwater Sportsmans Association or the Alabama Coastal Fishermans Association. There are more, but those two I know of in particular. Usually plenty of like minded souls there.

I am a little jaded by internet arranged fishing trips. I have been left in the lurch more often than folks actually showing up, on fun fishing trips anyway. That is the reason for deposits on charters.

Maybe post up a little about where you'd like to fish/boat and what kind of rig you have. You may find a fishing pardna through this very thread.

And remember, it is supposed to be fun.
04-05-2007, 10:53 PM
Admirals Club
Join Date: Sep 2005
Location: Tennessee
Posts: 2,009
Re: Needing some positive support..
---
WOW! Am I way out of sync with the rest of the world?
I go boating with my wife, always have, always will.
Almost all others who go on our boat are neighborhood kids. It's fun for us to spend the fishing trip helping the kids catch fish. Kids are so proud of the fish they catch. When we return home they help me clean the fish and then take the cleaned fish home for their mom to cook.
Otherwise, just wife and I have a real relaxing day on the lake, sometimes we talk about a lot of things, other times we are quiet and just enjoy Mother Nature and the presence of each other.
Planning a trip with relatives or other friends is frankly a pain in the arse. Everyone says "boy we would love to go boating with you but".... They seldom follow through. Maybe it just takes a boat person (a THT type) person to enjoy being on the water, the sounds, the smells, the fresh air, the relaxation.
No music allowed on our boat, no radio, no IPod, just the sounds of the water slapping on the hull, the sounds of birds, the splashing sound of fish jumping. When the kids are along, the yells and screams of delight when they catch a fish, wouldn't want to drown that out with music.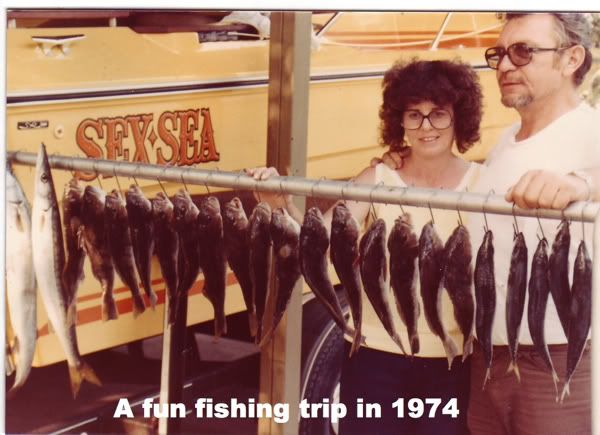 Ray, Tennessee 2180DLX Carolina Skiff 90HP Honda
04-06-2007, 12:40 AM
Senior Member
Join Date: Oct 2002
Location: Gloucester,Ma USA
Posts: 10,784
Re: Needing some positive support..
---
I love the times I'm able to get away,cut the engine,drop the lines and drift listening to the ball game. The sound of the water slapping the hull,the cackle of the gulls.... without the chance of hearing a phone ring!My work environment is a series of "putting out fires",solving problems,being called for this and that. A challenge I welcome and look forward to.... but offshore solitude is priceless.
04-06-2007, 09:16 AM
Member
Join Date: Sep 2006
Location: Dothan, AL.
Posts: 74
RE: Needing some positive support..
---
Well my boat will hold 10 people, but as i said, its not a fishing boat.. maybe thats part of the problem.. Ive been wanting to upgrade to something bigger, with at least a porta pottie, but a small cabin would be nice, BUT i wanna be able to fish from it as well.. im just not sure if i can really afford it.. i know it wont be new by any means, righ tnow my boat is an 05. and of course, i paid too much for it and still owe alot haha, sux. but i think im gonna take the next weekend and go down to the coast and see what i can find, does anyone have any suggestions? also, ive only got a reg cab Z71 4x4. 5.3lt.. so it cant be huge...
Posting Rules
You may not post new threads
You may not post replies
You may not post attachments
You may not edit your posts
---
HTML code is Off
---