Oregon Inlet 6-16 & 6-17
06-18-2019, 03:56 AM
Admirals Club
Oregon Inlet 6-16 & 6-17
---
Sunday we beat our way out to around the 630 line. After an hour we had our first bite and ended up being a throw back yellowfin. Then after about another hour we had a triple of throw backs. At 9:50 i was making a turn and watching the baits when I saw the fish explode on the left short. My Dad jumped on the rod and fought about 30 minutes before he had to have a break. My buddy cranked on him about 20 mins before handing the rod back to my Dad. Got the fish about 100ft from the boat and the rod broke about 1/3 down from the tip. My buddy had to hand line the last 100 ft while my Dad cranked it on the reel. After an hour after we hooked it, we got the 132lb big eye in the boat. Had a few other bites but only managed to catch about a 30lb yellowfin.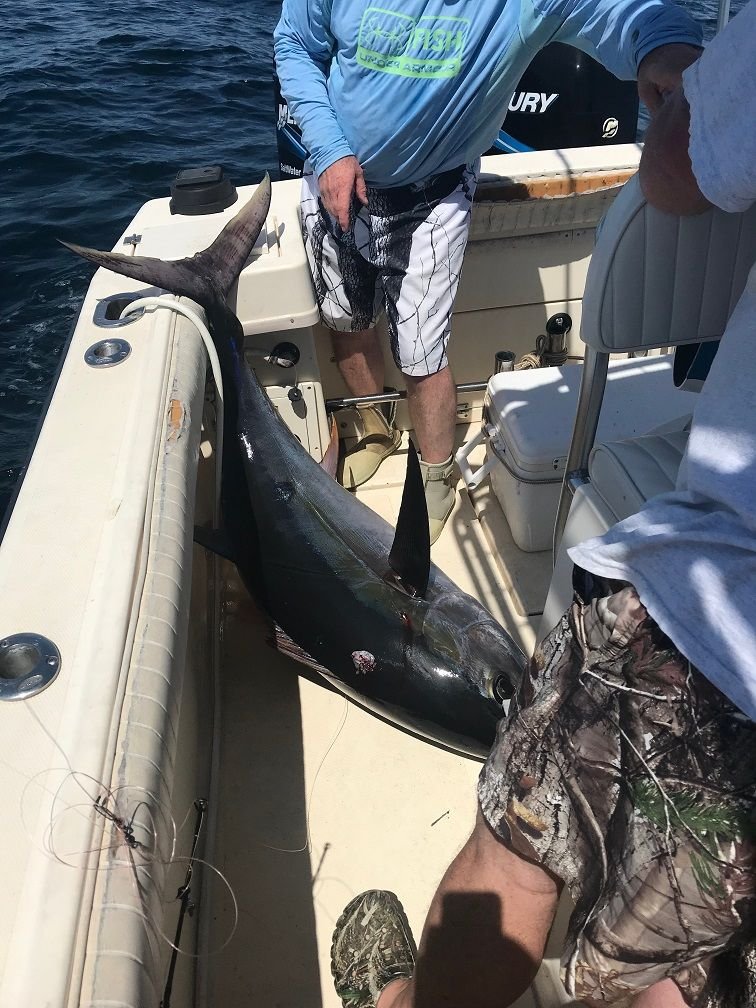 On monday we went on our annual trip with Trophy Hunter. Started out REALLY slow. Caught our first fish at 10am and the second at 1pm. At 145 we had 2 tuna and 1 small dolphin, then we got hit by a triple header and landed all three, biggest being 119lbs
06-18-2019, 04:16 AM
Senior Member
Join Date: Feb 2013
Location: Eastern NC
Posts: 1,403
---
Nice fishing. Way to go saving the catch after the rod broke.
Posting Rules
You may not post new threads
You may not post replies
You may not post attachments
You may not edit your posts
---
HTML code is Off
---