1996 31ft Jupiter FS
03-29-2021, 03:22 PM
Senior Member
1996 31ft Jupiter FS
---
1996 Jupiter 31' Center Console w/Tower and full second station - Asking $89,000
2011 Honda 225 HP, 30 inch shafts, w/stainless steel props
Port motor – 136 hours
Starboard – 395 hours
Honda NMEA 2000 digital gauges, 1 for each engine
Garmin has NMEA 2000 link so gauges available on the displays also
Garmin 7612xsv at Helm and 7608xsv in tower, with 1kw transducer
Holds 310 gal of fuel in 3 tanks, 2 saddle (120 each) and one 70 gallon in floor in front of console (note: front floor tank has not been used in years and would need pumped out to use) – switch in back to select which tank to run each engine from, both can run from any of the 3
Full cushions and combing pads around 6 years old, were done right before we bought the boat
No bottom paint
Trim tabs
Kobelt controls helm and second station
Upgraded bracket to support 4 strokes, installed in mid 2000s
23ft Single spreader Rupp outriggers
Center Rigger
2 AIS VHF Radios – with mic in second station with full controls
Furuno RDP-139 VVx GPS – used as backup GPS and for radar
6kw Furuno Radar with 4ft array
Has curtains but they are cloudy
Simrad AP11 autopilot – has new steering rudder feedback but needs calibrated
Performance
- Slow cruise is 30mph @ 4,000 rpm
- Faster cruise is 34mph @ 4400 rpm
- Top end is high 40s, might touch 50mph light
- Avg 1.7 to 1.8 mpg
Have owned the boat since March 2015, here is a list of updates:
-Repowered with 2011 Honda BF225s in 2019 – previously had 2002 BF225s
-Upgraded Electronics to Garmin 7612 at helm and 7608 in tower, 2017
-1 kw transducer - 2017
- New calipers, rotors, bearings on trailer 2 years ago - 2019
- Normal maintenance, oil changes, lower unit oil changes, filters (oil and fuel), impellers, etc
- Cut tower so it is collapsible, 12'9" off the road when collapsed - 2015 - not a fold and go top, takes 30 minutes to put up and around 20 to dismantle
-New fresh and raw water wash down pumps, installed this year 2021
-2 new bilge pumps new this year, 2021
Boat is stored under cover (3 sided) in winters and has a full canvas cover.
Boat was surveyed in 2015 can provide the survey to serious interested parties.
Trailer
-2011 Float on 13k aluminum dual axle trailer with disc brakes on all wheels
- Electric over Hydraulic brakes
- 2 Spares
- Comes with extra hub, bearings, dust caps, extra caliper and pads and spare brake lines
Known Issues:
- On the canvas top the access to the top doesn't close as the zippers are bad.
- The steering wheel attachment on the top station is a little soft, hit a wire with it and pulled it out a few years ago and repair could have been better but doesn't affect steering
- Fuel gauges don't read, have new sending units on order
We tow it with a 2017 Ford F250 Diesel and works well towing this, but absolutely would not tow it with a half ton. Towed this back from Jupiter FL in 2015 and have taken it back and forth to Hatteras several times each year from Gettysburg.
Asking $89,000 - have an offer accepted on a twin diesel express so not looking for any trades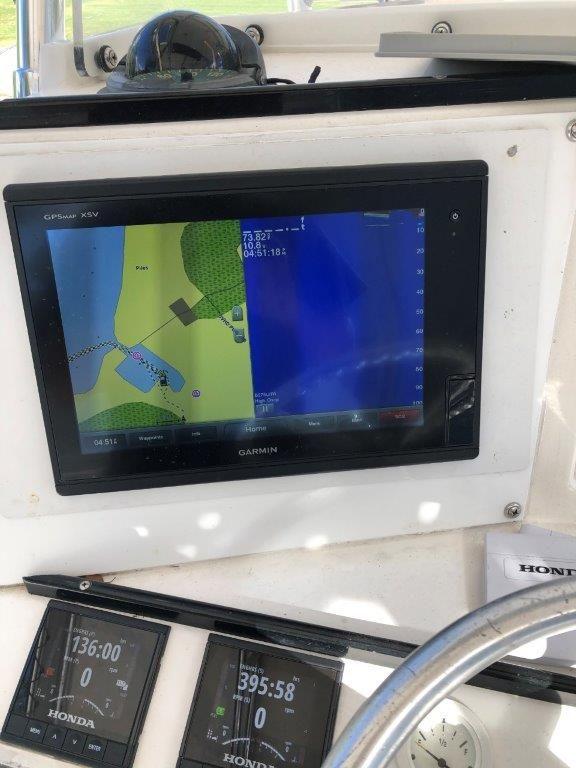 04-15-2021, 12:58 PM
Senior Member
---
Took the boat out of storage yesterday and found fuel in the bilge, looks like the port saddle tank has a very small leak in it, maybe 8-10 oz over the winter leaked out. All the fuel lines are dry so pretty sure it is the tank.

Did some research and called and talked to the Jupiter factory. They sent me the cut lines where the floor needs cut and I talked to a few places the do the repair, figuring it is around $1,500 per tank for new tanks plus labor to install and do the fiberglass work. So dropping the price $15,000 to cover this repair if someone is interested, new price is $64,000.

The boat is usable for the summer by utilizing the front 50 gallon auxiliary tank and good starboard tank, for a total of 180 gallons and then could get the repair done in the fall.

Obviously disappointing to figure this out now but glad it didn't sell and then have someone inherit this problem this summer.
05-05-2021, 12:23 PM
Senior Member
---
Update on the boat, have had some interest but still for sale, tanks are getting pumped out tomorrow, so the tank that is leaking slightly will be empty, the 50 gallon front tank will be pumped and cleaned and then the fuel from the bad saddle tank will be put in the front tank so it can be used. Also, cleaning the fuel in the good saddle tank so boat is useable for the summer. Also, our new boat looks like it won't be ready for our trip the week of the 16th so the Jupiter maybe in Hatteras NC for the week of May 16th and available for sea trial there.
05-06-2021, 05:24 AM
Senior Member
---
I contacted Jupiter and have the drawings on where the floor needs to be cut and the tank sizes, the console does not need to come out, the back 2 tower legs will need to be unbolted to get the floor out but it doesn't need to come off. Happy to share the documents with anyone interested, shoot me a PM and I can email them to you
05-06-2021, 01:32 PM
Senior Member
---
Another update, had Clean Fuel Associates come to pump out the front tank and saddle tank so they could be used, per post above, went to pump the front tank out and there was nothing in it, not even an ounce, appears that tank was the one that leaked the fuel into the bilge, they showed me where it was leaking and path to the bilge, it must have gotten a hole over the winter and completely drained the front tank. The boat was parked under cover but on a dirt floor so I guess I didn't see how much had run out the drain plug hole over the winter.

So at this point, looks like both saddles are good, front tank is bad. That is the easy one to replace, there is access in the center console, all you would need to do is remove the toilet, unbolt it and slide it out.
Posting Rules
You may not post new threads
You may not post replies
You may not post attachments
You may not edit your posts
---
HTML code is Off
---