2011 War Eagle 2170 Blackhawk FS
06-04-2019, 08:30 AM
Admirals Club
2011 War Eagle 2170 Blackhawk FS
---
For sale is my
2011 War Eagle 2170 Blackhawk
. Overall this is a phenomenal boat in excellent condition which we rarely used. We bought it new from Rudy Marine in Delaware for duck hunting big water in the winter, and saltwater fishing in the summer. We are selling because we do not have enough free time to use and it takes up space in our barn.
Located in
Pittstown, NJ
Ducks Unlimited Official Boat:
$26,500
-Venture Trailer
-2012 Yamaha 115 Four Stroke (100hrs)
-Hi-Performance Jac Plate
-15hp kicker motor bracket (Nissan motor NOT included)
-Removable T-TOP....easily removed with 8 bolts
-37 Gallon standard gas tank, 18 gallon extra tank...can run kicker and 115 off extra tank (55 total)
-12 total rod holders
-2 Swivel detachable forward and rear seats
-Dual Napa Marine batteries(2016) custom installed in console (factory installs them in bilge)
-ChargePro onboard mounted battery charger in console
-Golight Joystick bow mounted spotlight
-Trolling motor ready with proper plugs and hardware
-Livewell under front seat
-Locking Gunbox mounted in bow
Electronics:
-Humminbird 788ci HD Sonar and GPS
-Uniden UM415 VHF
-Ritchie Compass
-Hour Gauge (100Hrs)
Performance:
Not sure of exact MPG but last trip we ran out of the Inlet (NJ) 35 miles at about 30 mph. We trolled all morning and then ran home at about 35 mph. We burned only 18 gallons the entire day. It is very impressive and easy on the wallet how it sips fuel. Very efficient boat. She will do about 45 mph on the pins with the jac plate and the motor trimmed up. Also if interested we have a jet drive that is easily swapped via the lower unit which is being sold separately.
Also the boat includes a full Avery pop up duck blind easily attachable, used only a handful of times. I really enjoyed this boat for how versatile it is. We shot puddle ducks way back in the bay and had it offshore 35+ miles several times. The last trip the boat was on it boated a 52" Bluefin Tuna. This boat will not disappoint and will handle everything thrown at it.
Please text or call at
908-442-6809
Thanks, Jack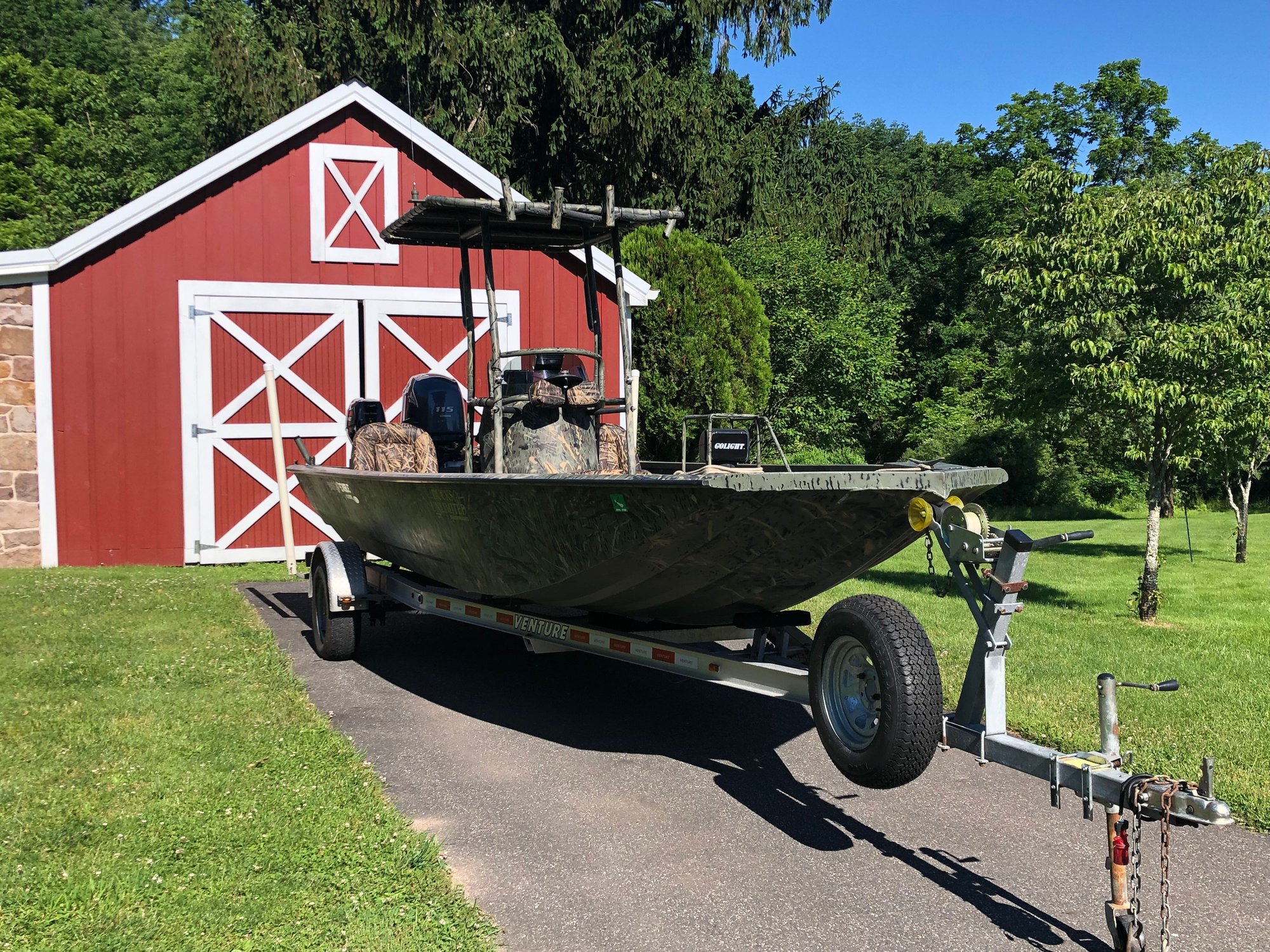 Posting Rules
You may not post new threads
You may not post replies
You may not post attachments
You may not edit your posts
---
HTML code is Off
---