2001 maverick master angler refit
12-29-2018, 02:41 PM
Junior Member
Join Date: Oct 2012
Posts: 12
2001 maverick master angler refit
---
hello I figured I would post this because this web site help my brother and I make a really informed decision on our new to us 2001 21ft maverick master angler. My brother found this gem in Long Island and we watched for a few months. Luckily there is not a big market for flat boats up in long islands New York. My brother drove up from Maryland and bought it for 12k. It has a Yamaha v max 175 hpdi with over 1000hrs on it. The seller did a lot to prove the engine was in great running standard and it was. Luckily my best is also a certified Yamaha master tech or what ever you call it. I was away working in Costa Rica at the time and was skeptical about the buy, my brother was confident and in hindsight rightly so. The plan was to get the boat in good working order use it for the summer then do a refit that would include full paint job, gps, power pole, new lights, switches etc. after seeing the boat I persuaded him to let me do the refit over the winter. We started at the end of febuary and finish mid April. The boat was used as a guide boat for striped bass on the Long Island sound and the gel coat was completely shot, cracked all over the place, oxidized, deep scratches everything a 1000hr guides flats boat would have. Disassembled the entire boat and began repairing the every flaw in the gel coat in preparation for paint. That took every bit of 2 1/2 weeks, opening up the cracks with the dermal tool and filling with fairing compound and sanding fair and flat. If you are at all familiar with the 48 Jarrett Bay called "grander" we used that for insperation. Alexseal stardust silver metallic and pearl grey for the topside, elected to paint all the metal and engineer super jet black. I decided to add a varnish mahogany dash where the garmin touch screen and guages would be flush mounted and a matching varnished toe rail. I had six 4 1/2 ft long 10 inches wide and 3 inches sections that I bought raw and build to the wood features, Carpenter I am not but we made it work. After we tore the boat apart we re wired 70% of the wiring. Put it all back together and wound up with a pretty amazing boat unique to our area but serves our purposes well. I hope you enjoy our refit we basically did everything but the engine work our selves.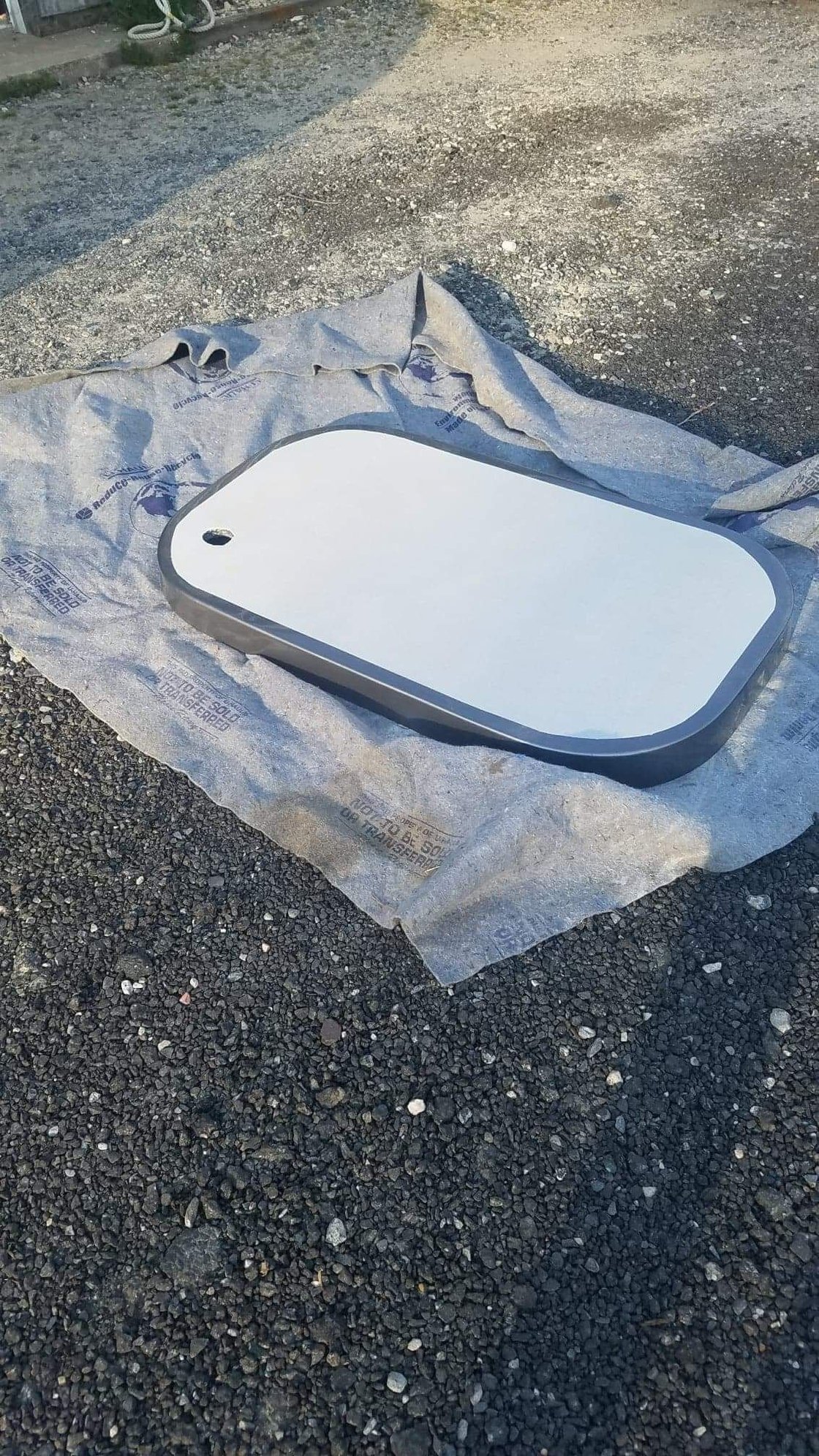 12-29-2018, 08:51 PM
Junior Member
Join Date: Oct 2012
Posts: 12
---
thank you.
the reason for the extended dash was because I could not deal with the idea of the gps mounted on a bracket on top of the console. This was the best I could come up with, budget constraints led us to using mahogany instead of teak. Time limited the helm pod that was an idea.
Posting Rules
You may not post new threads
You may not post replies
You may not post attachments
You may not edit your posts
---
HTML code is Off
---