Rigging Outriggers
08-26-2015, 07:52 AM
Admirals Club
Rigging Outriggers
---
We are getting a new to us boat and the outrigger line needs replacing. I can't decide on mono or nylon line. They will be double rigged and the outriggers will be collapsed for trailering. I am leaning toward the nylon rope so when they are collapsed we can use a line caddy. I figured if the mono stays wrap for a period of time it will have memory in it and not work correctly. Also, where is the best place to attach the snubbers, gunnel or ttop? On our other boat we had gunnel mount outriggers so we just attached the snubbers to the gunnel.
08-26-2015, 07:55 AM
Admirals Club
---
You can still use a caddy with mono, its just not that "pretty". It should be heavy enough that the memory won't effect it all that much. That said don't wrap it super tight...just enough to keep it on the caddy.
08-26-2015, 08:08 AM
---
Just rigged mine on the new boat. I used 400 lb mono this time instead of cord. I really like it. Have not had any issues with memory and I use line caddies on my outriggers. I also went with shock cords and pulleys this time instead of glass rings. As for placement I have Grand Slam 280's on the hardtop and have my pad eyes located on the gunnels right within reach of the helm.
08-26-2015, 08:24 AM
Senior Member
Join Date: Mar 2014
Location: Delaware
Posts: 338
Likes: 0
---
Replaced my knotted nylon with crimped 400# mono. I have 15ft taco poles that collapse, which are double rigged.

I too run line caddies and the lines stay wrapped much longer than they are extended. I have zero issues with line memory in the mono and I can breathe easy knowing the crimps will hold.

Check out catch all tackle. They sell great rigging kits with plenty of mono and crimps to spare.
08-26-2015, 10:18 AM
Admirals Club
---
Thanks guys. I will go with the 400lb mono. We had the Malin shock cords and pulleys on our other ones (left). Would the one on the right be any better or will they be about the same?
08-26-2015, 10:21 AM
Admirals Club
---
I prefer the type on the left.

The real key, to me, is get the best release clips available. Rupp nokouts are my favorite, followed by Blacks.
08-26-2015, 12:15 PM
Admirals Club
Join Date: Nov 2009
Location: Tarpon Springs, FL
Posts: 8,691
---
I've always used the cord to rig my out-riggers and have had no issues. I do not crimp the crimp I just run the cord back through it and tie a square knot. That way it can be taken off without having to cut anything.

Ditto on the Black's, my last set were on the boat for 8 years and still work fine. My spare one was still in the original package when I emptied the boat to trade it in.
08-26-2015, 01:01 PM
Senior Member
Join Date: Oct 2009
Posts: 10,456
---
I don't like mono. I use the New England Ropes Spyderline. Color coded for long and short riggers
08-26-2015, 05:51 PM
Admirals Club
Join Date: Dec 2007
Location: Lakeville Ma
Posts: 6,017
---
Yup two different color mono for me. Hal-locks and aftco release clips.
08-26-2015, 07:35 PM
Admirals Club
Join Date: Nov 2012
Location: Charleston, SC and New Smyrna, FL
Posts: 563
Likes: 0
---
you can loop the mono lines into the rocket launchers and pull them tight and secure with the hal-lock end clips when retracted.
take some 400lb mono and a crimp and make a loop on the upright of the t-top if you want to rig them away from the gunnel.
if you rig to the gunnel, you can drill a hole and lead a rope through the cap and pull it tight using a harken/Rupp cam cleat or similar.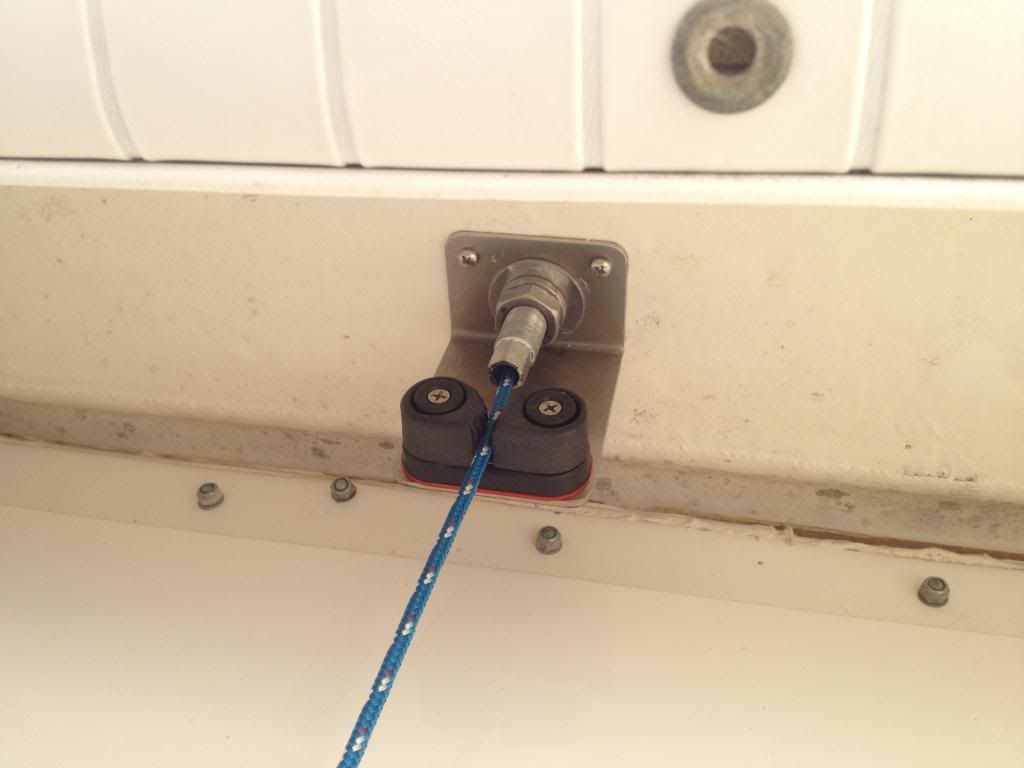 You can also use a swivel cam on the top of the T-top
http://www.thehulltruth.com/sportfis...e-rigging.html
08-27-2015, 05:39 AM
Admirals Club
THT sponsor
---
http://www.thehulltruth.com/sportfis...rds-clips.html
I have some pics in this thread showing an easy way to a good performing setup.
We have installed with rigging both to the gunnel, top, leaning post, and all between. If you post some pics of your boat's cockpit, I know you will get more good advice from everyone here. From a strictly performance for trolling standpoint, having them come down to thigh height at the gunnel with the pulley as close to the gunnel as possible will give you the most distance per stroke of your hand reach to move clips in and out quickly, which can make a big difference during a hot bite.
We do the cam cleats like shown above as well as some other types on people's hard tops and on sides of leaning posts using fairleads and all sorts of things. It all depends on the boat and what you'd prefer.
Here's a setup that cams up on top for running and trailering.
When fishing, they run through the rear hard top supports and cam tight down on the sides of the leaning post. The height and reachability of the halyards is perfect then, and when you want them out of the way, they're 100% out of the way.
Here's another boat going to the gunnels with the bungee left on rather than a cam tensioner.
Here's another with bushing thru the gunnel and fairlead with cam tensioner.
I have a personal bias towards mono because of how it acts while fishing, but dyneema and nylon work just fine.
On the line stowage with retractables... try coiling the lines like you would do a heavy leader before putting it away in a tackle bag. Once coiled, you can strap them with neoprene and Velcro straps to the poles. No memory problems with the mono this way.
08-27-2015, 07:20 AM
Admirals Club
---
Thanks for the response. Boat is a 235 Kencraft with a canvas ttop. I am leaning toward mounting the pulley on the gunnel because I ain't that tall and I think it would be easier when putting the line in the clips.
Posting Rules
You may not post new threads
You may not post replies
You may not post attachments
You may not edit your posts
---
HTML code is Off
---