OK we started removing the outdrive today.
First removed the dipstick and then drained the oil. It looks like it had some cloudy in it so I assume water got inside.
OIL FROM OUTDRIVE
Next we removed the props by first loosening the bolt in the center of the cone then spinning the cone off. 2nd we removed the large nut holding in the 2nd prop and out it came. Quite easy.
Next Was the shift linkage cover
SHIFT LINKAGE COVER REMOVED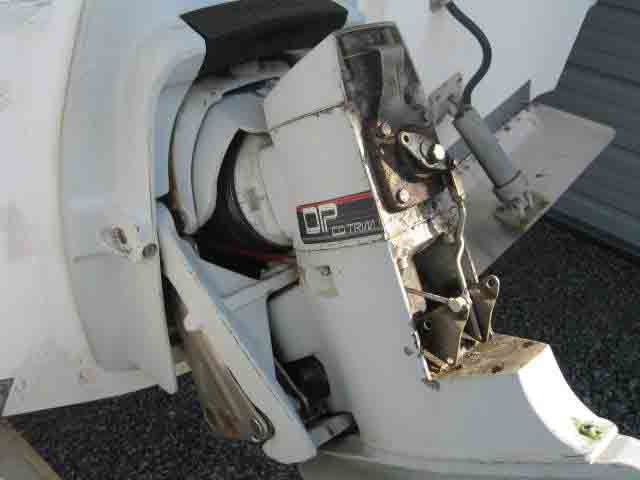 Next was removing the end pivot from the cable
END PIVOT BEING UNSCREWED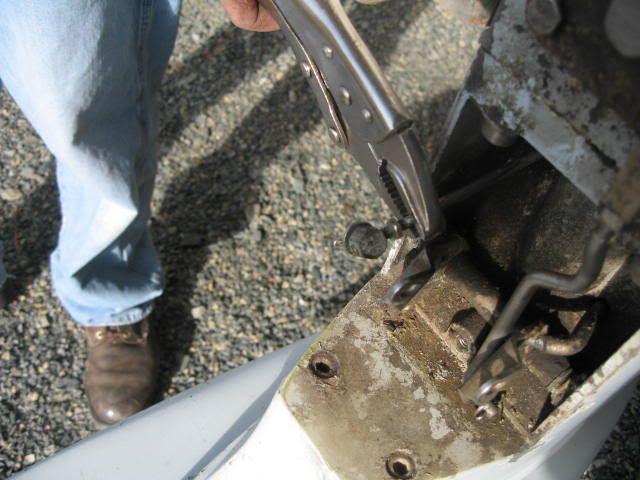 Next removed the two screws holding the steering pin to the upper gear head.
The manual said we had to screw in two 6mm bolts in the small holes. The holes were dirty and filled with junk. After using a dental pick we used a 6mm tap to chase the threads, went to ace hardware, picked up two 6mm bolt and it actually worked. The steering pin was forced out .
STEERING PIN READY TO BE REMOVED
We loosened the clamp holding the shift cable. Then following the seloc manual for engine removal we decided to remove the upper gear head. First we removed the top cover ( Not sure why we did it )
TOP GEAR HEAD COVER REMOVED
We slid the steering helmet back and undid the Bellow clamps, we then removed the Top Gear Head
TOP GEAR HEAD REMOVED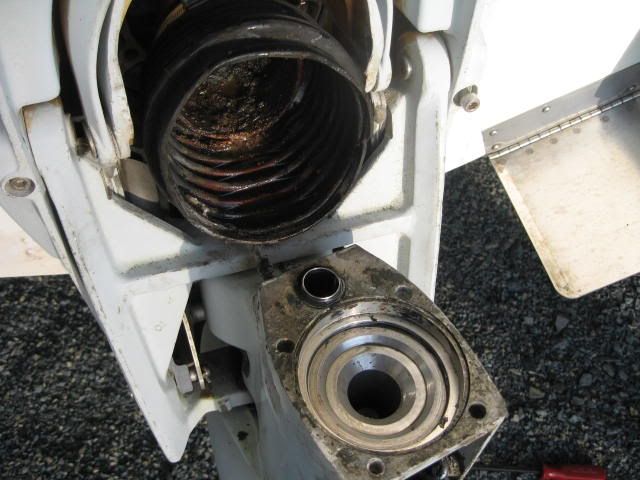 We then removed the u-joint below completely
U-JOINT BELLOW OFF
TOP GEAR HEAD REMOVED WITH U-JOINT ATTACHED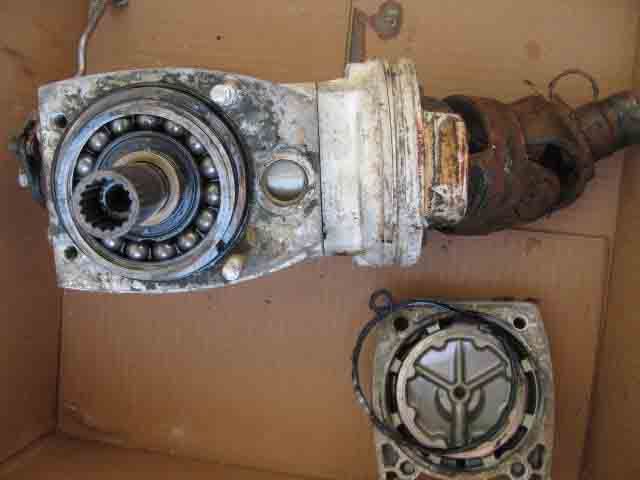 We then decided we should remove the lower unit as we have to drive up to the boat with a forklift and special cherry picker arms to remove the motor.
This is where we had our first problem. We removed one hook up fork pin lock bolt on the right side and the one on the left side broke in half while we try to remove it. So we decide we would drill it out and trilled until we thought we had reached the pin.
A couple of questions. How do you get the Pins out to drop the lower unit ? If there is water in the lower unit which seals have to be replaced ? Can the top gear head be flushed or rinsed with anything to get any of the residue junk off from handling ? Can the lower unit be flushed out with anything ?
How do I tell if the u-joints are bad ?
How many seals to I have to replace ? Where do I get them from ?
Any and all advise would be appreciated.
It would be great if we really knew what we were doing.
Thanks for the help