Inflatable or Fiberglass Dingy?
04-18-2009, 06:09 PM
Senior Member
Join Date: Oct 2006
Location: An island in Maine
Posts: 1,410
Inflatable or Fiberglass Dingy?
---
What do you guys prefer? Inflatable or a fiberglass Dingy? I currently have a small 8' zodiac with the slats in the floor. It is stable, but I am uncomfortable thinking about the loss of air while using this thing. I know it will probably never happen, but there are already 4-5 patches on this boat, so it has happened before (I bought it used). When I load up the dog, firewood, and a friend its a bit nerve wracking rowing towards sharp, rocky shores to beach this thing.

Those of you who have had both, which do you prefer?

I feel like a fiberglass would be much more durable and foregiving or mishaps (like a black lab jumping in).

I know the inflatable is light at 45 lbs, but transporting isnt such a big deal, I can leave it at my slip.
04-18-2009, 09:46 PM
Senior Member
Join Date: Dec 2004
Location: Lower Bay in VA.
Posts: 5,766
---
You find for the size a Inflatable is rated for a lot more weght find a 8 glass boat and look at the weght cap. 350 to 400 Maybe thats it a 8'6 zodiac is 1000 lbs ' ( just looked at my one) I gone to 9 foot rib even better
04-19-2009, 04:05 AM
Senior Member
Join Date: Mar 2009
Location: Onset MA
Posts: 111
---
Maybe you should consider a RIB, you will get the best of both worlds a fiberglass bottom and the stability of an inflatable. I have a 10 RIB zodiac, and have we have the best time with this boat. It holds alot of people and I am not concerned of rocky bottoms.


The price of a new boat is pretty high, but there are some values with used boats.
04-19-2009, 04:23 AM
Senior Member
Join Date: Dec 2006
Location:
Posts: 376
---
Are you going to keep her inflated or wrap her up, throw in the trunk and have a boat anywere you go....? I have 14' with wood floor (soft inflatable keel) and I like to fish from Fla, to Erie this thing is great! With electric pump few min. and you have a boat out of the trunk of your car, no need for trailer. 9.9Hp gets me 17mph (gps). Trust me, with this boat I was in the places where you would look at me and say WTF you doing that far off shore....The only thing I would love to have is rollup aluminum floor.
Now, the bad: if you want to fish lake early spring- not a good idea- ice maybe a problem.
Get the one with round tubes on the back- will hold 4strokes better.
04-19-2009, 05:09 AM
Senior Member
Join Date: Oct 2003
Location:
Posts: 9,907
---
If you're using it as a tender, a zodiac or rib I think is alot safer than a dingy.
Most dingys are real tippy. Do you tow it behind you boat? I would think that a zodiac behind the boat would be less prone to being swamped than a dingy too.
04-19-2009, 04:46 PM
Senior Member
Join Date: Oct 2006
Location: An island in Maine
Posts: 1,410
---
I use it as a tender, I do not tow it, I strap it to the swim step: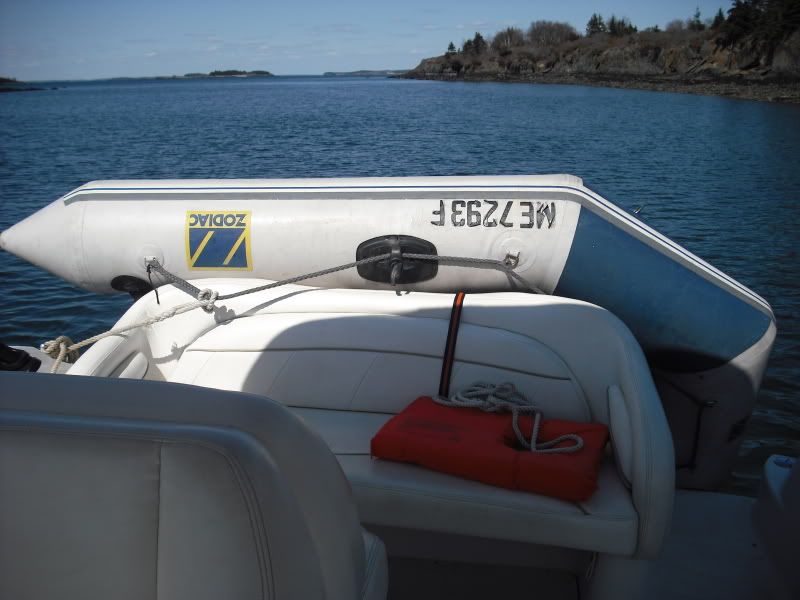 The boat is stable, but I really dont like bring it on shore here, its brutal on the thing. I am just waiting to come back and find it without air one day, then i will be screwed.
Check out the shoreline in the photo and you will get an idea of what I mean.
04-19-2009, 04:57 PM
Senior Member
Join Date: Sep 2005
Location: Salem, MA
Posts: 1,107
---
Those 8' fiberglass dingy's are tippy and only hold 2 passengers max, forget the dog. Every year someone falls off one of those types and drowns, tough to do that in an inflatable. Sounds like you need a 10-12' aluminum skiff, but they mark up your boat and you'd have to tow it. I have a 10' RIB I tow, added a pair of eyes under the front for a towing bridle. I use 2 small anchors at the beach, get some waterproof boat shoes or boots and leave the inflatable in the water where it belongs! :-)
04-19-2009, 08:54 PM
Senior Member
Join Date: Nov 2002
Location: Pensacola, Fl
Posts: 11,226
---
I have owned several of both hard glass dinghies, alumium skiffs and RIB's as well as at least a dozen pure inflatables. The RIB is the best compromise--in your case probably the aluminum hull RIB is a good choice. Light, in-destructable, and safe.

I lived my bigger fiberglass RIB's with two labs--but it was heavy at 375 lbs with engine and fuel tanks etc. The smaller dinghy is OK--consider a Livingston Cat if you want stability.

We use an 6'7" soft bottom for the PNW--and take a dog ashore several times a day. We don't beach it on sharp shells or rocks--boots in the water first--and then pick up and carry the inflatable (two person--one dog) operation.
Posting Rules
You may not post new threads
You may not post replies
You may not post attachments
You may not edit your posts
---
HTML code is Off
---