Cutting board ideas
03-08-2021, 06:54 PM
Admirals Club
Cutting board ideas
---
I am tired of keeping a cutting board in a rod hold and I am thinking of attaching one to my bait well lid using double sided tape. Using 3M double sided tape.

Has anyone done this with success? What tape did you use? do you have a picture?
03-08-2021, 07:43 PM
---
03-09-2021, 04:39 AM
Admirals Club
---
I have and dislike a rod holder cutting board. They are not solid enough and well you loose the use of the rod holder. So I keep one on the boat for when I need a forward cutting board. But typically it stays stored.

So what did I do.
I made that slips over the transom. It is larger, you can press down as hard as you want when cutting bait and no flex or slide. At the end of the day, I just lit it up and can clean boat and surrounding are no issues as well as rinse off and store the cutting board as desired. Made mine out of starboard, and added knife and pliers holder to it. If you are worried about it flying off at speed, you could add a snap strap on the front of it.


03-09-2021, 04:46 AM
Admirals Club
Join Date: Feb 2005
Location: over yonder
Posts: 10,798
---
Look up V-lock cutting board works well and very stable.
03-09-2021, 05:14 AM
Admirals Club
Join Date: Jul 2016
Location: Bradenton, FL
Posts: 2,271
---
Any of the 3M 59xx VHB tapes will make a very strong bond with starboard (HDPE). 5952 has been holding my acrylic windows into starboard frames for a couple of years now with no signs of weakening.
03-09-2021, 05:23 AM
---
I only fish inshore on a 20ft. bay boat which is tight on space. Made mine out of PVC board. Didn't want to mount to the boat so when I am finished using it on the water, it gats washed and stored in my rear hatch. Has worked well so far.
03-09-2021, 05:40 AM
Admirals Club
---
Thanks guys....the cleaning part maybe the biggest issue with attaching it via tape to the live well lid.....think the industrial strength velcro might solve that problem but create others. I will check out the sea sucker and the Vlock.....Uk Adrian...thanks for the 3M reference....that stuff is amazing. I used some that had about 50 lbs per sq inch shear holding power.

I should have been more specific regarding size....I am only looking to cut squid, filet and chunk ballyhoo/speedo.....I do not need to filet fish...

Thanks again
03-09-2021, 07:28 AM
Senior Member
Join Date: Sep 2018
Posts: 369
---
One my brothers Tiara we used high quality 3M velcro so we could remove it to clean the board and the blood and juices that would work its way underneath. To my amazement it held for years.
03-09-2021, 10:44 AM
Admirals Club
Join Date: Apr 2016
Posts: 38
Likes: 0
---
I was thinking of mounting rod holders on the transom of my boat (I have a bracket), then use the two inner tubes to hold L shaped aluminum tubes with a cutting board mounted. That would leave the two outer tubes to hold light pitch rods. I would make the tubes tall enough to not interfere with the livewell hatch in the transom.
03-10-2021, 03:38 AM
---
I agree, the rod holder setup is too wobbly. You really need to secure the cutting board in two places. The problem on my boat is that there was no place to mount anything on the gunnels. My solution was to remove the gunnel pads and put a 3/4 inch spacer between the pads and the gunnel. Then I made some wedge mounts which I will secure to the gunnel wall. Pic shows it on the back of pad just for clarity. Then I will mill a slot in the spacer for the mating part of the wedge.
no place to mount anything on gunnel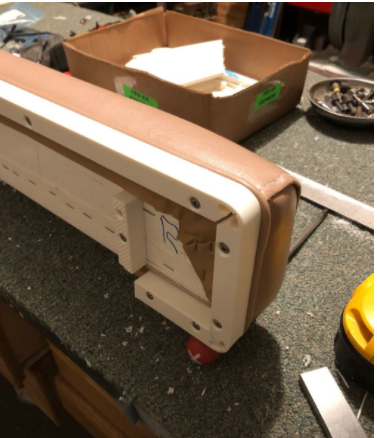 added spacer around edge of pad
wedge mounts will be secured to gunnel walls and live in the space between pad and wall
slot (blue tape strip) will allow mating part of wedge to slide thru spacer
cutting board has two mating wedges
03-10-2021, 07:44 AM
Admirals Club
Join Date: Mar 2002
Location: satellite beach, fla
Posts: 1,343
---
I did exactly that on my last boat.
Cut it to size and put it on a lid. I used an adhesive ( can't remember which one). Worked perfect for years.

Posting Rules
You may not post new threads
You may not post replies
You may not post attachments
You may not edit your posts
---
HTML code is Off
---