Bring your catamaran knowledge
08-14-2019, 11:25 AM
---
Originally Posted by
Drako
World Cat explicitly calls its Glacier Bays "semi-displacement" and the rest of the stable "planing" -- see e.g.
Hull Designs | World Cat
Perhaps the new models are considered semi-displacement.
I have no idea if World Cat changed the mold when they bought Glacier Bay in 2009. Prior to that, Glacier Bay created Displacement Cats. That's why you will see a similar sized WorldCat with more HP than a Glacier Bay. The Glacier Bay isn't designed to hydroplane and therefore doesn't need the horsepower required to do so. In turn, they are slower but offer a more stable ride. Take a full planing hull and run it next to a World Cat with the same HP and see how it is faster than the WC.
2017 WC 280CC does 48.7MPH @ redline making 1.3mpg with twin 200s:
https://www.boattest.com/review/world-cat/3643_280cc-x
2011 Glacier Bay does 40MPH @ redline making 1.3 mpg with twin 150s:
https://www.boattest.com/review/worl...y-edition-2740
I have a 28' planing hull cat that does 54MPH with twin DF300s propped conservatively with 3x16x20's
The biggest difference is the fuel efficiency prior to the WC getting on plane:
At 2,500 RPM the GB is getting 2.4MPG at 13.7MPH while the WC is getting 2.0MPG at 13.1MPH
This flip-flops once the WC is able to get on plane.
At 3,500 RPM the GB is getting 2.2MPG at 24MPH while the WC is getting 2.5MPG at 25.6MPH
Honestly, it's just semantics based on the hull shape/design.
On one end are displacement catamarans designed to push through the water and on the other end of the spectrum are planing catamarans designed to hydroplane on top of the water. Everything in between can be considered "semi-displacement".
I have a 28' cat that does 54MPH with twin DF300s propped conservatively with 3x16x20's, for reference.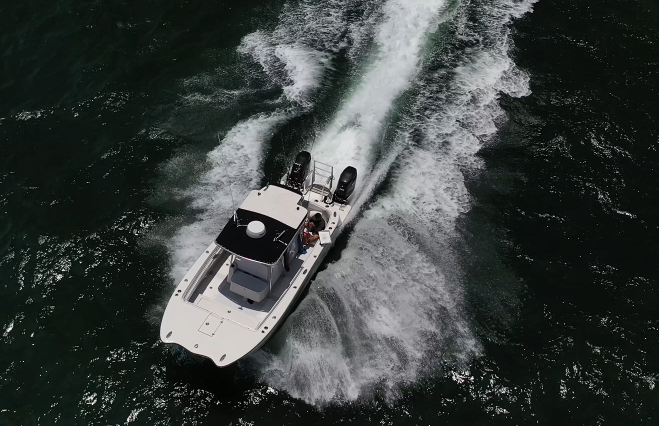 ---
Last edited by mth180; 08-14-2019 at

11:56 AM

.
08-14-2019, 12:11 PM
Senior Member
Join Date: Apr 2001
Location: East Central Florida
Posts: 6,823
---
World Cat did not change the Glacier Bay hull surface.

Displacement/Semi-Displacement/Semi-Planing/Planing terminology has always been used rather loosely with these catamaran hulls. If a boat is able to accelerate past it's bow wave and plane off then it is not a purely displacement hull. A Glacier Bay 26 is not a displacement hull. Someone rigged a pair of Verado 275s on a Glacier Bay 26 and it did 60MPH.
08-14-2019, 12:20 PM
---
In my not-so-smart opinion, WorldCat is just updating their marketing materials without actually changing their mold. WorldCat's hulls was always advertised as semi-displacement (
https://www.saltwatersportsman.com/b...ament-edition/
) while GB is full displacement. There are two WorldCat 27, one GB26, and mine is a 30' planing cat with deep V, I have checked the difference in hull designs over the winter time when all cats were on the stands. GB's sponsons are the narrowest among the three, WC has wider sponsons from midship, and flat bottom with rounded edge at the stern; mine has the widest sponsons, v bottom with lifting strikes. All three have sharp entry but GB's carries it much longer than the other two, which is, my guess, the reason for very different running attitude than WC and other planing cat. I had run next to GB 26 at around 25 mph, the front half of my boat was out of water while over 90% of the sponsons on GB26 were still in the water. More hull in the water means less pounding to some people, however, some negative characteristics also are more pronounced in a displacement hull.
I also had run side by side with WC 25, 27 and 29. I can't see the difference in running attitude between a WC and mine. However, mine has better fuel economy probably due to the lifting strikes. I have looked at many hull designs from different companies, I found my cat's hull is similar to AmeraCat, Freeman, Hydrocat and Tideline- more V at the stern and round tunnel which work very well for me but I am also interested in experiencing other cat hull design.
As to the OP, definitely gets the largest cat you can afford, my preference will be a planing cat but you would have to take a ride on them to see for yourself.
08-16-2019, 12:31 PM
Senior Member
---
Some nut bag may have done that but there is a reason the boats capacity plate recommends a maximum of 300 hp. Why is 300 hp the maximum recommended hp? Because with twin 150's at WOT the boat reaches a maximum speed in the high 30's/low 40's, and at that speed the hull becomes unsafe & unstable.
Remember the Chevrolet Corsair? Remember Ralph Nader? Remember the statement Nader was famous for? His comment = " . . . . . unsafe at any speed."
That same comment would hold true for a 26 GB with more than 300 hp when traveling at speeds greater than 40 mph.
Posting Rules
You may not post new threads
You may not post replies
You may not post attachments
You may not edit your posts
---
HTML code is Off
---