Injectadeck Tiara tips
04-16-2019, 08:56 AM
Senior Member
Join Date: Aug 2004
Location: Baton Rouge, LA
Posts: 2,224
---
Cutting up the area, replacing rotten wood, and glassing back over is a really easy job if you don't have to get the finish perfect. Could be done in a couple hours and likely cheaper than the $300 kit you just bought. It sounds like you are capable of doing the repair.
04-21-2019, 05:55 PM
Admirals Club
Join Date: Jul 2012
Location: North Fork, L.I.
Posts: 1,179
---
I did use the Injectadeck today, and I have some comments/results, I will upload some pictures and give my take on the process/outcome tomorrow! (It works, but I there are some nuances which may affect your decision to use it in certain applications)
05-12-2019, 07:03 PM
Admirals Club
Join Date: Jul 2012
Location: North Fork, L.I.
Posts: 1,179
Updates
---
Sorry to leave everyone in suspense! Life got in the way there for a few weeks - hate when that happens. Anyway, I ordered the Injectadek kit (they have several "packages", I picked the "Small Boat Package" (even though my boat is 40', my soft area is limited to the back edge of the cockpit sole). It comes with 3 dual-cartridges of the foam/catalyst, the double-barrel applicator gun, mixing tips, collars used to secure the mixing tips as well as safety information, goggles and gloves. I would say this kit should be good for most localized projects - It would probably fix up to about 25-30 square feet of 1" cored deck (more about that later... it WILL vary...) Here are some pictures of the kit when it arrived:
05-12-2019, 07:23 PM
Admirals Club
Join Date: Jul 2012
Location: North Fork, L.I.
Posts: 1,179
---
First step was to get a mallet and a pencil and start tapping away to find "dead" spots. Some spots were obvious because they felt soft underfoot, but you should tap it out to find all the suspect areas. Once you trace out the dead/wet/soft spots, you're ready to start drilling your holes. I would recommend 1/4" drill bit, you have to be careful not to punch through the bottom skin. My Tiara is cored with balsa, which is so light and soft even when it's not rotten that if you push to hard on the drill bit you could punch right through if you're not paying attention. Wet balsa is about as dense as applesauce.
This is where I had some disagreement with the Injectadeck instructions. They emphasize the expansion ratio of the product (approximately 6:1 by volume) and while I agree is does expand quite a bit, assuming that the product is going to flow that easily/widely in your deck is going to leave you disappointed. They recommended holes drilled something like 8-10" apart across the soft/wet spot. They literally used the phrase "Trust the expansion" - they don't want you over drilling or drilling too close and then causing your deck to bulge (which is actually a risk), but in my experience, unless your entire deck is as soft as a canvas bag, you're never going to get that kind of flow to use a 8-10" spread on your holes.
I followed their advice on the first go round and had to go back and redrill the holes as close as 4" apart and re-shoot. My core was still "solid" enough to inhibit the flow between the skins. This means I had to punch a lot of holes, but since I am covering up the entire cockpit with plasteak, I don't particularly have to worry about making it look pretty. Which leads me to my next point: If you are doing a large area of nonskid (which I expect most people would - most decks are nonskid), god help you if you want to return it to the same appearance. You're going to have to patch and blend dozens of 1/4" holes in your nonskid pattern. Again - not something I'm going to do, because I'm covering with Plasteak, but definitely worth considering if you're not. There are no short cuts with fixing molded non-skid... I did grind out any spider cracks (as you might see in the pics) in order to patch/fair them before priming.
Other important thing - DO drill one or two drain holes on the underside skin of the deck you're injecting. This product WILL push water out of the core material when it expands, it's pretty neat. My deck wasn't totally wet, more "damp/crumbly" where it was soft and I still had a decent seep of water going out of my drain hole after the product expanded.
I only have a few pictures of the hole pattern I drilled. I injected and then sealed up the holes with a sloppy dab of 3M waterproof body filler. I will take more of the boat this week (I have since sanded flat and primed the entire cockpit so I can go back and touch up the "reveals" where there will be gaps in the Plasteak deck.
In short:
The pros
: It did work. The deck is now rock solid again, I didn't have to cut any fiberglass or re-core anything. It did push water out of the cores - I did not take a moisture meter to it, but I can imagine that if you do it correctly, you may actually pass a moisture meter (they brag about that ability on the product website).
The cons
: You have to drill a lot of holes. I'm talking like 4-6" spread realistically. The product is also messy as hell. Lay down a lot more masking/plastic sheeting
etc than I did! The gun is a pain in the ass - it takes real finesse to know when to stop squeezing (to be fair, they warn you about this and tell you to go light on it). Twice I squeezed too hard and blew the mixing nozzle right off the cartridges which resulted in an explosion of foam/catalyst goop all over the place that never dries and will stain your deck a lovely dogshit brown. This was particularly humorous for my helper on the project, no so much for me - again, thankfully I'm covering up with plasteak...
A few shots of the hole pattern and me digging out damp balsa with a pick (they recommend a coat hanger, to loosen up the soft core to allow foam to spread/fill voids. I'll take more as the project progresses - it already looks worlds better since I sanded and primed the whole deck-
---
Last edited by nb123; 05-12-2019 at

07:32 PM

.
05-12-2019, 07:26 PM
Admirals Club
Join Date: Jul 2012
Location: North Fork, L.I.
Posts: 1,179
---
More pics. Here you can see how you're supposed to mask/drill each hole so that when the foam expands/mushrooms out of the hole you can just pop off the tape to remove it. Also, use the safety equipment... aka... don't run around with bare feet like I did
You can also see the mixing tip on the dual cartridge gun - its pretty cool to watch in action, the foam start to catalyze instantly as it mixes in the tip, however, if you force too much pressure on the gun handle, the tip has a habit of popping out of the screw on collar at the base causing a horrendous mess and emergency scrambling to prevent the product from running EVERYWHERE.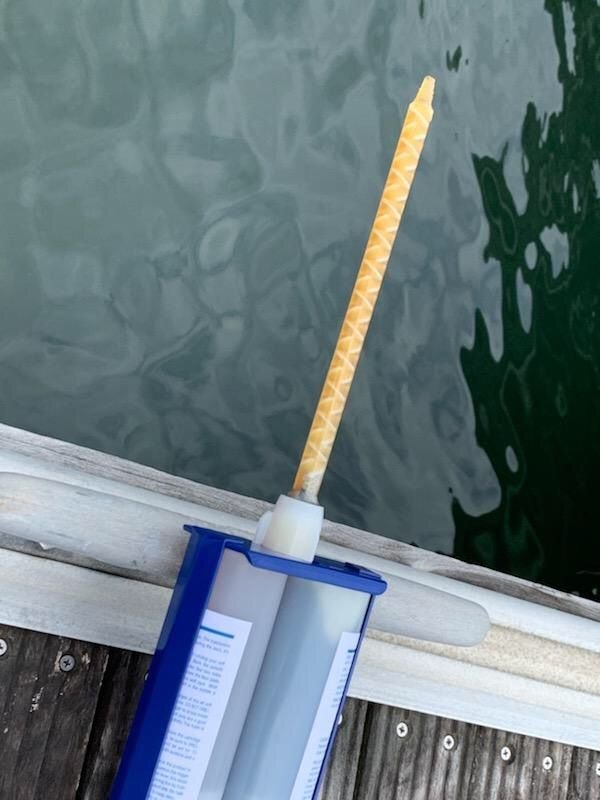 05-13-2019, 03:28 AM
Senior Member
Join Date: Nov 2015
Location: Jax FL
Posts: 2,621
---
Repairing a small soft spot surrounding a deck plate has two causes. In my experience the hole for the deck plate wasn't sealed and there was also a large span across the fuel tank in the same area. No rot but just a springy deck. I added supports under the area but sure wish they'd glassed in something when building the boat.

Think a slightly flexible bamboo skewer or stiff wire you could spin on a drill would help break up the bad foam. Inject deep and let it grow out. Whatever you put in there should have that expanding capability so don't over do it. I'd even place some end weighted wood beams overnight while its expanding so you don't wake up to a deck bulge.
Posting Rules
You may not post new threads
You may not post replies
You may not post attachments
You may not edit your posts
---
HTML code is Off
---