18' Seminole Flats Boat Custom Rebuild
11-06-2019, 06:36 AM
Admirals Club
THT sponsor
Join Date: May 2007
Location: Wilmington, NC
Posts: 1,632
18' Seminole Flats Boat Custom Rebuild
---
We found this hull in the weeds behind a building I was looking at a couple years ago and went through the lost/abandoned boat process. A friend bought the hull and a couple years later, here we are! Brought it in the shop last week for the deconstruction process. The hull is a 1996 Seminole Marine flats skiff, later puchased by Sailfish. Its a solid hull, had a little transom issue and some soft core areas on the cap. I think it was originally a freshwater boat but we are going to build it as a flats boat.
Basic plan - re-core, fill holes, modify the cap a bit, new tank, new deck, new rigging, new paint. Everything new except the running surface!
Cap and console will *probably* be Awlgrip Matterhorn White.
Hull will *probably* be Awlgrip Medium Gray
Tank will be a 35ga Moeller poly tank. First time using a poly deck in deck but I think it will work well on this project.
Probably will be some JL Audio in her, maybe 2x 8.8s and a sub? Single GPS
Bobs or Atlas Jackplate, not sure which yet.
Power will be something in the 150-250 range. I've ready that a 150 makes it a mid 50mph boat, owner wants it faster though. A 200 Optimax or 200 HPDI would be a great option.
Take a look, updates will be on here, on Instagram (@markgorges), on Facebook (
www.Facebook.com/GorgesBoatworks
), and a little on the website (
www.GorgesBoatworks.com
).
I haven't found a lot of information on these hulls, if you have thoughts, comments, questions, or concerns please chime in! Superglue works great if you razor knife your knuckle FYI.
11-06-2019, 06:46 AM
Admirals Club
THT sponsor
Join Date: May 2007
Location: Wilmington, NC
Posts: 1,632
---
I was having a cup of coffee with the owner of the project and said, I think if we are going to make this a rocket ship, we need to make the lines a little more aggressive. 5 minutes later, she looks more aggressive!
One of my favorite things in this business is the look on somebody's face who doesn't do fiberglass work when you first pull out a couple saws, a 5lb hammer, and a crowbar and walk to their boat. They know in the end it will be great, but nobody likes seeing a saw heading to their boat! I, on the other hand, love it because its the start of it becoming a custom project and not just another boat.
I think the angled bow looks much better and will open up room in the deck for activities. Plan on mounting a speaker in each side, maybe build in some tackle storage in the front part.
The boat had plywood core glassed into the hull in a couple places that was soft, I think from research it was where the bass boat style chairs mounted. it was rotten and we don't plan on bass fishing so the remaining wood was dug out, replaced with Divinycell H60 and covered in several layers of chop.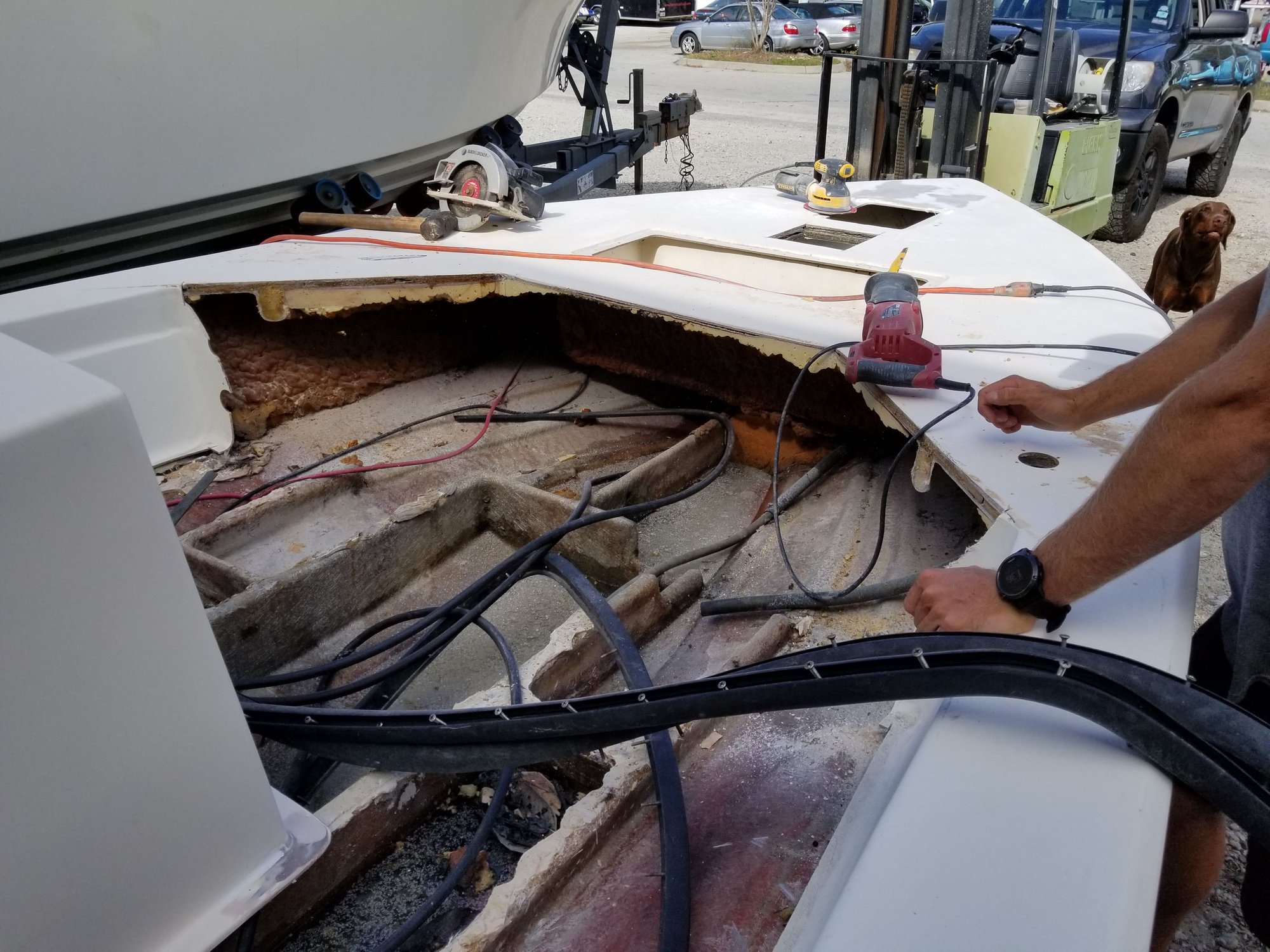 Today, 10:10 AM
Admirals Club
Join Date: Feb 2012
Location: South Creek Village
Posts: 5,064
---
In my humble opinion, that hull won't handle a 200 or bigger. It'll squat too much to be an effective flats boat. I'd go with a 175 VMax, if you want a little more power. Than, look into a computer flash. Same weight as the 150 with a little more punch before a reflash. Or, you could go with a 175 OptiMax Pro XS. The hp in those XSs were always underrated.

Looking forward to the process.
Posting Rules
You may not post new threads
You may not post replies
You may not post attachments
You may not edit your posts
---
HTML code is Off
---